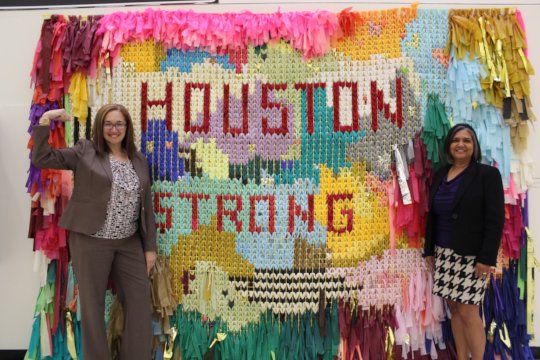 More than three years have passed since Hurricane Harvey devastated the greater Houston area and other parts of Texas. For many impacted communities, the journey to full recovery remains impossibly slow—and nowhere near its end.
One of GlobalGiving's key partners in Houston, the Houston Arts Alliance (HAA), remains committed to serving communities in the arts and culture sectors that were first impacted by the hurricane and now suffer additional loss due to the coronavirus pandemic. HAA is deeply committed to helping artists and local arts-focused nonprofits be bold, productive, and strong. As 2020 comes to a close, we took a moment to speak with Quang Vu, HAA's Manager of External Affairs, and Disaster Services Program Manager Lauren Hainley to share a firsthand perspective of the organization's impact, insight, and hope with you and the more than 30,000 others who have donated to GlobalGiving's Hurricane Harvey Relief Fund since 2017.
How has Houston Arts Alliance been in a position to serve creative communities impacted by Hurricane Harvey and now COVID-19?
When Hurricane Harvey devastated the artistic community of Houston, HAA and our partner service organizations came together to provide much-needed aid and relief funding to the community. In the years since Harvey, HAA conducted critical work to learn from that disaster and developed the preliminary vision for a new Voluntary Organization Active in Disaster (VOAD) plan, which integrates into the emergency management systems of Houston and the surrounding arts and cultural communities. This plan has allowed HAA to respond to the needs of artists and arts organizations and continues to be reshaped with each disaster that threatens to undo the rich arts and cultural ecosystems of our city. During COVID, the HAA team responded to the needs of the community in two forms.
First, HAA expanded upon the initial partnership network of arts and cultural organizations that was developed during the response efforts of Hurricane Harvey, and convened nearly 20 small and large organizations within the Greater Houston Area to collectively respond. This group amplified and streamlined communication efforts into the community for faster, more effective resource dissemination while also operating as a strategy think-tank for the art's pandemic response. The other side of this collective effort that made the group's work impactful was the ability to listen to the needs of the community while being the voice for our shared constituents.
In April, we were able to put together the Greater Houston Area Arts Relief Fund for Artists and Arts Workers, which raised a total of $331,560 that went directly toward supporting the immediate financial needs of the growing number of unemployed creative workers in the arts. In June, after collecting data and listening to our community for the first three months of the pandemic, we created our needs assessment report for the arts in the Greater Houston Area. This document became the backbone on which we developed and prototyped new disaster programs for building community resilience and recovery.
The second front of our VOAD plan was to create important relationships outside of the artistic community. The HAA Disaster Services department joined the Harris County Long-Term Recovery Group that has been consistently meeting since Hurricane Harvey. HAA's partnership with this group, along with other local response and recovery organizations, has given the team frontline access to services and information outside of the arts.
In Houston Arts Alliance's view, how can people best support the arts and creative communities during this time of such need?
In Houston alone, the artistic community has suffered nearly $100 million in economic damage. A recent Brookings Institution report shows America's arts and creative industries lost $150 billion in sales and 2.7 million jobs through July. What artists and arts organizations need the most during this time is your support. There are many ways you can do this: buy next season's season tickets at your local theater or a membership to your favorite museum; look to see if your community is holding an outdoor art market to support local makers and creatives; or commission a portrait of your family for the holidays. Artists and arts organizations continue to create and innovate for the community and are given less resources and support to do so, while creativity is needed now more than ever.
However, HAA encourages you to go beyond just your dollar contribution to the arts. True change happens when we are able to change the systems and structures to enhance artistic and cultural vibrancy within our cities. This starts at the local level, where elected officials must be made aware of the important place of the arts within all of our communities.
What is giving the Houston Arts Alliance team hope as we all head into 2021?
The COVID-19 vaccine has begun to be administered across the country. As this vaccine becomes more widespread, the arts community will be able to begin reopening their doors to the community. There is hope that our community will be back to some normalcy by the end of 2021. However, artists and arts organizations have already adapted to the new world of Zoom entertainment and social distancing. Dance shows are performed at outdoor pavilions and online art sales are beginning to gain traction. Artists and arts organizations are resilient, innovative, and ever-changing. To HAA, that continues to be the pillar of hope for us as we charge into the new year with our team.
----
Thank you for your generosity and support of community-led disaster recovery.
With gratitude,
Chase + the GlobalGiving Team