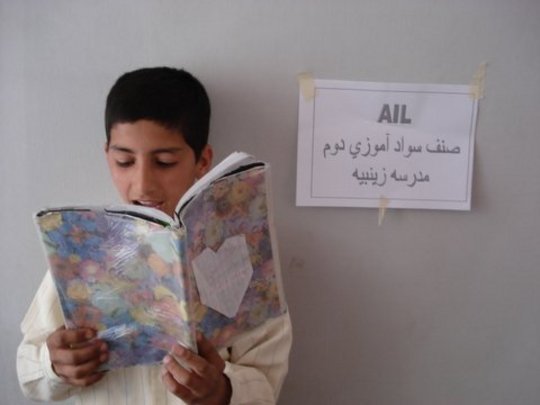 Thank you for supporting Help Afghan Boys Trade Guns For Books this past month!
This past month we raised $2,412 from 92 donors. When we told Dr. Sakena Yacoobi, Executive Director of Afghan Institute of Learning, about the Club's generosity she had this to say:
We are so thrilled that our project, Help Afghan Boys Trade Guns for Books, has been chosen as the project of the month for June 2011. This is such an important cause.

As you have read in many news stories, young men in Afghanistan who are uneducated are sometimes recruited by various groups with less than good intentions, and, with no other hope or prospects, they follow down the wrong path. The Afghan Institute of Learning hopes to change this by providing opportunities for young men, who might otherwise have no chance for education, to attend our learning centers where they can study literacy, English, computers, a skilled trade, etc.

Thanks to your donations at least 40 young men will receive education for one year. Our intention with this funding is to direct it to the Hazrat Bilal Learning Center in Herat, Afghanistan. As of last month, there were 106 young men and boys attending this Center. One student told this story:

"I hoped to go to school but, when I asked my mother to let me go, she answered that we don't have enough money and your father is dead. One of my brothers cleans shoes and the other sells flowers on the street. My mother works in a neighbor's house. I really suffered because my brothers and I could not go to school. I want to be a good teacher in the future and teach the poor students. My mother got information about Hazrat Bilal Center and she was so happy. When I asked why she was happy, she told me that there was a Center open near my house that teaches students for free and that an Afghan woman, Miss Professor Yacoobi, helps the poor families obtain an education. My brothers and I went to the Center and registered and we are now students of the Center."

In this case, three young boys are now studying because of your help!
Thanks for your help in sending 40 young men in Afghanistan to school for a year!
This month, we're pleased to announce that Julie Foudy Scholarships For Military Daughters is the project of the month for July 2011.
This project provides military daughters with self-esteem and leadership skills during a week-long soccer academy. Scholarships are provided to girls from all over the country. Girls participate in soccer and leadership activities focused on positive life lessons. They're challenged to develop a service project to implement back at home, and the Academy staff and mentors follow up to help with project completion.
The teen years can be hard, and military daughters have the added stress of prolonged absence of a parent. The leadership academy provides these teens with a supportive community where they are challenged, build skills, and grow into confident, strong young women, who are eager to be leaders of positive change. As one past participant said: "This camp has influenced my life by helping me realize that there is nothing stopping me from reaching my dreams but my own doubts, and that if I work hard enough, I can achieve anything."
This year, the Academy has set of goal of doubling the number of military daughters on full scholarship at this summer's JFSLA sessions. This project has demonstrated it has a high impact and we are pleased to support their efforts by selecting them as the July Project of the Month. Your donations will provide full scholarships for at least two military daughters.
Thank you again for your support and we look forward to updating you on the amazing project that you will support next month!
Warm regards,
Mari and the GlobalGiving Team