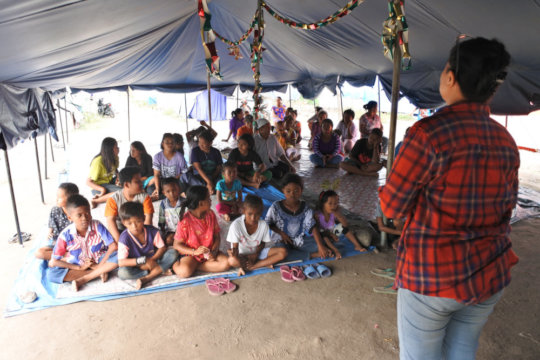 We now have the full picture of the impact of the Sep. 28 earthquake and tsunami on Sulawesi and the scope of the damage has expanded significantly.
The government of Central Sulawesi reported in January that in their final count, the disaster had claimed 4,340 lives—nearly double earlier estimates. Almost half of these deaths occurred in Palu, the coastal city where post-earthquake soil liquefaction resulted in widespread destruction. In total, more than 42,000 buildings suffered damage, including 3,683 that were completely destroyed.
In response, the generosity of GlobalGivers like you has continued to fund community-led relief and recovery efforts—4,347 members of our community have now raised $604,905 in support of our vetted nonprofit partners in Indonesia.
In this update, we'd like to share the progress being made by one of the partners your donation supported: Yayasan Usaha Mulia (YUM). They are an Indonesian NGO based in Jakarta that works to provide impoverished Indonesians with access to healthcare and education, as well as support for community development initiatives. When the earthquake struck, their staff shifted gears to join disaster response efforts.
Yayasan Usaha Mulia recently reported on their team's third visit to Palu and Donggala. They spent a week distributing food, water, hygiene supplies, clothing, educational materials, and three electric generators for communities still without power. Their team was able to visit a number of villages in the area over the course of the week, where they consulted with the community to assess needs and arrange support where possible.
In Biromaru, they organized a trauma healing session (pictured above) for 200 children living in camps for families displaced by the disaster. Their team distributed hygiene supplies, food, and 150 relief kits in Tanjung Padang, contributed $1,000 to the construction of temporary shelters in Sirenja, and provided clothing and food to families in Amal, a remote community badly damaged by landslides. They also made their third visit to Saloya, where they observed that refugees there had established a school in one of the relief tents and the YUM team organized activities for the camp's children.
Your donation has helped make stories like these shared by Yayasan Usaha Mulia possible. We're incredibly grateful for that support because, after a disaster like this one, recovery efforts led by people who live and work in affected communities are often underfunded. In fact, research has shown that less than 3% of global disaster relief funding goes to community-led nonprofits. This means some of the most vulnerable people affected by disasters get overlooked.
By giving to our Indonesia Earthquake and Tsunami Relief Fund, you're helping change that reality. You can learn more about our unique approach to disaster relief by visiting the Disaster Recovery Network at GlobalGiving.
We look forward to sharing more stories of the ongoing recovery in Indonesia with you in the coming months.

With gratitude,
Will + the GlobalGiving Team