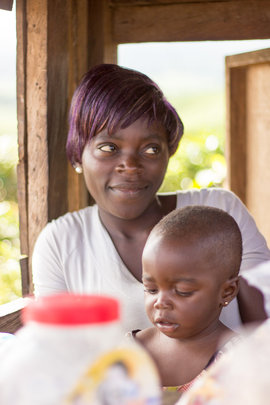 Dear Family of Reach Out,
We've closed a phase in Tole this month. After continuous follow up and collecting loan payments we had enough information to disburse grants to the best performing girls, and to a few of the most vulnerable. In total 10 girls received grants of different sizes (between 100 and 30) past week.
The disbursement event was a great experience, we took the opportunity that all girls where gathered in one place to work on their self-confidence with a very simple exercise, they should tell us their stories and share advice with their fellow business women. We were impressed with the result.
"Every day, no matter how the business goes, I save 2000 francs, if I make 5000 I keep 2000, if I make 2100 I keep 2000 and I struggle to eat. At the end of the Month I split it in half, half for the house half of the business" Claudine. (Remember we told you in the last report that she had just lost almost all her capital because of a terrible sickness that almost killed her for more than three months? She is back on her feet and continues to impress us.)
"Do your bookkeeping, play your Njangi or your Achao, save something every day, and never use your capital" Comfort. We could not have said it better. (Note: Njangi and Achao are different kinds of local saving practices)
And there were some praises also, that we should extend to you as you are also Reach Out.
"Long live at prosperity to Reach Out, they did not abandon us when we failed, and now we are moving" Mba, member of Unity Sisters
"Thanks to the money Reach Out gave me I could start a business and from there use the profits to pay for my education, I just finished my exams and I hope next year I can make it to University" Marie
"Thank you plenty. All of you know me. I don't have a man, I don't have family in this village, but I have Reach Out" Suzanne
Moreover, the ceremony was the first attended by His Royal Highness the Chief of Tole, just freshly crowned the day before. A young but bright man you can see in the pictures. He gave us reason to have hope for this country. After listening to the girls he made his speech and decided to make his own donation! We have high hopes that we can create a long lasting relationship with the Palace; we cannot emphasize how rare such attitude is. In fact, the usual thing is Cameroon is that the authority should receive a small fee himself to cover "transport" cost of attending the event; he ignored protocol and tradition and saw the opportunity to do something valuable for his community, giving insted of taking.
Many members of Reach Out's family will remember Florence, the blind mother of 4 living in Tole, for whom we fundraised for past year. We are very glad to report a good improvement pace, the whole family showing strong signals of entrepreneurial spirit, managing together different micro businesses. We are particularly proud of Melanie, the elder daughter, who keeps the books of their different small businesses. Reach Out, thanks to our donors, is supporting them this time with help to construct a little built structure where they can be selling cooked food. You can see a picture of her during follow up and another one of Reach Out's team, including our logistician, negotiating and discussing with the construction team.
What are we seeing in the future? We are moving to the next batch of girls in Tole and we are also exploring doing interventions in new rural communities where we can replicate our model, as always, relying on local groups when possible.
But if there is someone that we will continue to rely on to make this happen is you.
Thank you, thank you for not giving up, thank you for the lives you continue to change.
P.D: Please tell us what you think about the Keep a Girl Alive and much more! Continue engaged with us through facebook. www.facebook.com/reachoutcameroon