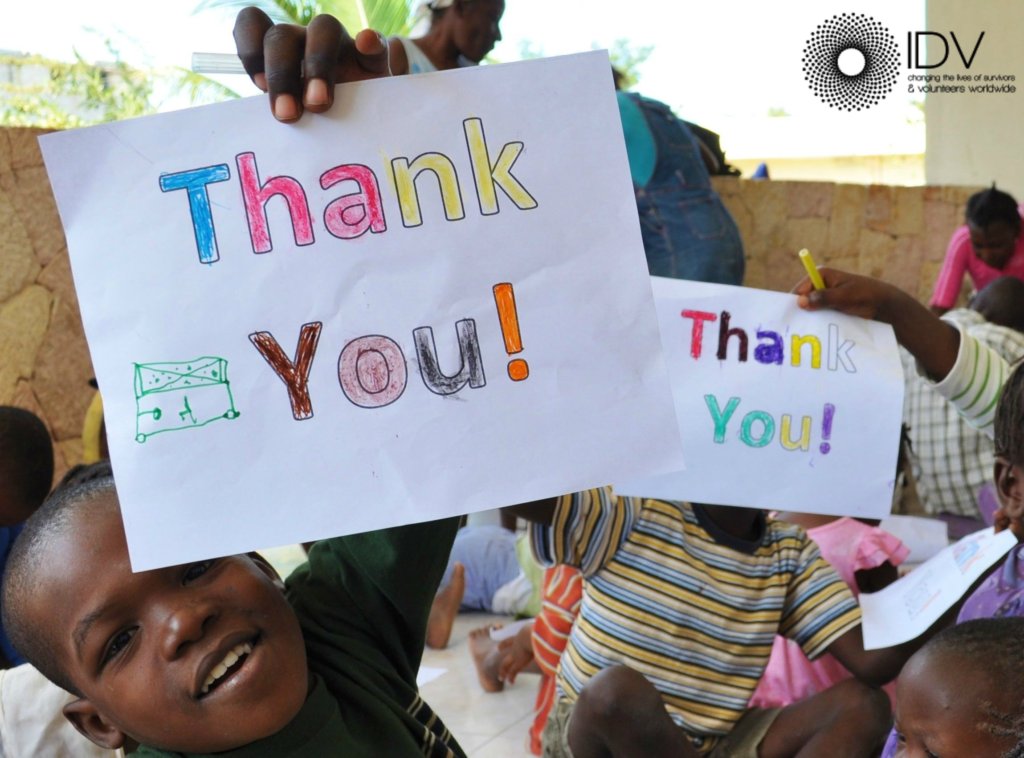 Thank you so much for helping me help my fellow disaster survivors.
Given the uncertainty that's hung over IDV's future since I sent my previous project report I'm also incredibly grateful for the continued confidence you've shown by maintaining your monthly donations. Thank you so much.
Since sending that last report IDV has been continuing its important work around the world. Over the recent holidays we've also been working hard raising funds to support the children at the HTDC orphanage in Haiti.
We first met the children in the summer of 2010, after that year's earthquake. They were all living in one small room and a tent, which flooded almost daily. They were also constantly short of food, the kids were often sick, and the staff had no means to send the children to school.
Survival was a daily battle for the orphanage and all the children in its care. But thanks to IDV's donors and volunteers, several of you included, we transformed their lives by providing a safe home, food and an education.
Today, the orphanage has a network of partners, but IDV's donors still provide over 70% of the funding required to meet the kids basic needs on a monthly basis. We've also continued to pay the orphanage's rent every year.
So, with IDV's future under threat, we decided to focus our recent end of year fundraising on supporting the orphanage.
And, thanks to the amazing support of donors like you, we've secured an incredible $14,000 to meet the children's needs in 2017. This is enough to pay the rent for the entire year, and also enough to provide the kids with food, an education, and everything else needed until around the end of July.
This takes into account projected income generated by the orphanage through hiring out a new bus. We've been raising funds to buy this bus for a number of years, and by pooling resources with another of the orphanage's partners, we finally have enough to make the bus purchase a reality! We know some of you reading this report have also supported the bus project - so thanks for making that achievement possible as well.
Although there's still work to be done to secure the long-term sustainability of the orphanage, our recent fundraising results and the bus purchase will move us a massive step in the right direction. I'll return to our future plans for the orphanage in a moment, but before that I also want to share a few updates from our recent work in Banaba, near Manila, in the Philippines.
For all of last year we were focused on completing the community's Livelihood and Evacuation centre. Sadly, the building's original donor ran out of funds before construction was finished, and this left hundreds of Banaba's residents without a safe refuge during typhoons and floods.
So, in December 2015 we stepped up to finish the job. Our work meant that the building was finally made watertight last April, and we then turned our attention to rendering the centre's brick walls.
This work will protect the building from the torrential rains that arrive every typhoon season, and I'm delighted to report that the last of the external rendering was completed just last month.
What's more, we were also able to give the building's three floors a final, and colourful, "screed coat" of concrete. This has finally given the centre smooth, level floors which can be much more easily cleaned and maintained. This will be vital for effective sanitation when evacuees later shelter in the building.
All in all, it's been a busy and productive few months, and your support has been critical to making our work possible. Although the project work discussed was funded by others, your donations to this project have enabled me to support these vital efforts from the UK. Thank you so much once again for your generosity.
Sadly though, our overall UK funding situation is still unchanged from my previous report. Although your amazing donations make a big difference, we're still running out of funds to keep me employed full time. As a result, we'll be unable to continue with business as usual after March of this year.
However, we've been considering our options and we're now discussing one which might avoid having to shut down IDV completely. Although hosting volunteers and starting new projects isn't feasible without a full time UK staff member, we believe it might still be possible to continue supporting of some of our existing projects, albeit on a reduced level.
We're still discussing the final details but, if we proceed with this plan then both the HTDC orphanage and our work in Banaba would be included on the list of ongoing projects. And, in this case, your ongoing donations to this project will continue to make our work possible.
I'll update you again on our plans soon, and once again I remain incredibly grateful for your continued confidence and support. In the interim, if you have any questions or concerns, please don't hesitate to email Andy@IDVolunteers.org. I would be delighted to hear from you.