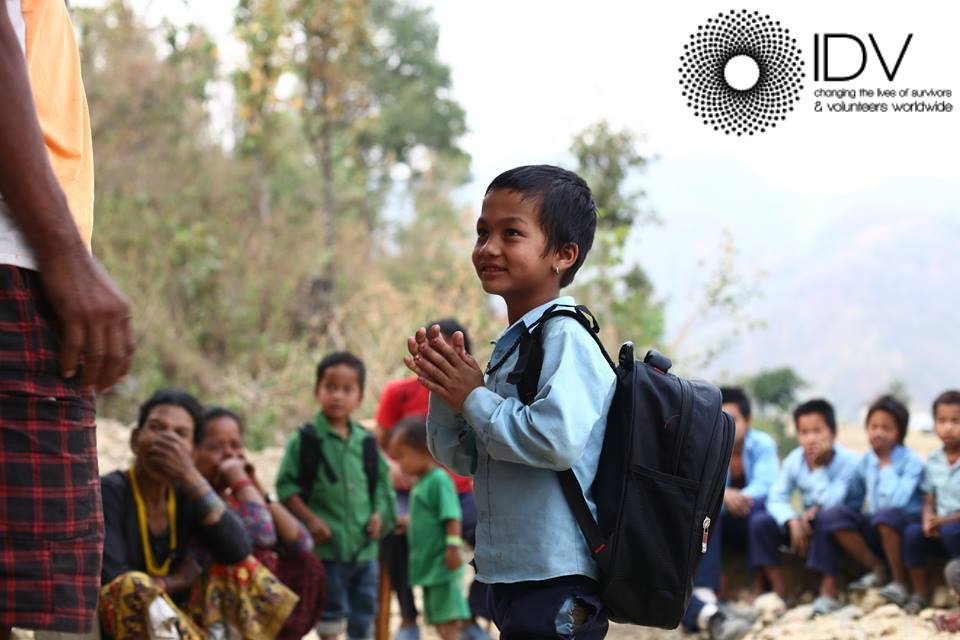 The last few months have marked a major transition for IDV, but thanks to your incredible support we've continued helping my fellow disaster survivors around the world.
The big change came at the end April when I sadly resigned as a paid employee of the charity. Although I've continued to offer my services as a volunteer, the nature of this new arrangement means that I obviously have much less time available.
Happily, we've still been making a vital impact around the world nonetheless.
For example, although our international volunteer operations in Nepal closed in early April we've continued to support earthquake survivors through local actors, including our amazing local Operations Manager, Anamica.
Over the last few months we've worked with Anamica to provide library books for over 250 children at three schools in the districts of Kavre, Mustang and Makawanpur. The kids at these schools were still struggling to learn after the earthquakes, and providing these books was a simple and effective way to improve their overall situation.
The school in Makawanpur was in need of further help however, and so Anamica returned again to provide uniforms, school bags and stationery for its 62 children. As always the children were delighted to see Anamica and receive the badly needed supplies, and we've included a couple of photos from the day in this report.
Yet, our important work hasn't just been confined to Nepal. In addition to our ongoing projects in Haiti we've also continued to work with our incredible partners in Manila, Buklod Tao.
One of the ways we partner with Buklod Tao is to provide flood rescue boats and in our last project report I described how our support in constructing a new boat workshop had helped this project to thrive.
Well, I'm now even more excited to announce that we recently started construction of a brand new flood rescue boat for the vulnerable community of Armpac.
Armpac is located in the municipality of San Mateo, just outside Manila. The area is developing rapidly, but the benefits are rarely shared equally. Thousands of informal settlers and poor renters live in slum housing along the many riverbanks, which regularly burst their banks during typhoons and monsoon rains.
Because of the danger faced by these families Armpac was one of our top priorities when we first started building boats back in 2013.
The boat we originally provided has protected the community ever since, and over the years it's rescued dozens of people trapped by rapidly rising flood water. However, the situation in the area is now worsening again, partly due to the success of San Mateo which has sadly left these families behind.
Buklod Tao's President, Ka Noli, explains:
"Since the hand-over of the first fiber-glass rescue boat in sition Armpac, the number of residents has ballooned to 421 families! The place is also more flood prone than before. It's getting worse not only because of the number of people, but also because there is now a road network - a national road (they call it C-6) traversing through the area.
So far there is no new construction of drainage in the place and the houses being relocated are left to make their own drainage. I foresee a worsening of flooding scenario in this place. Another boat, this time a bigger one, is urgently needed for Armpac.
Can you please help?"
This was a really important request and one we were very keen to help with. And thanks to the amazing generosity of donors like you work has now started on the boat's construction.
The first Armpac boat is a small 8'x4' model, which is perfect for narrow urban streets. However, for the new boat we're providing a bigger 12'x5' version. These aren't as maneuverable but can carry more people, and the two boats will complement each other perfectly.
Thank you so much for helping to make all this continued work possible. While these projects might not seem as glamorous as international volunteers building new classrooms, they're still making a vital impact to disaster survivors around the world.
I'll be sure to keep you updated about these and our other projects as they progress, and we remain incredibly grateful for your continued support. If you have any questions please don't hesitate to email Andy@IDVolunteers.org. I would be delighted to hear from you.