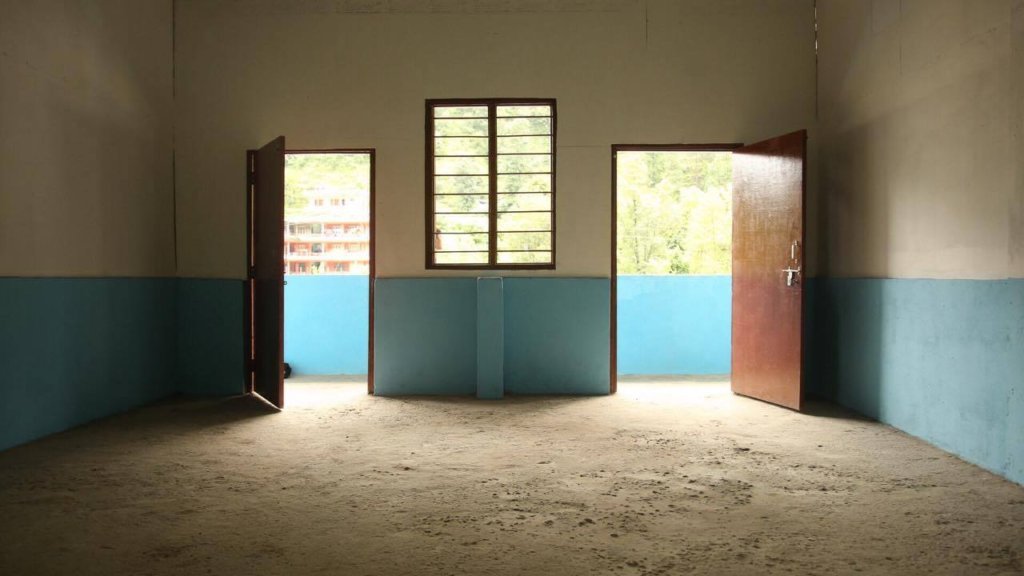 Over the last few months, and thanks to your amazing generosity, we've been making a big impact supporting Nepal's recovery from last year's earthquakes.
Much of our recent focus has been at the Shree Bal Shiksha school where we recently finished building five new permanent classrooms.
This school, which is located in the district of Sindhupalchok, was badly damaged by the earthquakes. As a result its 600 children were being forced to learn in temporary classrooms, and in some cases even inside damaged buildings.
The temporary classrooms were rapidly deteriorating and unfit for purpose. The damaged buildings were unsafe, and the kids were at real risk of injury, or worse.
Support was urgently needed, and so we quickly started work to provide new classrooms. And just last month this work was completed, allowing the children to move into safe, beautiful, new classrooms.
But while providing classrooms is great, it's not so impactful if the kids then have to sit on the floor during class. So, just last week we also delivered forty new desks and benches to equip the new classrooms.
Yet, our work at the school is still not over. We've already vastly improved the facilities at Bal Shiksha, but the school still doesn't have enough toilets for all the children who attend class. There are many water-borne diseases in Nepal, including cholera, and this means the kids are still at risk of getting seriously ill.
So, we'll soon be building a new toilet block alongside our new classrooms.
We're really delighted with this project, firstly because it meets genuine and obvious needs at the school. However, there's more to it than that.
Having also partnered with schools in Haiti and the Philippines, we know it's vital to provide all round support if children are to receive an effective education. So, even when we first arrived in Nepal we knew we wanted to provide holistic support for education after the earthquakes.
And, by providing classrooms, school furniture, and now also school toilets, at Bal Shiksha, we're witnessing that vision become a reality in Nepal.
Thank you so much for making this possible, it really is amazing to look back on how much progress has been made.
While today we're mostly focused on supporting education we started work in Nepal by providing relief in many important areas.
We arrived in the country just ten days after the first earthquake and provided initial relief which included 6.4 tonnes of food aid for families whose supplies had been contaminated by building rubble.
We also provided emergency shelter and household items, like blankets and cooking pots, to another 540 families who'd lost everything in the earthquakes.
The metal roofing kits we supplied in the early days may be a far cry from the permanent bricks and mortar now being laid at Bal Shiksha school, but in the immediate aftermath of the disaster they gave families a sturdy roof over their heads, and protected them from the monsoon rains.
Yet, we didn't stop there. We also provided water to over 1,100 people, and it was through this work we first supported the Bal Shiksha school, where we provided a water tank and mains supply.
In those early days it wasn't possible to start work on permanent classrooms, but we provided almost thirty temporary classrooms that enabled around 1,000 kids to return to school as quickly as possible. We also provided our very first desks and school supplies, and all of this laid the groundwork for our holistic support of Bak Shiksha today.
And because of our ongoing focus on supporting education, and also as a reflection of how far we've come, we've decided that we'll soon be retiring this, our general Nepal relief and recovery, project on GlobalGiving.
Moving forward, we'll continue reporting on our work in Nepal through our dedicated education project. So, please check back there for further updates about how you're continuing to help us change lives in Nepal.
Once again, and on behalf of over 7,100 Nepalis served, thank you so much for all you've given to this project. We celebrate, and praise you for your support.
As always, if you ever have any questions about our work, then please don't hesitate to email Andy@IDVolunteers.org. I would be delighted to hear from you.