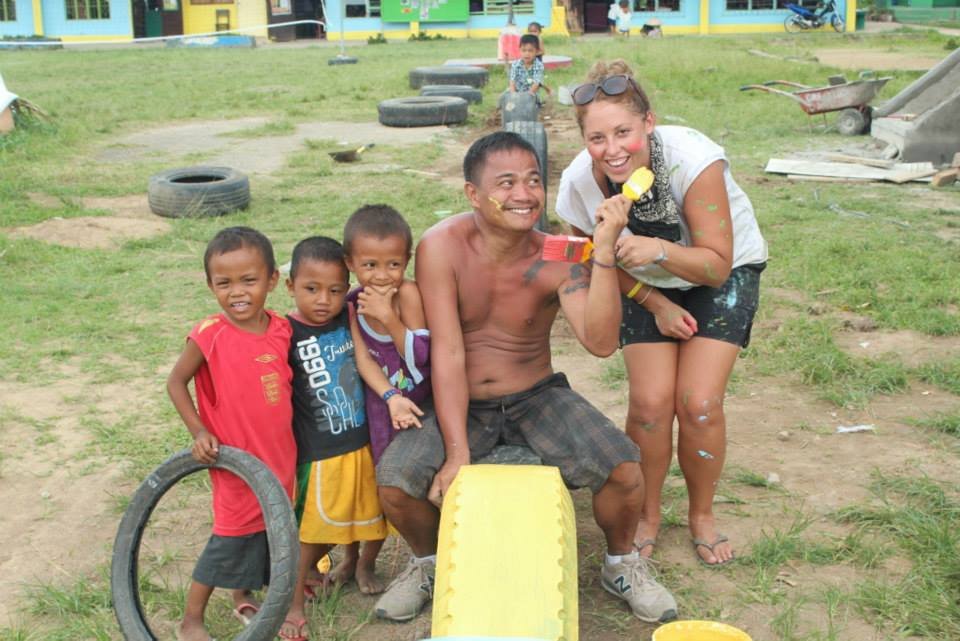 Last week we marked the third anniversary of typhoon Haiyan, and we've been reflecting on all we've achieved thanks to you.
The typhoon, known locally as Yolanda, devastated the Philippines, affecting 14 million people in 46 provinces. Over 6,000 people were killed, and more than one million homes were damaged beyond repair.
Filipino families were left reeling, and in need of major assistance. And, thanks to your amazing support, we've been on the ground and helping them to recover for the last three years.
Our team arrived in the city of Tacloban seventeen days after the typhoon, and immediately began providing vital relief. They also gave important support to local organisations working to help their own communities.
We arrived with over 80Kg of medical supplies that were quickly distributed to where they were most needed. In the process we also facilitated 'swaps' of medical supplies between clinics, to fill gaps in one location with surplus from another. We also organised a medical mission that gave 400 survivors their first access to a doctor after the typhoon.
As the days passed we also got to know several amazing local organisations, who we realised were well placed to help their own communities given a little support.
So, we built a new roof at the office of a local NGO called Volunteer for the Visayans. This helped them to relaunch their feeding programme for vulnerable children. We also repaired and re-opened the Aram Learning Studio, one of city's few schools for children with developmental challenges, like autism.
We also worked with a local chef and his Mobile Soup Kitchen for Kids (MSKK) to provide over 6,000 meals, often as school lunches to encourage children to return to class. Toward the same end our volunteers also cleared debris at several schools, and this helped almost 3,500 kids return to school safely.
As the spring of 2014 arrived, we turned our attention towards the longer-term. We worked with another local NGO to help build new homes in the community of Pago, and we also began to develop our own long-term rebuilding plans.
Haiyan damaged or destroyed over 2,500 schools, and without an education millions of kids risked being left trapped in poverty as a result of the disaster. So, we decided to make supporting education our main priority.
In April 2014 our work started at the San Augustin school where we repaired seven classrooms damaged by the typhoon. We also built the school a new kitchen, and a brand new 9m x 7m classroom for its kindergarten class, who were being forced to learn in a mold-ridden tent.
We next moved onto Lun Tad school where our international and local volunteers repaired and repainted another fourteen classrooms. We also worked on Planza island, and in the communities of Guintigian, Buri, Anibongon, Pitogo and recently also Matin-ao, to repair and rebuild almost thirty classrooms and daycares in total.
This work, none of which would have been possible without your incredible generosity, has supported the education of over 5,100 children since Haiyan, and we can't thank you enough.
But while we placed a big focus on education, you also enabled us provide help in other important areas.
Although Haiyan was particularly destructive the Philippines is hit by many typhoons every year. During these storms families often have to evacuate from their homes and seek shelter in evacuation centres.
Schools often act as evacuation centers so, with your help, we also donated emergency generators to four of the schools mentioned above. We also provided first aid training so that families can help their loved ones if they're injured in a future storm.
In fact, because typhoons are so common in the Philippines, several more have struck the country since Haiyan itself. For example, typhoon Ruby hit previously affected areas at the end of 2014, and we again worked with MSKK to provide hot meals and other immediate relief to hundreds of families.
Over the last 12 months, we've also continued to partner with other amazing local NGOs, including CANVAS and Balangiga Without Borders to distribute thousands of school books.
The list goes on and on, but in total our work has supported 11,858 people over the last three years, and this was only possible because of your support!
Together, we've achieved an incredible amount since November 2013, and although work remains to be done, Tacloban and the surrounding areas have been transformed since we first arrived. So, we've now decided that we'll be retiring this, our general Haiyan recovery project on GlobalGiving.
Once again, and from the bottom of our hearts, thank you so much for all you've done to help families recover from typhoon Haiyan.
As always, if you ever have any questions, please don't hesitate to email Andy@IDVolunteers.org. I would be delighted to hear from you.