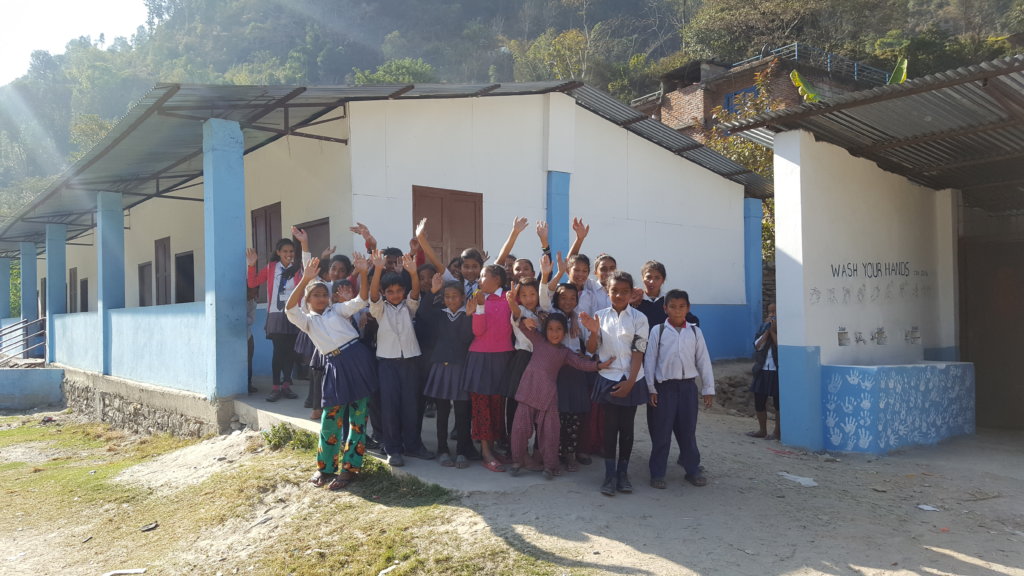 Thanks to your incredible generosity we're continuing to Give the Gift of Education in Nepal.
In our last report I described how we'd started building new toilets at the Shree Bal Shiksha school in Sindhupalchok. These were to accompany the five new permanent classrooms we built in 2016.
Well, I recently returned from a visit to Nepal and I'm delighted to announce that the new toilets are now also complete!
The finished buildings, both toilets and classrooms, look fantastic, and I'm sending a few more photos than usual with this report so that you can appreciate the results too!
The new toilets are vital because water-borne diseases, like cholera, are common in Nepal. Yet, while physical buildings are important, people's knowledge and behaviour are also critical in avoiding sickness.
So, one of our amazing volunteers Sarah created a mural to illustrate the "steps of handwashing", and we got the kids engaged by asking them to add their handprints to the toilet's handwashing station.
Sarah also worked with some of the teachers to provide a Water, Sanitation and Hygiene (WASH) education session as well. This was a peer learning event with some of the children demonstrating the importance of sanitation through drama.
The session covered the importance of washing your hands, boiling drinking water and menstrual hygiene, and the kids really seemed to engage with it. There were comments and laughter, and the participating kids all got certificates too.
It's too early to tell exactly how much of this will stick, at least with all the kids, but there were definitely encouraging signs.
During the project we also decided to build a second hand-washing station at the school, and as I approached to take photos I could see a queue of children waiting to wash their hands and face before lunch.
It was a lovely sight, and a lovely day all round. It had been about nine months since I last visited the school, and so I got to personally see the children using the new classrooms, and the school furniture we also provided, for the first time.
It was amazing to see how, between the new toilets, hand-washing stations, classrooms, furniture and WASH education, our work has already made a massive difference to the education of the school's 600 children. This was especially poignant for me, because completing this project also marked the end of our international volunteer operations in Nepal.
There's much work left to be done in Nepal, but we've decided the time is now right to handover our efforts to local partners. This follows the model we established after withdrawing volunteers from Haiti and the Philippines, and we'll continue to support our local partners in all countries, Nepal included, as our funding allows.
Thanks so much for helping to make this project, and our volunteer deployment in Nepal, an amazing success - we couldn't have done it without you! I sincerely hope you'll stay involved and engaged as we move forward.
As always if you ever have any questions about our work or how we use your donations please don't hesitate to email Andy@IDVolunteers.org. We would be delighted to hear from you.
For more updates about our work please like us on Facebook or follow IDVMedia on Twitter. You can also email Andy is you would like to be added to our direct mailing list.