Dear wonderful donor,
The school year is in full swing and more students than ever are benefiting from the International Business Alliance Program. With your tremendous help, they have the resources necessary to help small businesses all the way in Nigeria. An IBIP student, Joshua Geronimo, explained the amazing impact that the program had on him.
"I've helped develop 3 business solutions for my business partner, Rabi Sani, who runs a catering business in Bauchi, Nigeria. I've made two new advertising programs for her and helped her create over 7 new buttercream frosting flavors that she can now offer. In return, Leadership Initiatives has given me SAT/ACT training, college essay revisions, and a chance to attend the International Business Leadership Summit(ILBS) during the summer of 2017."

Because of donors like you, Leadership Initiatives is able to positively impact students in the United States and small business leaders in Nigeria by providing them with the necessary tools.
Once again, thank you for your support, these opportunities would have not been possible without you.
Sincerely,
Your friends at Leadership Initiatives
Dear Respective Leadership Initiatives Donors and Staff,
After a successful six sessions of summer programs, Leadership Initiatives has seen many new students thrive and use their innovation to benefit others. The students engaged in a multitude of fields such as medical, business, and legal to use their skills to anlayze the different sets of problems that they faced. Many students have changed and grown throughout this process. Below, you can read about a students experience with Leadership Initiatives:
"During the summer before my sophomore year of highschool, I was invited to attend a conference at the University of California, Los Angeles called the Global Young Innovators Initiative, which was my first real introduction to Leadership Initiatives. When I decided to go to this conference, I did not know how much the organization would affect my life. At the conference, I discovered that I would be partnered with a business owner in Nigeria and was tasked to solve three different problems that my assigned irrigation farming business was struggling with. My team and I worked throughout the week and managed to create a presentation from our ideas on how to solve their problems. Following the week of the conference, I was invited to join the International Business Internship Program. I am able to work with the same irrigation farmer to expand and better his business. Through this program and through the Leadership Initiatives Internship Program, I have learned how amazing it is to be able to help someone you have never met before that lives on the opposite side of the world. Throughout my work with the International Business Internship Program, I have set up many fundraisers to help those in Nigeria. Leadership Initiatives has given me the opportunity to grow as a leader and pursue my passion in international development. I am excited for the years to come with this organization."
Thank you to everyone that continuely supports us in our journey to change lives - both the students and the business owners. We appreciate your generosity in helping us work towards a better future for the lives of the students and our Nigerian business partners.
Best,
Leadership Initiatives Staff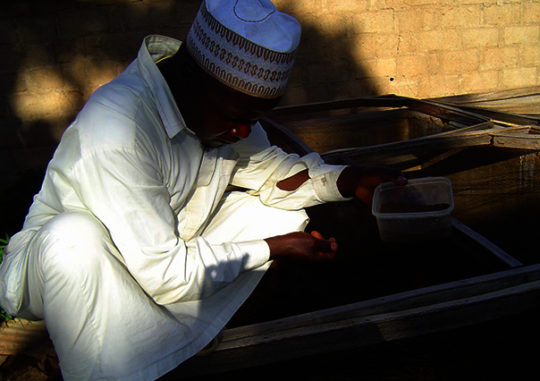 Dear Cherished Donor,
Leadership Initiatives is continuing to provide Nigerian business owners with the resources necessary to expand their businesses and provide new opportunities for their community. LI would not be able to do this without your tremendous support. These new businesses are allowing the younger generation to go to school and continue the cycle of positive change that you are helping initiate.
Fish farmers are just one of the many business partners that LI is working with in Nigeria. Through LI's help, local fish farmers are able to provide their community with nutrient dense food and also employ local community members. Family members of the owners are also able to attend school now and pursue better lives. Right now Shenu Gagare has more than 20 people directly benefiting from his business.
Because of wonderful people like you, LI is able to transform lives across the world by providing people with opportunities and connecting minds to create change. This change goes a long way and will affect future generations. Once again we would like to thank you for your fantastic support.
All the best,
Your friends at Leadership Initiatives
WARNING: Javascript is currently disabled or is not available in your browser. GlobalGiving makes extensive use of Javascript and will not function properly with Javascript disabled.
Please enable Javascript
and refresh this page.