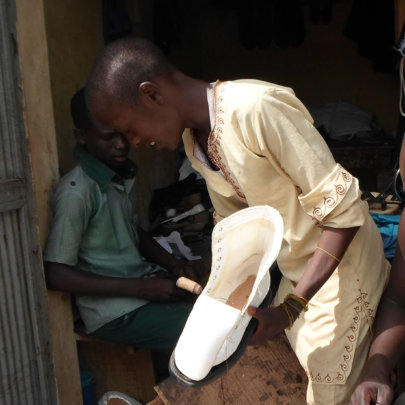 One of the most impactful programs of Leadership Initiatives is the Orphan Independence and Skills Program. The undertaking was originally conceptualized by our grateful business partners that wished to give back to their community by caring for local orphans. In support of this initiative, LI began their orphan care program to ensure that the orphans are both well-treated and taught a set of skills to prepare them for work later on in their lives.
Leadership Initiatives gives initial training to all orphans, providing applicable knowledge to plant seeds of proficiency into every individual. As they progress in their learning, LI keeps an ongoing supervision over the children and makes routine visits to make sure they are properly fed, clothed, and provided for. As they begin their training, each orphan is able to pick a trade that interests them most. This personalized approach enables the trainees to find a career in which they can grow and thrive while maintaining a sense of enjoyment from their work. As they participate in training, all protégés are given apprentice wages to earn an income throughout the progression of their instruction. By encouraging the orphans to equip themselves with a set of practical skills, Leadership Initiatives not only cooperates with our business partners, but with their entire communities.
An example of the opportunities provided by the Orphan Independence and Skills Program is well represented in one of our participants, Jamil. Jamil is a sixteen-year-old orphan that lost his father years ago before starting an apprenticeship with Danliti, the owner of the Adbullahadi's Shoemaker Shop. Jamil has been under Danliti's care for about four years; Danliti took him in about a year after Jamil lost his parents. Jamil was hanging outside of Danliti's cobbling shop looking to help out and earn some extra money to survive. Danliti began to inquire about his family, his future plans, and the challenges he faced. After Jamil had told him he had to stop attending school because he lost his father who had been paying for his tuition, Danliti opted to pay for his fees and give him some extra money for his welfare. In turn, Jamil brought a strong dedication and commitment to the shop, attributes he initially displayed when he tried to provide help in Danliti's shop, even without being asked to do so. Jamil has since graduated from the apprenticeship and helps as a full-time worker at the cobbling shop, learning more about the skill while attending school during the day and helping to pay for his brothers' and sisters' care.
It is the care and compassion of LI's business partners that enables us to make such a strong, lasting impact on communities. The knowledge and support that the Orphan Independence and Skills Program provides is evident in the stories of the many children like Jamil. As we continue to oversee the growth and education of numerous children, Leadership Initiatives is grateful for each and every person that allows us to change lives for the better.