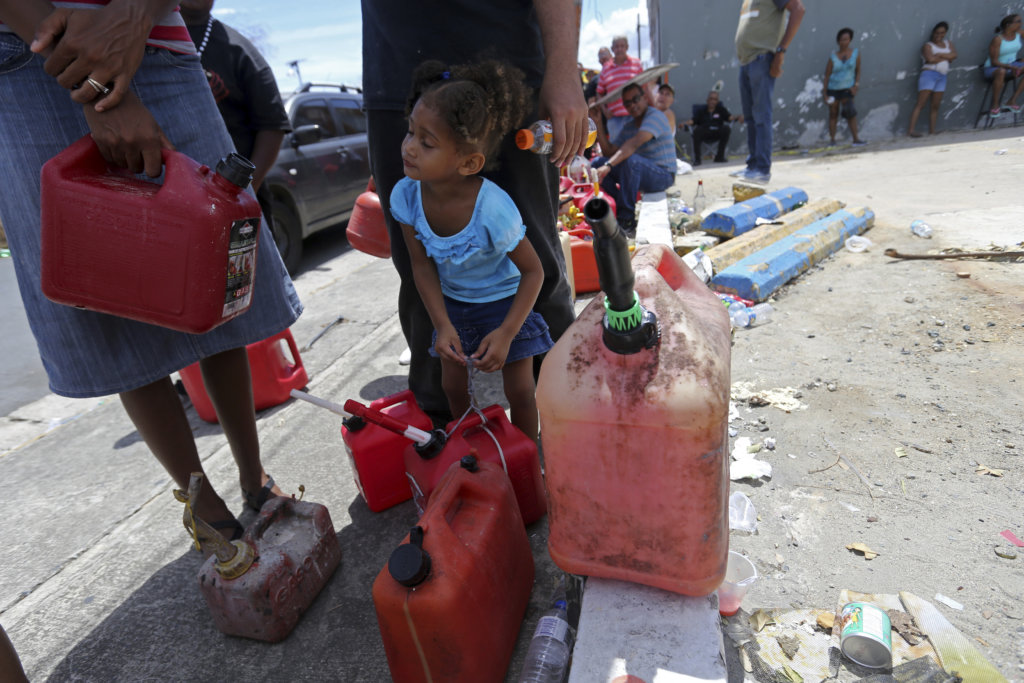 It's been nearly two weeks since Hurricane Maria tore through the Caribbean, causing catastrophic damage across a region still reeling from the devastation of Hurricane Irma earlier last month. In the face of almost unfathomable destruction, our vetted nonprofit partners across the Caribbean are working tirelessly to bring relief to those in need, despite extensive power outages, fuel shortages, and communications disruptions.
Our community's response to Hurricane Maria's destruction has been overwhelming—more than 30,000 of you have already raised more than $3.5 million to support relief and recovery efforts across the Caribbean.
We sent a first round of disbursements to partners in Puerto Rico last week, and we will be sending additional funds this week as well. Our priority is to fund immediate relief efforts at the moment, with a focus on delivering food, safe drinking water, fuel, and emergency medical care to those in need.
In Puerto Rico, Maria's destruction poses significant challenges to our partners on the ground, who've called it, "one of the most complicated crises we have ever responded to." Ted Honcharik from the Fuel Relief Fund, whose team is distributing desperately needed gasoline to power emergency generators and relief vehicles, reported that all traffic lights on the island are with lying on the ground or without power and that "wifi and cell service are still terrible." Their work on the island is vital at this moment, as without fuel to power generators, hospitals and clinics have been forced to close. In San Juan, their team reports that even the island's government responders were sleeping in their cars overnight while waiting for gas stations to open in the morning. As of tomorrow, October 3, Fuel Relief Fund will be in possession of 6,000 gallons of diesel for generators and a 10,000-gallon tank for deliveries, along with a truck to pull the tank, and government security allowing direct deliveries to first responders, NGOs, and the citizens of Puerto Rico.
Maria also devastated Puerto Rico's drinking water supply, and it's estimated that half of the island's 3.4 million residents are without access to potable water. IsraAID's Emergency Response Team is distributing water filters and training residents and local organizations on how to use them. While running these training sessions, their team is also distributing much-needed food and hygiene products.
Given the severe challenges in distributing aid where so much of the infrastructure has been destroyed or damaged, we're especially thankful that you made the smart decision to donate cash to help our partners respond in the most effective ways possible. Immediately after disasters, getting money to local responders is often much faster and effective than coordinating the delivery of donated physical goods.
We've seen this dynamic play out in Puerto Rico, where one of the biggest problems stymieing relief efforts is that supplies are clogged at the port, where two of our partners are currently working to assist in the distribution of vital aid. Our partners at EMPACT relayed that they're "going to be deploying as a logistics element to ensure distribution of the aid that we've all heard about stacking up. We're working with several US-based partners that have arranged for the donation of supplies and travel into San Juan but that don't have any experience or expertise in on the ground distribution, which is where we come in. We'll meet the first load in Miami this weekend, escort it into Puerto Rico and through the receipt process, ensure it gets onto the waiting trucks, and then make sure it gets into the towns where it's been requested. We're working directly with those municipal governments to make sure that it then gets distributed to those most in need. We'll be assisting the local governments with that distribution as needed."
As we receive updates from our partners on the ground over the coming days and week, we'll share their progress with you and continue to report on the impact of your donation.
Thank you for your generosity,
Britt Lake + the GlobalGiving Team