Project Report

| Sep 19, 2021
Thank you for helping communities rebuild for the future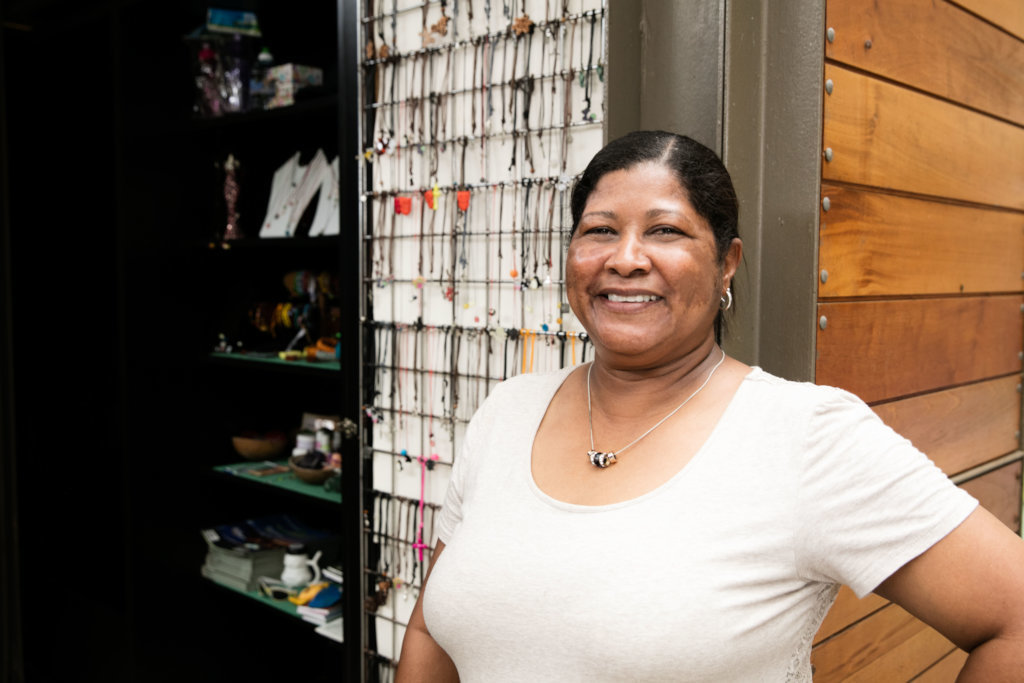 Four years ago, Hurricane Maria made landfall in southeastern Puerto Rico as a devastating Category 4 hurricane before cutting across the entire island. It killed at least 3,000 people, destroyed and damaged hundreds of thousands of homes, and left communities across the island without power for nearly a year. It also caused immense damage to other islands in the Caribbean like Dominica and St. Croix in the U.S. Virgin Islands.
But even years later, the storm is not a distant memory for those who lost loved ones, homes, and livelihoods—its impacts continue to shape daily life. It's important to remember that Hurricane Maria and its destruction did not happen in isolation. It came swiftly on the heels of the powerful Hurricane Irma. And in Puerto Rico, the storm's impacts compounded a dire economic crisis and injustices rooted in colonial legacies and the island's political status as an unincorporated U.S. territory. Now, the pandemic and recent earthquakes pose even more challenges to the ongoing recovery.
Since the 2017 launch of our Puerto Rico & Caribbean Hurricane Relief Fund, you and more than 50,000 people and companies joined in solidarity to collectively raise $12.4 million to support immediate relief and long-term recovery and resilience in the Caribbean.
The GlobalGiving team is incredibly proud of what we, in close partnership with community leaders and local, trusted nonprofit partners in the Caribbean, have accomplished since 2017. As we now close our fund, I'd like to share 10 highlights that are a direct result of your generosity:
We awarded 152 grants over the past four years to 65 vetted, local nonprofits serving communities in Puerto Rico and the Caribbean. Our initial grants funded critical emergency relief, such as providing food, safe drinking water, and fuel. As months and years passed, we doubled down on our commitment to providing long-term funding to community-led organizations driving disaster recovery and resilience to future disasters.
We established an important partnership with Cruzan Rum to power its Island Spirit Fund. This fund has raised an additional $4 million for long-term hurricane recovery in the Caribbean. Many of the GlobalGiving partners that continue to benefit from the Island Spirit Fund, like Protectores de Cuencas and La Maraña, also received funding from the Puerto Rico & Caribbean Hurricane Relief Fund. The partnership is a prime example of how our corporate partners are a vital part of our disaster response work.
As the pandemic swept across the world in early 2020, we recognized that so many of our nonprofit partners on the front lines of disaster recovery were relying on GlobalGiving to step up. We not only launched a Coronavirus Relief Fund, but we also activated rapid response donations from other active disaster funds to support existing partners who found themselves integrating pandemic response with their ongoing recovery efforts. Through the Puerto Rico & Caribbean Hurricane Relief Fund, we rapidly provided more than $300,000 to 10 partners in Puerto Rico to ensure that communities most vulnerable to the pandemic (like families of children with disabilities) had access to food, water, hygiene kits, protective personal equipment (PPE), and other necessities. These rapid response donations did not require burdensome grant proposals or formal reporting. Instead, we trusted our partners to immediately use the funds to support the community members they serve every day.
The Puerto Rico Community Foundation has led an island-wide initiative to establish a Community Aqueduct Network. After the hurricane, access to clean drinking water remained a huge challenge for too many communities. There are more than 250 community aqueducts across Puerto Rico that serve hundreds of thousands of people. With GlobalGiving's support, the foundation has provided grants, training, and targeted technical assistance to more than 30 community groups to ensure local, participatory governance of the aqueducts in their communities. In January 2021, we celebrated when it was announced that the foundation was awarded $25 million in government funding to advance this important initiative.
Women have been at the forefront of hurricane recovery in Puerto Rico. It follows then that investing in women makes entire communities more resilient to future disasters. Taller Salud, a community-based feminist organization founded 40 years ago and based in Loíza, Puerto Rico, is doing just that. It's dedicated to improving women's access to health care, reducing violence within the community, and encouraging economic growth through education and activism. After Hurricane Maria, more than 3,000 families in their community lost their homes. With funds from GlobalGiving, the organization has helped nearly two dozen women rebuild and repair their homes.
Unfortunately, the arts and culture sector is often heavily underfunded and neglected after disasters, even though artists and artisans are at the center of disaster recovery. Since 2017, our partners at Craft Emergency Relief Fund (CERF+) have supported 396 artists in Puerto Rico with nearly $700,000 in grant assistance and donated equipment. The organization has played an important role in getting aid to artists in rural areas with limited access to information about how to receive support from legitimate sources. Similarly, our partners at Y No Había Luz have focused on the power of artistic experiences to drive social change in Puerto Rico. Through art and theater, including puppetry and immersive storytelling, the organization has provided a space for communities to identify common issues and design solutions in a participatory way alongside their neighbors.
GlobalGiving staff traveled to Puerto Rico and elsewhere in the Caribbean multiple times over the past four years to meet directly with our nonprofits partners, grow our long-term relationships with them, and see what they have been able to accomplish thanks to your donation. That also allowed our team to share more incredible stories about their work, like the story of Programa De Educación Comunal De Entrega Y Servicio (P.E.C.E.S.). Based in Punta Santiago, a coastal town in Puerto Rico hit hard by Hurricane Maria, the organization's Community Sustainability Center became its base for all hurricane relief and recovery work from the day the storm made landfall. They've stood by their community ever since—from rebuilding homes to feeding elderly individuals who live alone. With funding from GlobalGiving, P.E.C.E.S.' center is now at the core of the organization's critical community development work.
Our partners at Nuestra Escuela are a powerful force for good. Led by Ana Yris Guzmán Torres, the organization has spent the past four years reconstructing and remodeling its school facilities in Caguas, Puerto Rico that were damaged during the storm. It is also nearing completion on its new solar-powered community first response center at the school that will serve students, their families, and all community members when the next disaster hits. Nuestra Escuela and its community are more equipped to face the future because of you.
We have been fortunate to form lifelong bonds with community leaders in the Caribbean. We have learned from—and been inspired by—their amazing commitment to their communities and a just recovery. GlobalGiving has also forged deeper relationships with anchor organizations in the Caribbean. That is especially critical for the future as the climate crisis causes more frequent and more powerful hurricanes. When the next hurricane strikes in the Caribbean, our nonprofit partners can trust that GlobalGiving will be there to work alongside them every step of the way.
Though we are closing this fund, these trusted nonprofit partners in Puerto Rico and the Caribbean remain hard at work. They need your support to continue the long journey to full recovery, especially given the compounding effects of the pandemic. We encourage you to explore our partners' profiles linked above and, if you are able, consider making a donation to fuel their critical work.
From everyone at GlobalGiving, thank you for joining us to fuel community-led disaster recovery in the Caribbean.
With immense gratitude,
Chase + the GlobalGiving Team
P.S. We invite you to learn even more here about the amazing GlobalGiving nonprofit partners driving hurricane recovery in Puerto Rico and the Caribbean in a special report in our Learn Library.