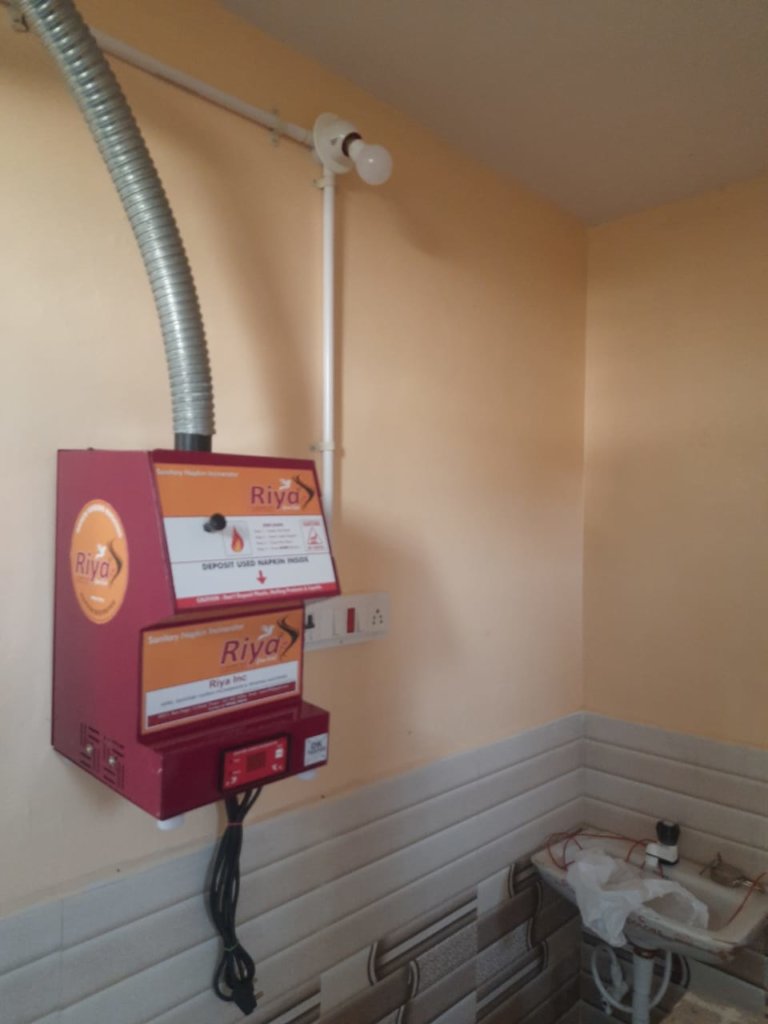 You will never solve poverty without solving water and sanitation! - Its a well known saying by Matt Damon.


The importance of WASH facilities in schools not only decides the quality of infrastructure but also the quality of education. The Stench of a non-functional restrooms change the atmosphere of teaching and learning completely. The study says one of the reasons many girl children drops out of school because of this. In the other hand, with the adequate WASH facilities and child friendly hygiene promotion encouraged the increase in school enrolment and retainment. This is our motivation to keep working on this project called "Girls Glory".
Despite the persisting pandemic, as an NGO we continue to contribute our society with the renovation of existing non-functional restrooms and construction of Restrooms as per the UNICEF usage norms of 1:35 (1 Toilet for 35 children). After choosing the best location in consultation with the school management, contractors from the empaneled contractors, were assigned construction work through 'Work Orders' with detailed specifications withquality check, monitoring and payment norms. Progress was monitored jointly by the school management and Reaching Hand Team. Renovation and Construction of restrooms in 8 schools successfully completed and handed over the respective schoolmanagement.
INSTALLATION OFINCINERATOR:
The Incinerators have been installed in all the 4 schools, introduced the girls how to use it.
SENSITIZATIONPROGRAMS
Follow up sessions on WASH and MHM was organized. We have focused on Group discussion and brainstorming to recall their learning. The children actively participated and benefited through these sessions. As a result, the cleanliness of the washroom was ensured for the children to have access to hygienic environment.
Sensitization workshops on WASH (Water, Sanitation and Hygiene) for girls and boys and MHM (Menstrual Hygiene Management) for girls, were conducted in all the 8 schools. The focus was on building awareness on WASH and MHM practices by engaging visual aids and participatory activities.
Any change in behavior is difficult to achieve, particularly in the short term, as it is very personal and influenced by culture and social aspects particularly on menstrual practices. Hence it must be addressed simultaneously at different levels of household and schools, to increase the chance of its acceptance. The workshops therefore began with the starting point of helping the children to understand their current knowledge and practices pertaining to hygiene. The session ended with participants gaining a clear understanding of the best practices in changing their behavior and practices in WASH and MHM.
METHODOLOGY USED
The participatory workshop included activities, open discussion, scenarios, storytelling, pictorial images, MHM and Hand Washing animated images - all aimed at facilitating easy understanding by all age groups of students. Active participant engagement in all learning activities was encouraged.
WASH AWARENESSPROGRAMME
Personal hygiene plays a major role to promote healthy life. Hence, to protect our health and keep our life healthy, WASH awareness programme was conducted in these 8 schools. The beneficiaries were oriented on importance of maintaining cleanliness in Restrooms, hygienic use of toilets, role of personal hygiene including hand washing, in reducing incidence of water bornediseases.
Sensitization covered the following major components
¦ Oral Hygiene (with 5steps)
¦ BathingRitual
¦ HairCare
¦ FootHygiene
¦ ToiletingHygiene
¦ Hand Hygiene (with 7 steps of handwashing)
¦ Coughing and SneezingHygiene
At the end of the session the 1469 children were provided with health kits.
MENSTRUAL HYGIENE MANAGEMENT
Menstrual Hygiene awareness programs were conducted in the 8 schools for 847 adolescent girls. Girl children were oriented on importance of maintaining and practicing menstrual hygiene, safe disposal of sanitary napkins, myths, and taboos etc.
Workshops were started with the icebreaking session to make the beneficiaries comfortable with the topic. Following inputs were imparted to the children during the session:
Socio-cultural beliefs and taboos surroundingmenstruation
Girls' understanding and knowledge ofmenstruation
Current menstrual hygiene practices inschools
Teaching ofpuberty
Interpersonal relationshipsand
Psycho-socialsupport
Recommendations for better menstrual hygiene management Students were educated on importance of adopting good menstrual hygiene practice to enjoy good health in pursuing their education,best practices on hygienemanagement.
The workshop was divided into two sessions. Topics discussed in first session were puberty and hormones, premenstrual symptoms, myths, menstrual cycle, using preferable sanitary pad, taking balance diet with lots of fruits and vegetables to replace the blood loss and prevent anemia, tips to maintain menstrual cramps, followed by ice breaking session on word puzzle. The second session focused on the importance of changing the sanitary pads regularly and disposing the used sanitary pads in the pits to prevent from bacterial infections, washing the genital areas and keeping the areas between the legs dry to avoid soreness development. At the end of the session, MHM kits were distributed to 847 adolescent girls in 8schools.
POST PROJECT MANGEMENTWORKSHOP
Post project management workshop and teacher's day program were organized on 30th September 2020. The aim of this workshop was to enable the school management and the teachers to own the project and to derive collectively the post project plan for their schools. Hence, to ensure maintenance of the washrooms, we brought out a significant change by promoting hygienic sanitation facilities for the children studying in government schools. It has provided a positive change and self-confidence among girls students and privacy in accessing the detached toilet units.
The workshop was more interactive, and they have shared their experience about the project participatory on how it is helping the children especially in rural and Urban Bangalore. The education department requested the Reaching Hand to continue the good work in other government school in future, at the same time Reaching hand appreciated the teachers and HMs and Honored them with mementos for their good work. Mr. Girish president of education department south 1 shared his view and appreciated the efforts of Fidelity and Reaching Hand for bringing great impact in students' life.
BRC, BRP and other education department heads also attended the program and expressed their view and appreciated Reaching Hand'swork.
My name is Shakuntala I am working as a teacher in GHPS Thipenahalli School, I am glad to share my view on the workshop which was conducted by Reaching Hand. Just after the WASH and Menstrual Hygiene workshop we started hearing about COVID 19 pandemic. No one predicted that this virus will spread so rapidly around the world. I am happy that our children are safe because they had health and hygiene workshop just before Pandemic.
The workshop has created a big impact on student'slife.
The session was very helpful for students now they wash their hands frequently following 7 steps of hand washing; they carry hand towels which was distributed by Reaching Hand, they follow all hygiene practices. I am happy to say there is a big impact after theworkshop.
I am so glad to share that so far not even a single student is affected by COVID 19 in our school, children are making use of Health and Hygiene and menstrual hygiene kits which are very useful and helpful. We thank Reaching Hand for conducting such an impactful session for our students.
Mr. Girish president of education department shared his view and appreciated the efforts of Fidelity and Reaching Hand for bringing great impact in students' life. He stated that many NGOs used to collect the data and later there was no response from them. But in the case of Reaching Hand, we experienced a trust worthy relationship in responding to the needs quickly in brining transformation in the Govt. schools in both urban and rural Bangalore, impacting the lives of marginalized students. We request them to continue their services to reach out to many Govt. schools.
OUTCOMES:
1.Girls have an understanding on how to calculate their menstrual cycle, which was one of the major drawbacks as most of the girls come unprepared to school during their menstruationdays.
2.Menstrual Hygiene Management was explained during the sensitization workshop. Girls are now acquainted on the proper.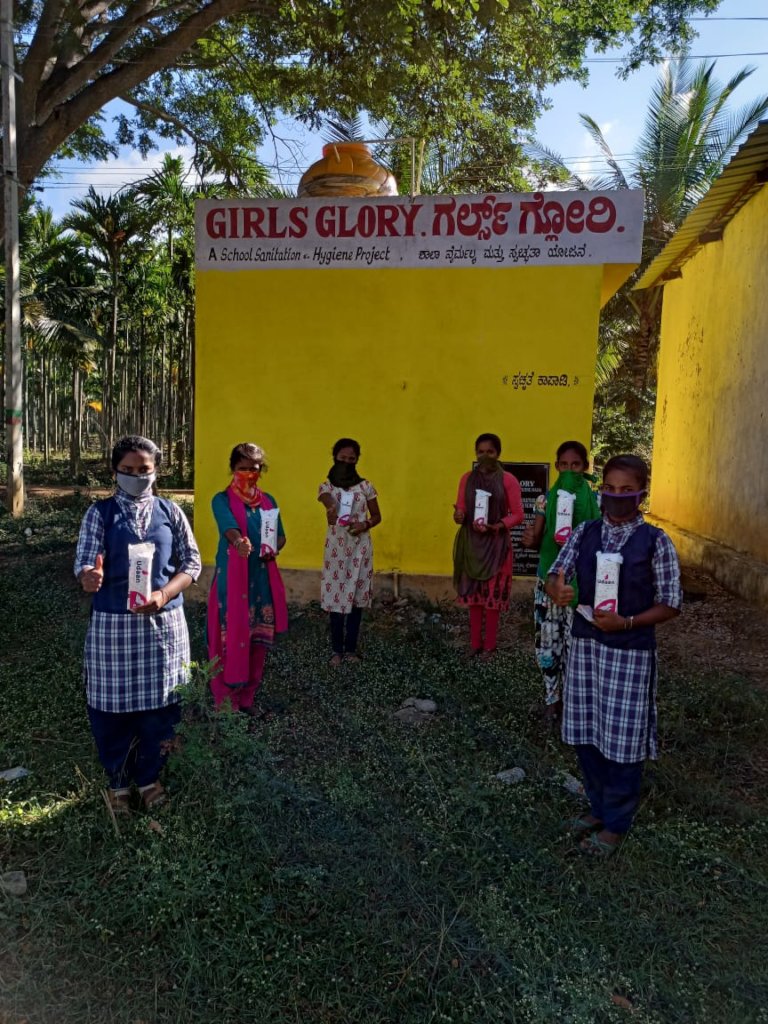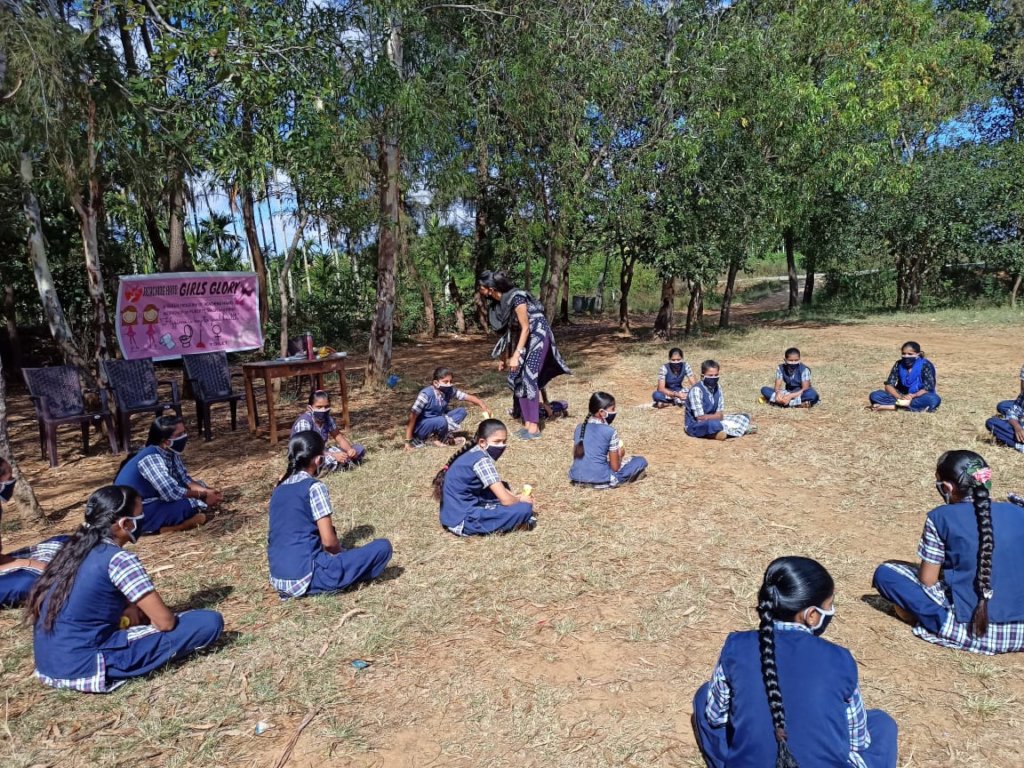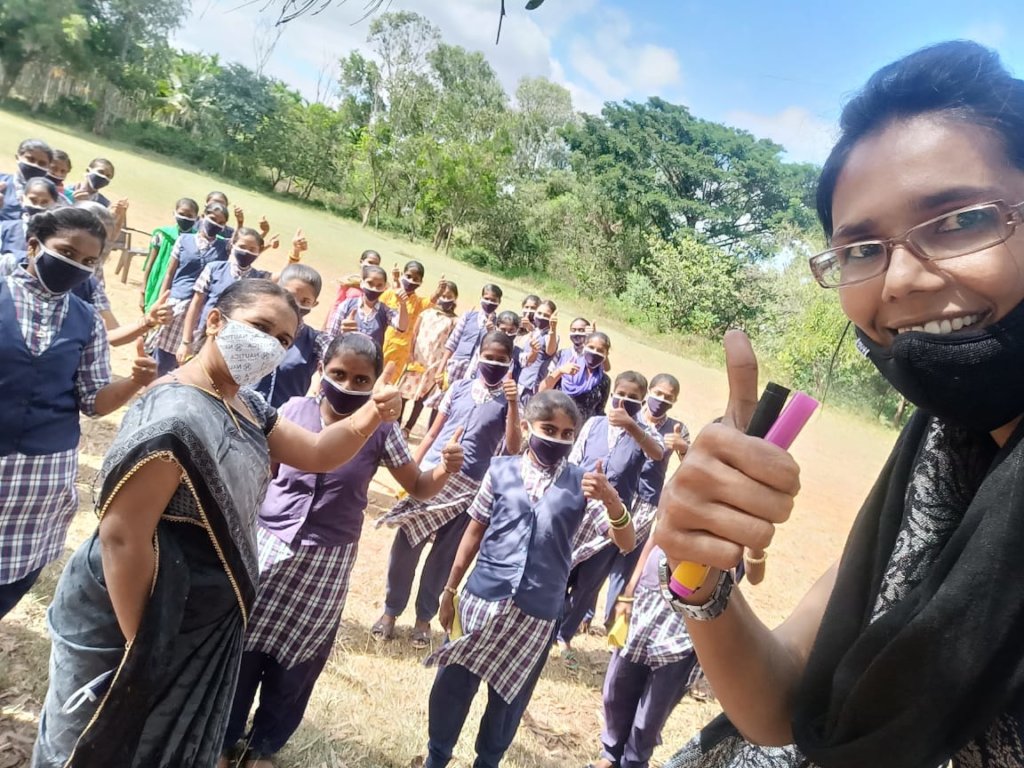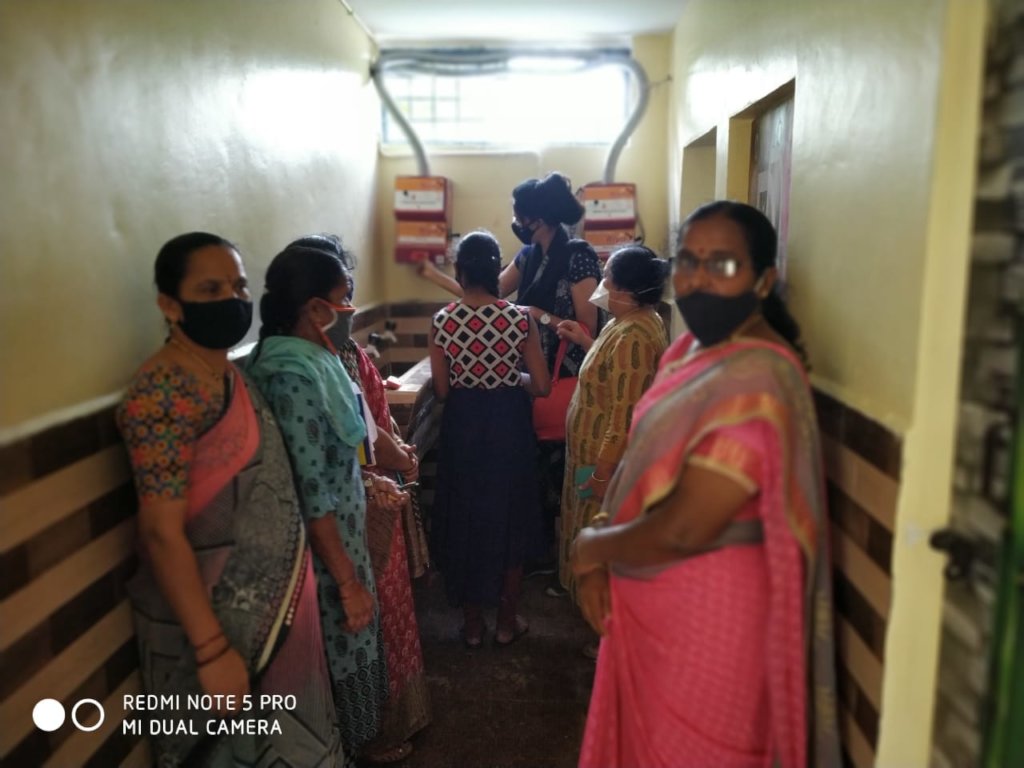 Links: