Project Report

| Aug 7, 2018
Teaching to bloom with grace!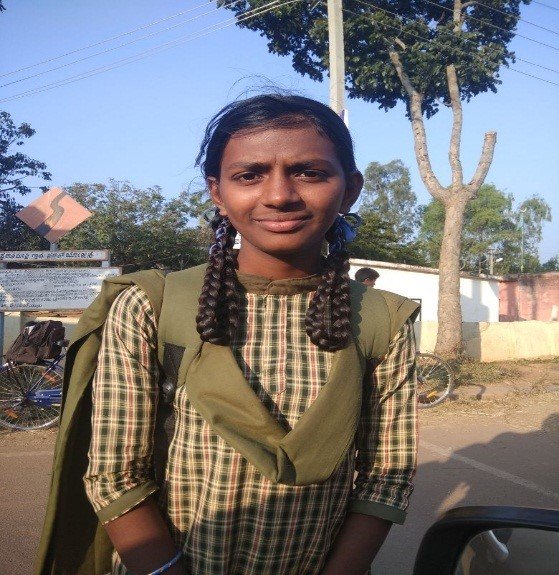 Greetings from Reaching Hand!
Heart felt thank you to each of our supporters and donors. We are very proud to be associated with you.
Teaching to bloom with grace: " I am so happy that we girls don't have to be the laughing stocks again," sighs Divyashree a 9th grade student of Bendiganahalli Government High School.
She justifies her statement saying that teachers yell at the girls for being late to class after recess. She says,"we try our best to be on time, but our school toilet is not functional so we have to go to friends places nearby and hence get late"!
It is during the inauguration of the 3 new toilets units at her school, that she learned about 'Reaching Hand'. She also learned that an Ayamma is appointed for the maintenance of these toilets.
Divyashree says, "earlier there was a toilet but it is not functional now. For the 105 girls in my school it was very difficult. The girls would hardly drink water to avoid using the toilet through the duration in school".
She adds, "the days during periods were extremely difficult, so we either skip school during those days or have to use the toilet in a friend's house near school".
She sighs a relief looking at the new toilets and expressed her joy by saying that she is extremely happy now that she and her friends have separate toilets and she is very thankful to Reaching Hand.
The quarter gone by: Reaching Hands team through the need assessment found that in the government schools ,absenteeism of the girl students is on rise, so the focus was to provide the hygienic and separate toilets to girls in the schools .Reaching Hands Girls Glory program has been progressing at a steady pace in the quarter gone by. In the last quarter, we have inaugurated new toilet units for girls in 7 government schools that will benefit over 1250 girls. In the month of August we are inaugurating new toilet units in 3 schools in Davengere district. This will benefit 245 girls
As part of expanding, new surveys are being conducted in 20 schools in the districts of Davengere, Kolar and Mallur
" Health is a state of Body , Wellness is a state of Being"- J Stanford
We believe creating awareness is important to bring about a behavioral change in these girls so we have conducted puberty and body wellness, hygiene and menstruation sessions and distributed health and hygiene kits in 5 schools in the last quarter and we are continuing to do so in other schools this quarter.
'Child Parliament' was also set up to enhance the leadership qualities and responsibility of the children. We also distributed plates and glasses to the children in 16 of these government schools and we have reached 4000+ children in the past quarter.
Using the latest techniques in Girls Glory program, Reaching Hand constructed toilets with ample water facility .With the help of students, parents and the school management we will ensure to maintain cleanliness of these toilets.
All this would not be possible without your support and generous contribution in terms of love,encouragement, time and donations. You are a part of this program and we would encourage you to visit our schools to see the outcome and the smiles on the faces of these children.