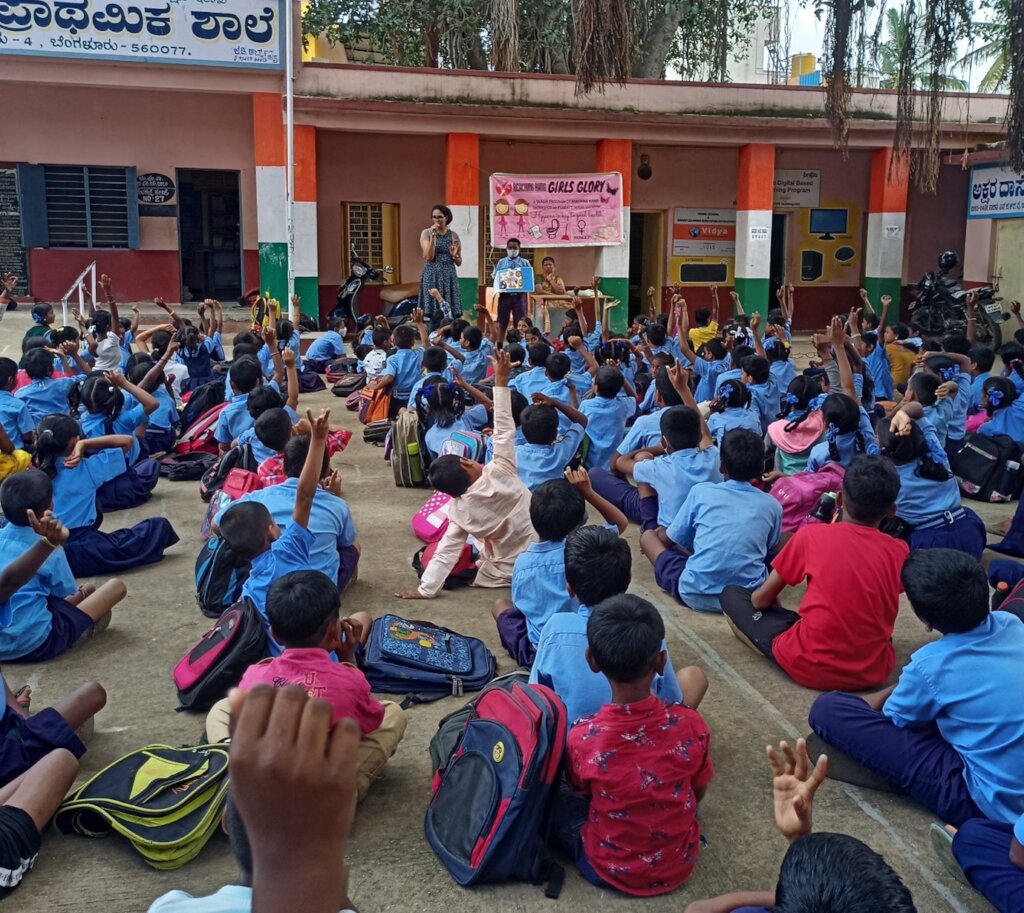 The goal of our "Girls Glory" project is to see the above saying come true in every Government school in Bangalore, Karnataka. Our tailor-made programs and sensitization workshops aim towards achieving this goal. We are not only bringing the awareness, but our project also includes providing the facilities to bring the community change among the underprivileged.
WASH awareness program was conducted in 3 schools for 1837 students. The beneficiaries were oriented on importance of maintaining cleanliness in Restrooms, hygienic use of toilets, role of personal hygiene to reduce incidence of water borne diseases. Sensitization covered the following components:
Story on WASH
Oral Hygiene (with 4 steps)
Bathing Ritual
Hair Care
Foot Hygiene
Toileting Hygiene
Hand Hygiene (with 7 steps of hand washing)
Coughing and Sneezing Hygiene
Skin Hygiene
CONSTRUCTION OF RESTROOMS- TOILETS AND HAND WASHING UNITS
We have initiated the renovation and construction of Restrooms in the schools, as per UNICEF usage norms of 1:35 (1 Toilet for 35 children). After choosing the best location in consultation with the school management, we have assigned the contractor through 'Work Orders' with detailed specifications with quality check, monitoring and payment norms. Progress was monitored jointly by the school management and Reaching Hand Team. In total 4 toilets construction have began in July.
REGULAR MONITORING OF THE PROJECT:
The coordinator carried out regular monitoring visits to 4 schools to ensure that construction is going on as per the plan. During the visit the contractor was also present to discuss with the HM and the SDMC.
WORKSHOP ON HEALTH AND HYGIENE
Reaching Hand organized the Health and Hygiene workshop in 4 Government schools adopted by Fidelity in the month of July 2022.
Some great person rightly said, "Cleanliness is the first low of Health" Sensitization workshops on WASH (Water, Sanitation and Hygiene) for girls and boys.
WASH AWARENESS PROGRAM
Personal hygiene plays a major role to protect our health and keep our life Healthy. WASH awareness program was conducted in 3 schools. The total beneficiary of this program was 1837 students. Beneficiaries were oriented on importance of maintaining cleanliness in restrooms, Hygienic use of toilets, role of personal Hygiene including hand washing, in reducing incidence of water borne Diseases.
GHS Abbigere
GMPS Chikabanvara
GHPS Doddagubi