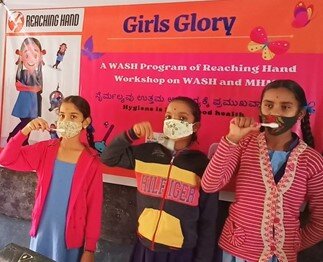 As someone rightly said, "Cleanliness is the first law of Health", Reaching Hand organized a Health and Hygiene and Menstrual Hygiene workshop in 6 Government schools. The workshops focused on building awareness about WASH and MHM practices.
Our workshop had visual aids and participatory activities to make it eventful and easy to follow.
"Change is the constant"! As the environment changes day by day, its important to change our behaviour and lifestyle. Briging this change from the student level, helps the household and the community. Any change in behavior is difficult to achieve, particularly in a short term, as it is very personal and influenced by cultue and social aspects, particularly menstrual practices.
Hence, we must address it simultaneously at different levels - household and schools, to increase the chances of its acceptance and implementation in the day to day life. The workshops therefore began with helping the children understand their current knowledge and practices pertaining to hygiene. The session closed with participants gaining a clear understanding of the best practices and changing their behavior and practices in terms of WASH and MHM.
METHODOLOGY USED:
The participatory workshop included activities, open discussion, scenarios, Storytelling, pictorial images, MHM and Hand washing animated images. All these aimed at facilitating an easy understanding by all the age group of students.
WASH AWARENESS PROGRAMME:
Personal hygiene plays a major role to protect our health and to live a healthy life. WASH awareness programme was conducted in 6 schools. GHPS Doddaballapura city, GHPS Thubgere, GHS Hoshalli, GHPS.Tavarekere, GHPS; Doddaagrahara, GHPS Hoisalkatte C N Halli Tumkur.for 1190 students. Beneficiaries were oriented on importance Of maintaining cleanliness in restrooms, hygienic use of toilets, role of personal hygiene including hand wash.
WASH AWARENESS PROGRAMME:
Around 1190 students were benefitted by our workshops.
Sensitization covered the following major components
Oral Hygiene (with 4 steps)
Bathing Ritual
Hair Care
Foot Hygiene

Toileting Hygiene

Hand Hygiene (with 6 steps of hand washing)
Coughing and Sneezing Hygiene
Skin Hygiene
MENSTRUAL HYGIENE MANAGEMENT:
Menstrual hygiene awareness programs were conducted in 6 schools for 622 girls. Students were oriented on the importance of maintaining and practicing menstrual hygiene, safe disposal of sanitary napkins, myths and taboos etc.
Workshops were started with the ice breaking session to make the beneficiaries comfortable with the topic. Following inputs were imparted to the children during the session:
Socio-cultural beliefs and taboos surrounding menstruation
Girls' understanding and knowledge of menstruation
Current menstrual hygiene practices in schools
Teaching of puberty
Interpersonal relationships
Psycho-social support
Recommendations for better menstrual hygiene management
Students were educated on importance of adopting good menstrual hygiene practice to enjoy good
Health in pursuing their education; best practices on hygiene management
OUTCOMES:
Girls have an understanding on how to calculate their menstrual cycle, which was one of the major drawbacks as most of the girls come un`prepared to school during their menstruation days
Menstrual Hygiene Management was explained during the sensitization workshop.
Girls are now acquainted with the proper usage and disposal of sanitary napkins.
Workshops created the environment for the students to openly discuss their issues and problems faced during their menstruation.
WASH COMMITTEE:
WASH Committee were formed in all the 6 schools. Prior to that, students who were interested in the health leadership were short listed and oriented to participate in the campaign/election. After the campaign, all the students exercised their franchise and cast their votes to select their leaders.Totally 622 girls actively participated and casted their valuable votes and elected their WASH committee leaders in all the 6 schools.
WASH committee leader is responsible for sanitation cleanliness in schools. The team will be rewarded during our monitoring visits for the cleanliness of the restrooms.
MENSTRUPEDIA COMIC BOOK DISTRIBUTION:
Menstrupedia comic is the period guide for girls of 9 years old and above. It is a guide to educate the girls on menstruration.It aims to help girls understand the process of puberty in women, It seeks to destroy myths and to normalize the biological process.
It helps girls to understand their bodies better and not let society shame them for their biological make. It addresses the adolescence girls who haven't started their menstruration cycle yet and want to learn more about it. Also it helps the girls who have just started their cycle and want advice on how to prepare themselves.
INSTALLATION OF INCINERATOR:
Installed incinerator in all the 6 -schools and oriented the girls and the school staffs on how to use it in a right manner. Explained the "do's and don'ts" while using the incinerator.
Case study:
I am Mounica studing in GHS Hoshalli school, Our school is located in Tumkur rural area, Reaching hand Staff was conducted the Health and hygiene session for all the school students ,it was very useful session we were not aware of the Hand Washing and Tooth brushing steps it was a great leaning for all of us.
I didn't have fear about puberty but I didn't know the "do and don'ts" of Menstrual Hygiene practices. The last session was very interesting and helpful. Girl children were oriented on the importance of maintaining and practicing menstrual hygiene, safe disposal of sanitary napkins, myths and taboos.
About Toilet building, the one which we had was very old, not clean, smelly, adolescent girls were not very comfortable during their periods, as lack of disposal facility and due to lack of knowledge girls use to throw used pads in school premises. Now we not only have a clean toilet built by Reaching Hand but also incinerator to burn used pads. Thanks to Reaching Hand.