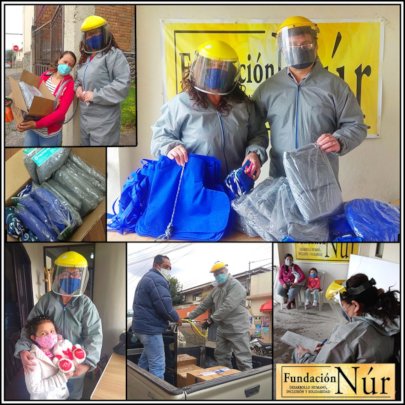 Dear friends,
We hope this email finds you well
We want to thank you for your trust and support during this difficult time
Here is a little report of activities that you have helped accomplish
We can differentiate four times in the activities of Fundación NÚR 2020:
1- The initially programmed one
2- The emergencies that were carried out in the most critical months of the pandemic
3- Those that emerged as a response to the health and economic crisis already unleashed.
4- The final period, of evaluation and generation of better solutions to the emerging problems
1- From January to March 12, daily training activities and task control were developed with 25 children from vulnerable conditions, and family orientation workshops with their parents.
Progress was made in agreements with other institutions (HIAS-UNHCR) to expand assistance to
local and foreign teenagers from the neighborhood, in an integration project that was cut short when the quarantine was decreed.
2- A week after the decree of the absolute quarantine, the families of the children, whose parents lived off the daily income they generated, begin to suffer from the lack of food. We began by distributing the food reserves, and then we began activities to find donors to be able to support these families. More and more families in desperate need were coming to us for help, and we were able to help 73 families in the most critical weeks.
As soon as the quarantine was decreed, we started to use virtual teaching methods to continue with the training of the children, we acquired the necessary equipment, we looked for professional volunteers in different countries, and we set up an emergency program. At the same time, we provided families with telephones, computers, and weekly internet subscriptions so as not to lose communication with those most in need, who lacked these elements.
3 - With the pandemic already advanced, and in view of the impossibility of sustaining so many families, we reduced food assistance to 25 families with complete attention, and to 16 with punctual supervisions. We developed the "Plan de Apoyo Familiar Solidario", to enable families to adapt to this new reality and achieve self-sustainability.
We maintained the training program for children, still in force, with 34 regular assistants, and for the parents, we extended the training program and psychological assistance and began to support them in the development of micro-businesses.
We accompanied three mothers in their pregnancy and delivery and assisted almost 10 babies during their breastfeeding, currently, we continue with 5 babies with continuous support.
In addition to the families, we accompanied several older adults with food and support, we were able to repatriate one to his native country, and we continue to support two elderly people with food.
We incorporated more volunteers in various areas and restructured the foundation, looking for more agility, to be able to provide better services and obtain a better donor base to continue operating and expand benefits to families in need
4-Currently we are approaching the end of the 2020 training cycle, and we are programming the 2021 Annual Operating Plan based on this year's experiences.
Please remember you are part of this big change, NUR is offering valuable services to the community and you are part of it!
We want to wish you a merry Christmas and a happy 2021!
We are sure this coming year will be full of hope and positive changes.
Please stay safe and healthy.
Big hugs,