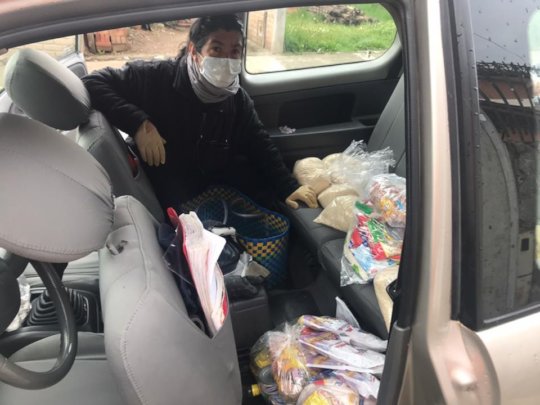 Dear Friends,
We hope you are healthy and safe at home
Today we are sharing the emergency plan we have had to activate during this worldwide crisis we all are having to confront.
El Arenal Foundations has 74 children and teenagers who attend the foundation to get counseling and help with their school asignments and make shure they are not walking out on the street exposed to dangers of society, we also know a big part of el Arenal foundation is their nutritional program, many children and teengers rely on the snack and lucn they recieve everyday because when they go home, they have nothing to eat.
With this crisis, El Arenal foundation had to close its doors and think of different ways to continue serving the community.
Theay are offering therapies and support one on one to the families that have emotional emergencies, the teachers of el arenal go tho the houses of the families that have no internet to check on them and make sure they are working still on school activies.
But mainly, thanks to you, el Arenal fuondation is still able to cook lunch every day and the families that are close come and pick up enough food for each family member. additionaly the Director of el Arenal sends a snack for the children to eat at home too.
For the families that cant walk to el arenal everyday, we have created a bag full of lentils, beans, tuna, powdered milk, oatmel, soap, alcohol and many more items for the familes to be able to eat at home, this food kits can last for up to 8 days to a family of 5 members.
Every Friday the bags are ready to be picked up for each family.
The faces of relief of the parents is something I will not be able to express with words.
They walk back home with tears in their eyes knowing they can cook for their children and they can go to bed with a meal on their stomach.
Please know how big of a difference you are making, you are part of prayers songs and tears of Joy everyday!
Please know we keep you on our thoughts.
Stay healty and dont forget, everyday, you are the reason why 74 children teenagers and their families are able to eat.
Big hugs to you!