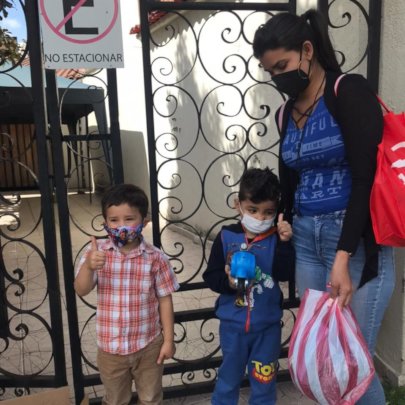 Dear Friends,
I hope this email finds you well
A year ago we decided to join forces ith our Friends rfrom the Cuenca Soup Kitchen and creat our food program for the families of our partner foundations that lost their jobs and had nothig to eat.
We had 40 enough for 40 families so at our houses we started putting together the food kits for the families, we were not allowed to open our offices yet.
Little by little we have been able to find great aliances, your support has made posible to distribruthe thousand puonds of pork mear, chiken, eggs, rice, lentils, Beans, Tuna, Oatmeal, shampoo, thooths brushes, Soap, Facemasks, and much more!
Every Friday, we deliver a food kit enough for a familiy of 5 members for up to 1 week.
Thanks to you, this month we will deliver 145 food kits.
Your support has madea huge differece in the families we help.
Some femilies have been lucky enough and have founda job, they have left the program and this gave more families the opportunity to recieve the food kits.
We work together with our partner organizations to make sure every member gets inteviwed and we visit their homes to make sure they really need the help
We also have had the support of lofilcal businesses thet have contributed withe bread, cinnamon rols, donuts and cakes. The smiles on the children faces fill our hearts with joy.
We weant to thank you from the bottom of our hearts for allowing this program to grow.
Please know that thanks to your trust and support 725 individual have somthing to eat every day!
Thank you for being part of our big Hearts of Golds Family!
Stay safe and healthy,