Project Report

| Sep 14, 2021
Report 11 "The Tortoise and the Hare"
By Jill van Leeuwen | Project Leader.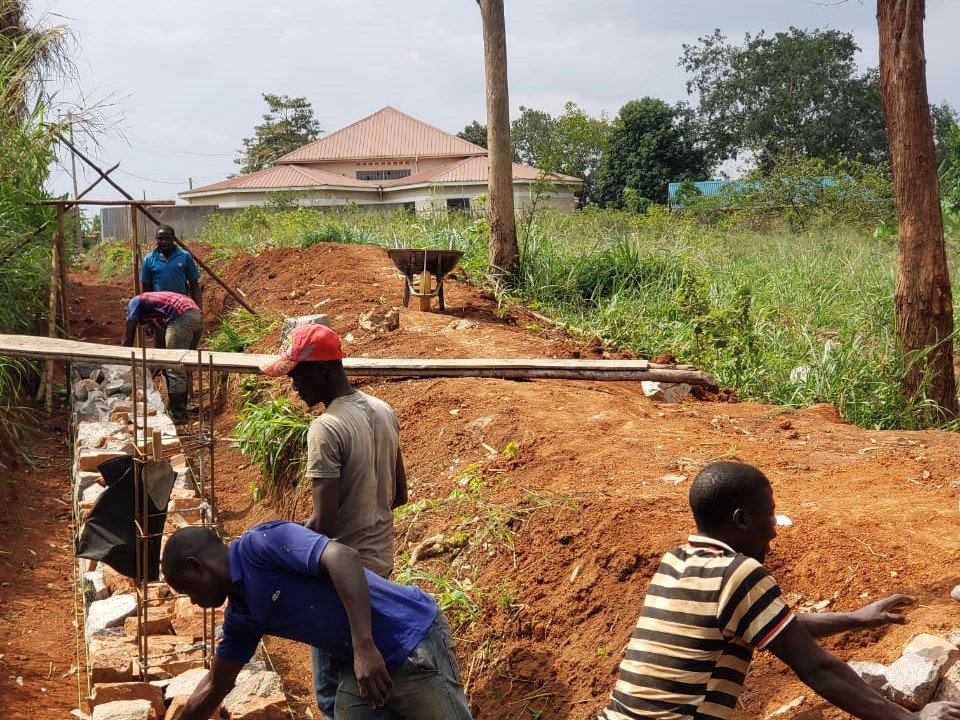 "The Tortoise and the Hare"
The coronavirus pandemic is still dominating daily life in Uganda. Whereas Western countries seem to be returning to "normal" Uganda is still, for the most part, in lockdown. Schools and other educational institutions remain closed and only 2% of the population are fully vaccinated. Metaphorically speaking you would call this the Tortoise. Progress is painfully slow and lives are being greatly affected. Currently schools are trying to do online education but the majority of students have no access to social media devices, and if they do very few can afford to pay for online data, approximately £15 per month
In contrast our building team at Children's Welfare Mission (CWM) swung into action as soon as lockdown commenced, taking advantage of the bizarre circumstances of having no children on the campus. Firstly, improvements were made to comply with the government's Schools Coronavirus Regulations so that we could re-open as soon as permitted. This entailed taps for handwashing with suitable drainage. See our report 7" SAM still in lockdown -closed for children but open for long lasting improvements!". Secondly, in our last report we were delighted to announce that the new path up to SAM has been completed. Since then, a new Science Lab /Classroom has been built for the secondary school, and now the team is putting all its efforts into completing the perimeter wall. Metaphorically speaking you would call our building team the Hare!
Online education
The government is promoting online education in this latest lockdown. Regrettably, this leads to ever greater differences between the privileged few with internet access, and the vast majority of disadvantaged students. Currently only 50% of our paying students and 6% of our sponsored students are able to attend online lessons in our secondary school, and 14% and 7% respectively in our primary school and SAM. Despite this low attendance our dedicated teachers continue to give online lessons so that they can help wherever possible. They have been following up each child's education progress, using social media when they can. Children unable to access the internet, but living close enough to the campus, are given work delivered by hand or collected by their parents. The SAM teachers are also teaching and providing support to the younger children who live on the campus and in the immediate neighbourhood.
Perimeter Wall
In 2019 we held a micro project appeal to fund the building of 400 meters of the campus perimeter wall, and were able to complete 100. We have now re-launched this appeal for the remaining 300 meters and are actively fundraising in the Netherlands. The building team is working very hard to complete the last section of the wall leading up to the SAM compound. You can see their progress in the photos at the end of this report.
If you would like to donate then please take advantage of the GlobalGiving 5 day 'little x little' matching campaign, which is running from 13th-17th September. Every donation up to $50 = £36, (or the first $50 of a larger amount) will receive a 50% match. BIG change can come from your little acts of kindness! Please be sure to tell your family and friends – GlobalGiving have promised that the matching funds will not run out – every single donation will go 50% further!
You can donate online any time during these 5 days at: www.globalgiving.org/53982 to increase your gift by 50%, or at anytime until the micro project ends on 3rd December 2021.
Kasi
Here is an insight into the life of our head builder Kasi. Kasi Robert is 47 years old. He is the father of 8 children. His eldest child is now 25 years old. Kasi is one of the longest serving employees at CWM.
He first became involved with CWM in 1995, supplying building materials to the project. A year later he joined the staff of CWM working in the Maintenance section. He has now been Head of the department for several years and worked on various of our Projects. These include the construction of the main office building; the new primary school; dormitories; guest houses; the campus wall; new volleyball all weather court; SAM and the road to SAM; new school classrooms and the refurbishment of the Clinic, etc.
He is proud of the fact that due to his hard work he has been able to build a house for his own family and pay for his children's education, some of whom have graduated successfully and now have good jobs themselves!
"I am so happy that l got an opportunity to work with this Organisation. I enjoy working with children and really value the Organisation's trustworthiness, its prompt payments of our salaries and the good administration" he says.
Thank you
Your support in whatever way, is helping us make improvements to the safely and wellbeing of our needy, vulnerable young children and all the incredible staff at SAM and CWM. It also benefits so many others on the campus.
Please visit our website for more information and regular updates: https://www.kinderhulp-afrika.nl/en/

If you have any questions, please do not hesitate to contact the office via the website or myself personally, jill@kinderhulp-afrika.nl, I would love to hear from you.

I hope to be able to give you more positive news on the re-opening of the campus before Christmas!

Jill van Leeuwen.