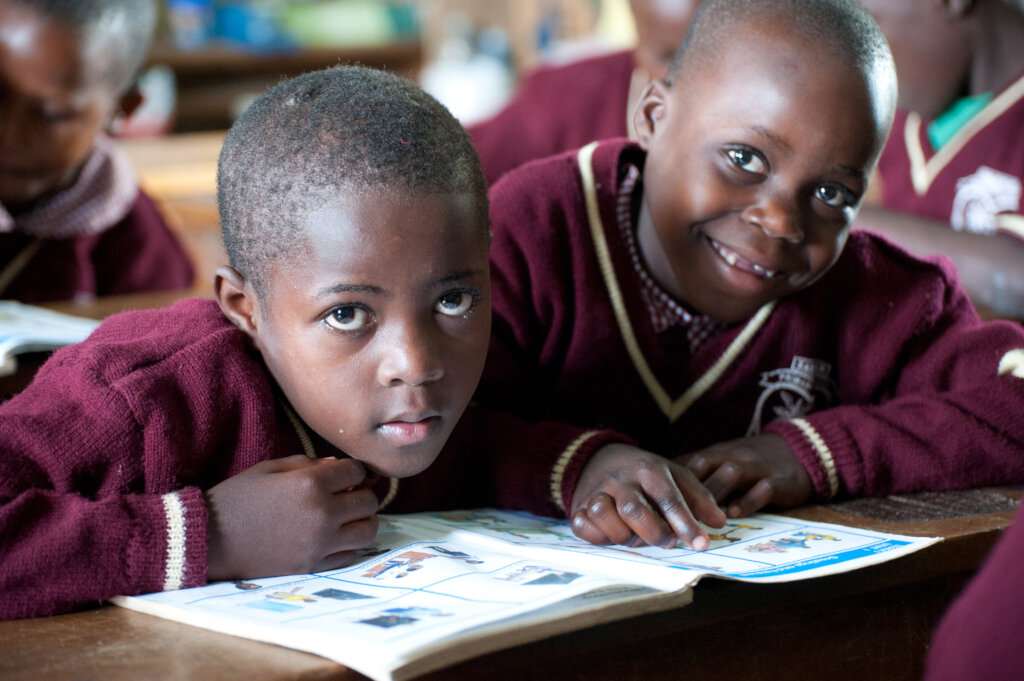 Give Light
Give Light…through Education!
Our children and staff in Uganda deserve an unforgettable Christmas!
This Christmas we want to Give Light to all the children attending the SAM Schools. We do this every day by giving them an education within a healthy and stimulating environment in our purpose-built schools and the many campus facilities.
Give Light... in the hearts of our children!
This Christmas we want to give all our children and staff in Uganda something extra, a little bit of Light. They deserve it! They come from poor families in which a nice pair of trousers or a new dress are simply not affordable. So, this Christmas we are planning a surprise for everyone. Every girl will get a new dress, the boys a pair of trousers and a shirt. Our brilliant staff will also get a little extra. Due to the rising costs of daily living and providing for their families, they have little money left for themselves. We want to make them happy this Christmas with crockery and other useful household items that they desperately need in their homes. We have calculated that the total budget for this is €5,000.
Give Light ... on the streets for our children!
In addition to a personal gift, we want to go a step further this Christmas. The safety of our children is our upmost concern! We have already installed 50 solar lamps on our campus giving light for the children in the evenings, but not all the paths on our campus are yet lit. Another 30 solar lights are needed on the remaining stretches that still needed to be lit.
Light means safety for our children and €4,000 are still needed.
Light for our children. Will you help make that possible this Christmas?
Give Light on Giving Tuesday 28th November 2023.
As many of you know, Giving Tuesday is a yearly international day for charitable giving that follows Black Friday and Cyber Monday. This year GlobalGiving (GG) is offering a $1,200,000 Incentive Fund that will be distributed to all projects proportionally based on final fundraising totals. Therefore, the more funds we can raise during the 24-hour campaign the more 'prize' money we will earn!
Help us to Give Light to our children and our wonderful staff. We would be so grateful if you could help us do this and make this year's GG Giving Tuesday a great success! You can donate to SAM Schools via this link:
You can donate in $, £ or €uros! - 'Giving Tuesday' lasts for 24 hours and starts at midnight ET in the USA, which is 5am GMT in the UK and 6am CET across Europe.
Climate friendly Christmas Presents!
Look no further! Sending a GG Gift Card and asking the receiver to support SAM Schools is an environmentally sustainable and long-lasting gift… plus it's easy!
Just click this link: https://www.globalgiving.org/gifts/ to buy and send your cards digitally. The recipient can then choose which project to support, so it's particularly important that you kindly ask them to donate their card to SAM! www.globalgiving.org/42553
Every donation is welcome! Kinderhulp Afrika, who run our SAM schools and the Children's Welfare Mission, rely entirely on donations and we are so grateful for all the support we receive.
Thank you!
Thank you for your support and continued interest during this last year. If you can't give now, we completely understand, and would be grateful if you can help us by sharing the link and telling your friends about the work we are doing and all that we are achieving in Uganda.
Please visit our website for more information and regular updates: https://www.kinderhulp-afrika.nl/en/
If you have any questions, please do not hesitate to contact the office via the website or myself personally, jill@kinderhulp-afrika.nl, I would love to hear from you.
I would like to take this opportunity on behalf of all the staff at SAM, the Children's Welfare Mission and Kinderhulp Afrika to wish to and your family a Very Happy Christmas and Best Wishes for a healthier, happier, brighter and peaceful 2024!
Here is a little present from us to Give Light to you this Christmas. A singing swinging song from our SAM children!
https://www.facebook.com/Kinderhulp.Afrika/videos/3043994819064988/