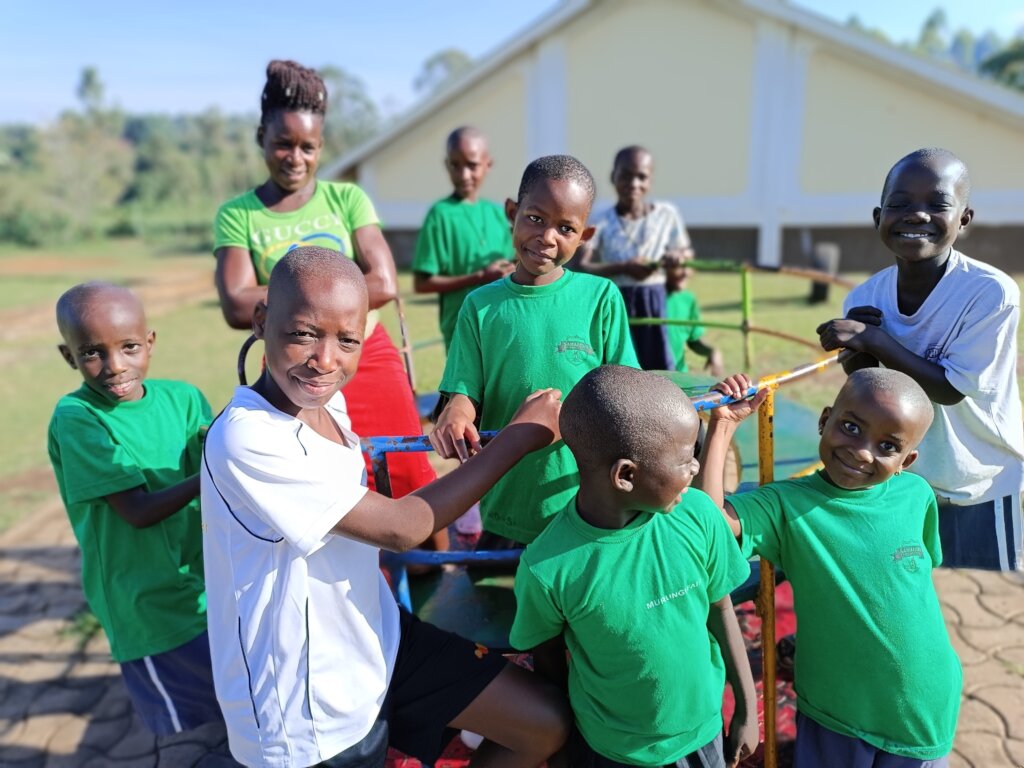 On May 13th we held a party to celebrate 35 years of the Charity "Kinderhulp Afrika" read on to find out more.
Update from the Samaritan Schools.
But first news from the Samaritan Schools, The Samaritan Day Care & Kindergarten - SAM and the Samaritan Primary School – SPS.
The children returned in April to start their second term. Currently in there are 65 children in SAM in 3 classes. 10 of these children are fully sponsored by our child sponsorship program. In the Baby class there are 16 little ones of which 1 is sponsored. In the Middle class there are 26 young children of whom 4 are sponsored and the Top class there are 23 pre-schoolers of whom 5 are sponsored.
These children all receive a range of developmental activities and care tailored to their individual needs with the focus on educational games and early language, reading and counting skills preparing them Primary School education.
In SPS there are currently 337 children in 7 classes of which 97 are supported by the sponsor program. These children receive top quality education from our dedicated team of staff with the aim of helping each child develop to their full potential. To learn more about our sponsorship program click here: https://www.kinderhulp-afrika.nl/en/sponsor-a-child/sponsor-a-child
Your contribution makes a difference in a child's life!
The secondary school students have made a promotional film for their school. Let yourself be carried away by their enthusiasm, dance, and the song they wrote themselves. Anyone who was on the anniversary day has already been able to enjoy this video.
Promo Namugongo Secondary and Vocational School - YouTube
35 years ago...
35 years ago, Mathijs Piet received a phone call from Canada. A Ugandan choir of young children with their teachers and escorts were travelling through North America, singing and raising money for their school. Their visas were about to expire but the children could not return to Uganda as war had broken out..
Mathijs did not hesitate and, together with others, he did everything possible to get the children to the Netherlands. The children were given shelter, received support and education from their teachers. The choir continued giving concerts in the Netherlands to raise awareness of their plight. But the story it didn't stop there in fact it had only just begun…

Hearts were touched by the enormous need in Uganda. A step of faith was taken and 25 hectares of land in Namugongo was purchased. A building was erected with dormitories and a classroom to accommodate the thirty orphans.

It started as a dream. Now 35 years later, a preschool, a primary school, a secondary school, a vocational school and a clinic are located on the same site. It has become a vibrant bustling campus. More than a 1000 children live there! They are cared for and more importantly they receive a good education, giving them a chance of a better future! Our Motto: "From Hopeless to Hopeful."
After 35 years, Mathijs Piet stepped down from his position of Chairman of the board of directors at Kinderhulp Afrika and handed over his baton to Xander Rijken. We are very thankful to Mathijs and his wife Willemijn for all they have done for these vulnerable children. They really have gone beyond the call of duty.
Anniversary celebration.. one big party!
We look back on a wonderful day and are very grateful that we were able to celebrate 35 years of Kinderhulp Afrika with more than 200 many people. We are also grateful for many people who are involved with the children in Uganda and in Europe, Sponsor parents, friends, volunteers... they (you) all make a difference in a child's life!
During the festive day there was an auction, all kinds of products and activities were sold. One of the board of directors, Vincent, cycled no less than a 100 kilometers on stage during the ceremony and raised more than €600! All in all we raised an amazing amount of € 11,000 which means we can continue to investing in the children! Thanks to everyone who contributed to this.
Royal recognition!
During the ceremony the mayor of Aalsmeer had a totally unexpected surprise for Mathijs Piet. He was decorated 10 years earlier becoming a member of the Order of Oranje Nassau, but he had to hand in this accolade as he was awarded a Knighthood! Earlier this year another board member, Arjan van der Kraan, was also recognised for 25 years faithful service, and decorated in the Kings honours list becoming a member the Order of Oranje Nassau.
Thank you!
We hope you have enjoyed reading this update and will look out for our regular updates from SAM and SPS throughout the year.
Thank you for your support and continued interest for our work in Uganda. We would be grateful if you can help us by sharing the link and telling your friends about the work we are doing and all that we are achieving in Uganda. You can visit our website for more information and regular updates: https://www.kinderhulp-afrika.nl/en/

If you have any questions, please do not hesitate to contact the office via the website or myself personally, jill@kinderhulp-afrika.nl. I would love to hear from you.