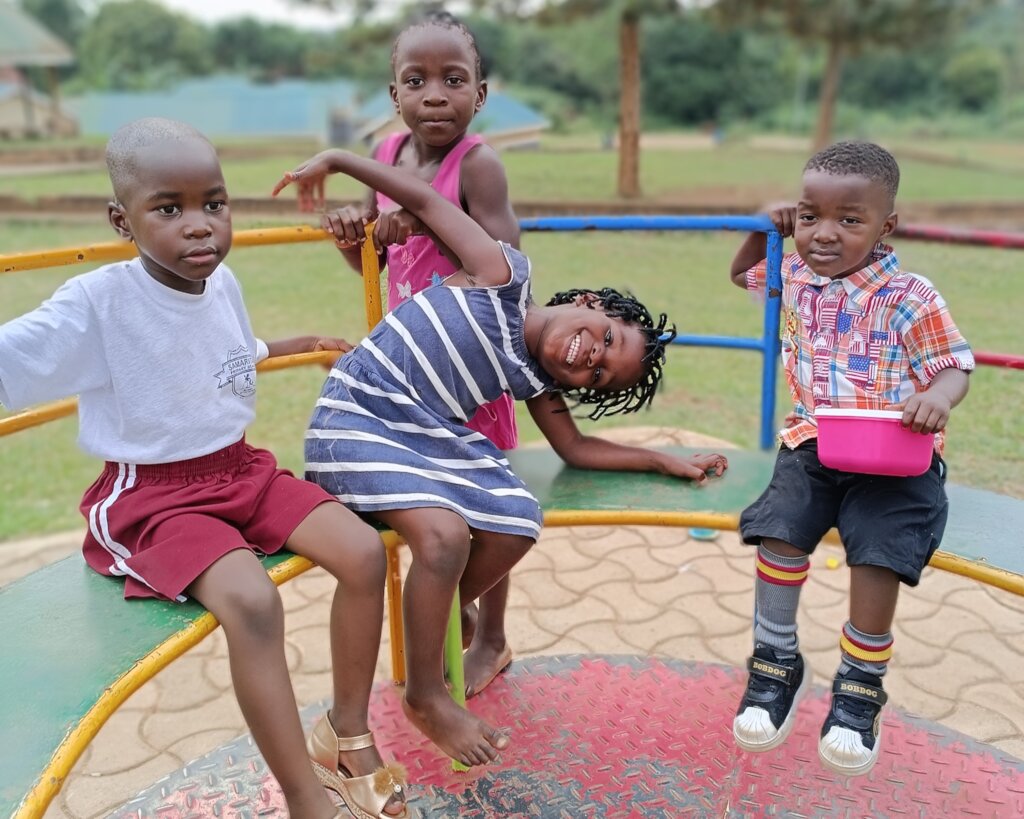 A friendly hello to all our SAM fans, GlobalGiving readers and supporters!
SAM is a very special place where some of Uganda's most vulnerable little ones aged 0 to 6 years can learn, play and interact with other children of their own age in a safe, relaxed, modern and well-equipped building.
A* Report for 2022!
Despite the continuing challenges of the coronavirus pandemic, and the new ones of an Ebola outbreak, SAM has earned what we consider to be an A* report on the 2022 school year.
SAM's wonderful Head Teacher, Florence, sums up the year so appropriately in her report when she writes "We truly give thanks to the Almighty God for having enabled us to come to the end of 2022 successfully. First and foremost, we thank the administration for supporting us financially during the course of the school year. We are particularly thankful for the flat screen television for the classroom and the outdoor swings installed for the children to play on".
SAM welcomed 70 pupils in the 2022 school year, who were looked after and taught by three teachers and two caregivers in the first two terms, joined by a fourth teacher recruited for the final term.
We had 20 children in Kindergarten 1 Class (KG1), 24 in KG2, and a very successful class of 26 in KG3.
We are delighted to confirm that all 26 children in KG3 achieved the educational standard required for them to graduate to the Primary One Class in our Samaritan Primary School for the 2023 new school year.
Achievements – too many to list them all!
Everyone at SAM has their own achievements to celebrate, and thanks to the generosity and support of all of you as donors and supporters, our main fundraising achievement for the year has been the purchase of the 'Jolly Phonics' literacy resources. https://www.jollylearning.co.uk/.
The equipment and materials include the Jolly Phonics reading cards and story books, compact discs, workbooks and teachers guide and, best of all, a fantastic large flat screen television!
We are really delighted with this, as are the children who are developing their literacy skills in exciting and fun ways. You can see from the photo below that the children are absorbed in watching the brightly coloured letters on the screen.
Our teachers report that the children are quickly learning the Jolly Phonics sounds and how they can blend these with letters to read sentences and eventually stories. There are also Jolly Phonics rhymes and songs to encourage creativity and group activity.
We were also given some new outdoor play equipment that has quickly become very popular with our pupils and is encouraging more adventurous physical activity.
Challenges – also lots, but we are rising to them!
The impact of the coronavirus pandemic is very evident, and will be creating challenges for SAM for a long time to come. In addition, 2022 saw the Ugandan Ministry of Health declaring an official outbreak of Ebola in our District, which resulted in a number of restrictions on our campus. Certain visits were suspended, swimming prohibited, and SAM's top class KG3 children could not hold their celebration events for graduating up to our Primary School.
2023 and SAM is off to a great start!
We are very pleased to report that the new school year at SAM started on 6th February, when we welcomed 62 children for the new term. In the baby class, Kindergarten KG1, we have 13 little ones, there are 24 youngsters in KG2, and 25 in our top class, KG3. Five children are fully sponsored by our Kinderhulp Afrika (KHA) sponsor programme. One child from this most vulnerable group has lost both parents, one has lost their father, and 2 live in households in extreme poverty. Our wonderful staff care for each and every child as an individual and provide a supportive environment in which they can develop.
Looking forward
We have so many ideas on how SAM can develop! As always, it is our wonderful donors and supporters who make everything possible and allow us to make ambitious plans on how we can best help Uganda's young children. One of our main aims for this new school year is to expand the classroom areas within the SAM building, so that we can offer additional places in each of the classes and purchase the educational resources for our teachers to use. We also aim to recruit additional staff as our numbers grow.
As we all know, outdoor play and opportunities for physical activity are vitally important for children's successful development. A sand play area with sand pit toys and tools, and new modern swings, are top of our list for the SAM garden in 2023.
'Little By Little' – GlobalGiving's fundraising campaign is back this April!
Every April and September this popular campaign helps charities like ours to get extra benefit from donations by giving a 50% match on all donations up to £50/$50. That is a fantastic 50% more on every donation, and unlimited matching funds are available again this year.
Thank you!
We hope you have enjoyed reading this update and will look out for our regular updates on SAM throughout the year.
Thank you for your support and continued interest during these continuing difficult and uncertain times. If you can't give now, we completely understand, and would be grateful if you can help us by sharing the link and telling your friends about the work we are doing and all that we are achieving in Uganda. You can visit our website for more information and regular updates: https://www.kinderhulp-afrika.nl/en/

If you have any questions, please do not hesitate to contact the office via the website or myself personally, jill@kinderhulp-afrika.nl. I would love to hear from you.
Please also look out for a special campaign that we will be running this spring – we are raising money to buy a new ambulance that is desperately needed in the local neighbourhood, to help support the families and local communities around SAM and our KHA schools and clinic campus. I will be sending out a special appeal email at the end of March.
Our motto: "FROM HELPLESS TO HOPEFUL"!