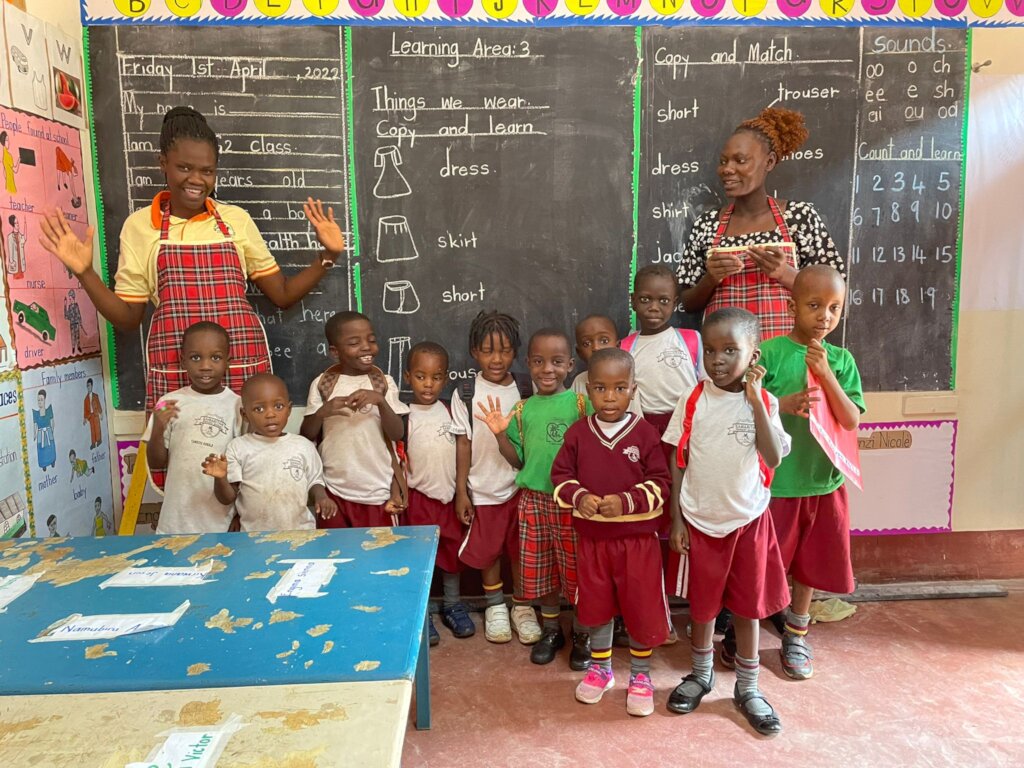 Back on Track…
SAM's first term back has been a great success!
We are so thankful that our dedicated teachers and staff all returned to work on the historic day that schools re-opened in Uganda. This was made possible by the generosity of our donors and supporters' contributions to our Emergency Fund, which helped pay our staff at least 70% of their salary through the long months of closure, and to maintain the buildings and campus. Many other schools in the area have been unable to re-open due to lack of staff and parents being unable to pay their fees.
We are so fortunate that SAM is once again full of bubbly, happy children and the whole campus is open and bursting with vibrance and energy!
Due to the high demand for educational places in the local schools after lockdown we decided to concentrate our resources and efforts into our 3 Kindergarten classes rather than the Day Care facilities.
Kindergarten Class 1 has 15 children (8 boys and 7 girls), Kindergarten 2 has 18 children (8 boys and 10 girls), and Kindergarten 3 has 21 children with 11 boys and 10 girls. We have 4 full-time teachers and one care assistant working with these children.
Florence, our Head Teacher, immediately noticed that all the children had been greatly affected by the long lockdown in a variety of ways. She spoke of children having difficulties listening to their teachers and some had very low concentration levels and soon lost interest in the class. Others had difficulties with socialising again and initially there was some inappropriate and challenging behaviour to address. Not surprisingly it took most of the children a long time to settle back into the school routines of reading, writing, class work and playing with others.
Most of the children had limited or no access to reading and writing materials or online studies during the lockdown, so had lost important communication and language skills. Our teachers found that most of them were unable to construct a sentence in English when they first returned, leading to frustration and misunderstandings.
Consequently, it has been a very challenging first term for Florence and her staff – yet she is quick to reflect that it has also been very satisfying. As the first term holidays begin Florence is delighted and proud to report that the children have come on in leaps and bounds, literally! They have relearned how to apply themselves in class, to listen, read, draw and write.
The children in kindergarten 1 can now colour, trace and copy letter symbols, and slowly by slowly are starting to express themselves with words in English.
Children in classes 2 and 3 are now reading and writing words and simple sentences. Their language and communication skills have improved so much that English is once again heard in the corridors, classrooms and playground!
Everyone has benefitted from being back in SAM - the social, academic and moral progress is evident, all helped by the range of regular activities provided. We have a morning circle where the children share their news and ask questions, group singing and rhymes, and morning devotions. Basic life skills, like toilet training and eating habits are taught and encouraged.
Challenges and Change
Sickness has been a challenge in this first term back – after such long periods without regular contact with other children of their own age, most of the children have been vulnerable to catching infections.
Also, partly due to the increase in our numbers, we have shortages of outdoor equipment such as swings and slides, sand pits, water features and playhouses etc.
Uganda, as everywhere in the world, is also being affected by the war In Ukraine and the challenges and unrest it is causing. Food prices are once again rising fast, and fuel is far more expensive. In addition, there are the negative knock-on consequences of the drought that is badly affecting parts of neighbouring Kenya.
Cheerful Thanks
The children, parents and staff are delighted with the new "SAM path" that was constructed during lockdown. If you missed it see the report 'Good news ...SAM's New Path is Open!' https://www.globalgiving.org/dy/v2/pe/progress-report/edit-progress-report.html?project.projId=42553&progressReport.id=172464
We are thankful that we were able to welcome our first group of volunteers after lockdown. They painted the playroom in SAM and sent hours playing with the children, giving them extra stimulation and attention. See photographs below.
Finally
We are so thankful that our Motto, "FROM HELPLESS TO HOPEFUL"! has been dusted off and is back in action!
Thank you for your support and for taking the time to read this report!
Please visit our website for more information and regular updates: https://www.kinderhulp-afrika.nl/en/

If you have any questions, please do not hesitate to contact the office via the website or myself personally, jill@kinderhulp-afrika.nl, I would love to hear from you.