Project Report

| Jul 11, 2022
Seeds of Hope project provides skills and financial training for refugees and host communities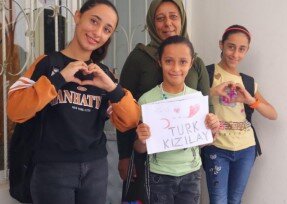 More than 1,300 Syrian refugees and members of the Turkish host community have received the support needed to establish a source of income to provide a better life for their children.
With the help of donors and partners such as the Turkish Red Crescent (TRC), World Vision has successfully implemented the Socio-economic Empowerment project "Seeds of Hope" in Turkey, starting from June 2021 and up until March 2022.
One hundred fifty beneficiaries had the chance to attend vocational courses dedicated to assisting them in achieving financial independence. This eventually enabled them to enroll their children back in school after years of dropping out. Beneficiaries who attended the courses also received transportation allowance to help them complete the training more efficiently. The project also supported 45 participants economically by providing them with the assets and equipment needed to start their hoped business apart from vocational training.
As an integrated approach, children have also been assisted with psychological support sessions and directed attention as seen needed.
Sumaya* is one example that showcased the success of the project. She sought refuge in Turkey because of the Syrian war, hoping to build a better life for her children. Upon arriving, her husband's health got worse, and he could not work anymore. To escape poverty, Sumaya started looking for solutions to make an income for the family. She later learned about the vocational training courses implemented by TRC and the beneficiaries of the skill gained, which opened doors of employment chances and opportunities. "With my husband sick and unable to work, I heard about the Socio-economic program and learned how to make desserts and pickles professionally!" Sumaya happily shares. To help Sumaya achieve her plan to make desserts professionally, TRC also provided the necessary machinery and equipment she needed for dessert making. In addition, the same support was offered to all the 45 participants who completed training and were found eligible upon household visits.
45-year-old Nur* is another example of the highlights of the Socio-economic project. She always hoped to see her daughter pack their backpacks and get ready for school. But after seeking refuge in Turkey after fleeing from Syria in 2013, she was faced with severe financial problems. Their home was robbed, and they were left with little money to count on. With her husband falling sick and little resources available, she had to find a solution to help her daughters. She learned about the Socio-economic Empowerment project, where she attended a vocational training course that focused on bovine and ovine breeding. Nur was one of 20 beneficiaries who eventually received financial support making her dream of enrolling her children in school come true.
The Socio-economic Empowerment program supported Syrian refugees and members of the Turkish host community by providing multiple services. For example, the project aims to support beneficiaries in acquiring the skills needed for finding a source of income. For this purpose, vocational and professional training are offered, like animal husbandry [a form of agriculture concerned with raising animals], sewing, baking, or making food products. Also, all of the beneficiaries received training on how to use the skills they learned to generate income from the labor market.
Turkey continues to host the largest number of refugees worldwide, as the number of people forcibly displaced across the world due to conflict, violence, and persecution hit record levels. Turkey currently hosts some 3.6 million registered Syrian refugees along with close to 320,000 persons of concern from other nationalities.