Project Report

| Sep 21, 2020
Family Counseling and change in a child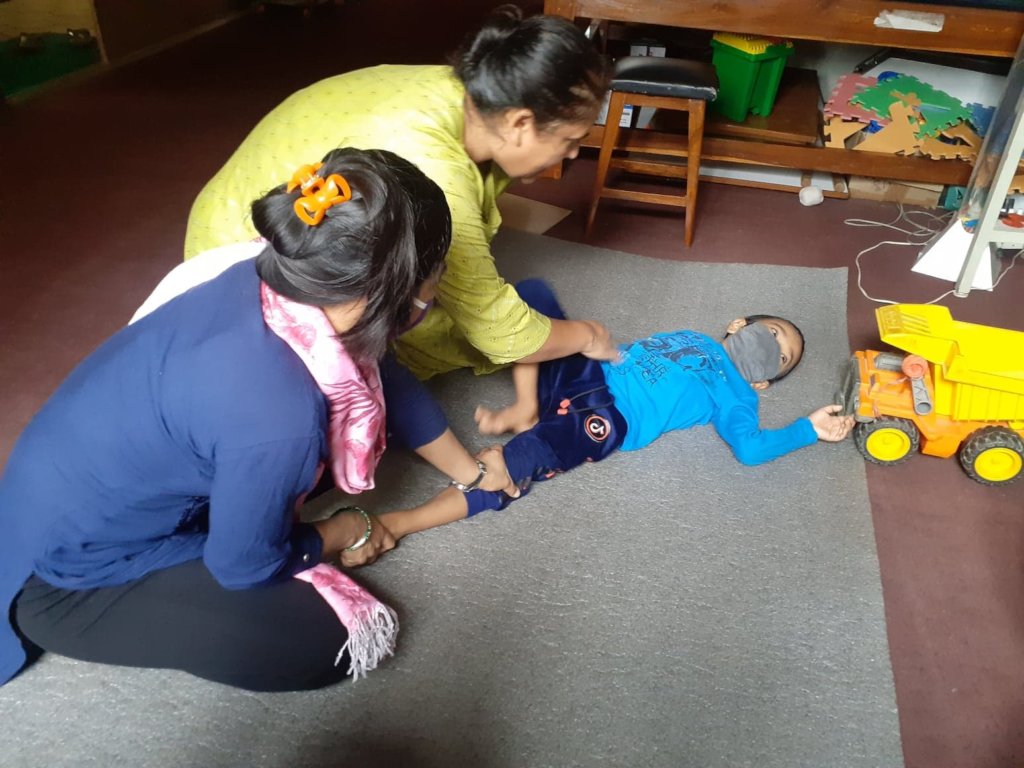 Dear All, We are happy to inform you that till now you have supported $ 28, 867
for the Children with Disabilities of Nepal. Also, we are indebted to GlobalGiving for providing $1000 to fight and to continue our work amidst the COVID-19 pandemic. Thank you all for providing support to the needy children even in a difficult situation. As a result, we could continue our service to the children.
You can support us by donating from 21 to 25 September 2020 under the event "September Little by Little Matching Campaign"
This time, we are reporting about the important development in our work which we couldn't for the last many years. After the successful distribution of relief material to the family of needy children, this time we made counseling to the families of Children with Disabilities. This program was felt after the suggestions from many that they are having psychosocial problems arose due to the elongated lockdown. Due to the lockdown the children couldn't come in the daycare center and have been ideally sitting in their home for the last 6 months from now. Still, it is not sure that when they can join the center. Here in Kathmandu, the number of COVID cases is rising. These days, with easing lockdown, the cases are rising in an average of 2000 across the country a day and Kathmandu is becoming a hot spot of new cases rising to some 900 a day. Even this situation, we provided Physiotherapy to some children and some community people taking necessary precautions. We believe, this situation led the families of children to further poverty.
So, we initiated the telephone counseling for families of Children with Disabilities of Patan CBR Organization. Altogether, 22 families of Children with Disabilities have been provided with counseling. Here are the major findings of telephone counseling:
10 parents said that they lost either their job or could not earn anymore due to the lockdown. So, they were having difficulty in managing day to day life. This generated tension and lead them to depression. 8 parents said that they have difficulty in day to day meals and they are dependent on the donated relief material for the daily meal. They thanked Patan CBR for managing the relief distribution program during the past. The parents with Autism and Intellectual Disability said that they are facing difficulty because the children don't want to sit only in the home. Due to this, they behave differently like weeping, crying, throwing the material whatever they get, wants to escape from the house. Due to these hyperactive behavior, 11 parents reported that they are increasingly in tense situation. 2 parents shared that they even took their children to the Patan CBR daycare center twice during the lockdown. Also, it is identified that 6 adolescent children need sex education
With these findings, we will be working to mitigate these problems during the days to come.
Besides this, we continue Physiotherapy to one needy child and one community people. It is our great pleasure that the child walked due to our physiotherapy.
This is the case study from Bardia. Binod (name changed) was a male born 6 years back as a premature baby in Bardiya, Nepal Indis border, as the first child. The baby seemed normal to parents till 3 years but in that period they observed that baby is not being developed as other normal kids. He was unable to sound the words, unable to sit and crouch. Recognizing the problems by parents they took the child to various witch doctors and tried traditional medicine. They even took the child to the hospital where they find out he was suffering from malnutrition and cerebral palsy.
His parents didn't get proper treatment for him in their locality so they migrated to Kathmandu for better treatment and was referred to Patan CBR.
When he arrived at this organization 6 months back, just before the lockdown began, he was having difficulty in standing, walking, hand movements, and communication. He was a shy kid and avoiding the new environment. the right half of the body was mostly affected with weakness.
After coming to this organization due to daily physiotherapy and proper skill delivered to the parents, positive results were seen in him, now he can stand with minimal support and able to walk and run. He's now using his right hand frequently. All these changes are giving his parents especially mom a new hope for her son. He's referred to a speech therapist for the problem of speech and communication.
He is a bright, fast learner and fun-loving child. With better care and love he'll be able to achieve all the possible knowledge and experience like other normal child. His parents are happy with all the support of this organization.
Great thank you once again for the great support from all of you!