Project Report

| Mar 25, 2019
Participation in Para National sports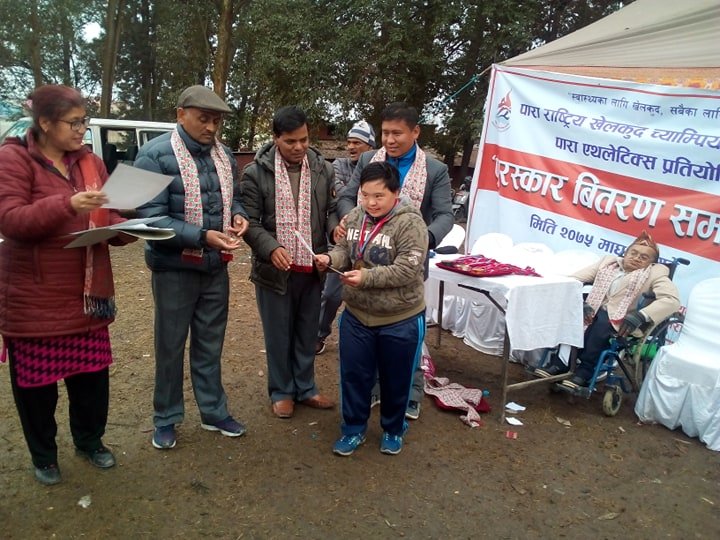 Hello everyone warm greetings from children and youth with disabilities of Patan CBR. Your contribution is helping to change their lives. We look forward to your kind support in future as well.
This time I am writing about participation in sports event by children and youth with disabilities. Children and youth with disabilities of Patan CBR have been participating in different sport events from a very long time. CwDs from Patan CBR has been participating in events organized by Special Olympic Committee, Nepal Boccia Association and several other organizations.
Three children from Patan CBR participated in a sports championship called Para National Sports Championship- 2018. It was a para athletics competition in which they participated. The event was held at Laboratory School, Kirtipur on January 26, 2019.The program was organized by Nepal Para Olympic Committee and was supported by National Sports Council. There were several events for 4 categories of youth with disabilities (physical disability, intellectual disability, visual impairment, hearing impairment).
In the intellectual disability category, 7 schools had participated in the event and from each school there were 3 participants. There were total 21 participants in the category. From Patan CBR, 3 youths had participated. Only youth above 15 years of age were eligible to participate. Each participant were provided track suits, lunch, transport allowance. There were 4 events: 100 m running for boys and girls, soft ball throw for boys and girls in that category.
The winner, 1st runner up, 2nd runner up were provided cash prizes worth Rs 1000, Rs 700 and Rs 500 respectively. Medal and certificates were also distributed. One girl came third in soft ball throw category (for girls). One boy came fourth in 100 m race category (for boys). The game was managed by Athletics coach of National Sports Council. The participants were very happy to participate in such a mega event.
One of the teacher of Patan CBR said "Participating in sports will increase the confidence of participants and improve skills in relationship building and working as part of a team. It also helps in weight management which is very common in children with intellectual and physical disabilities. Participating in sports and leisure activities will lead to better emotional and psychological health as well as improved social skills". One of the children with intellectual disability said" We like to go to these events because we meet other friends. Sports is interesting to me."