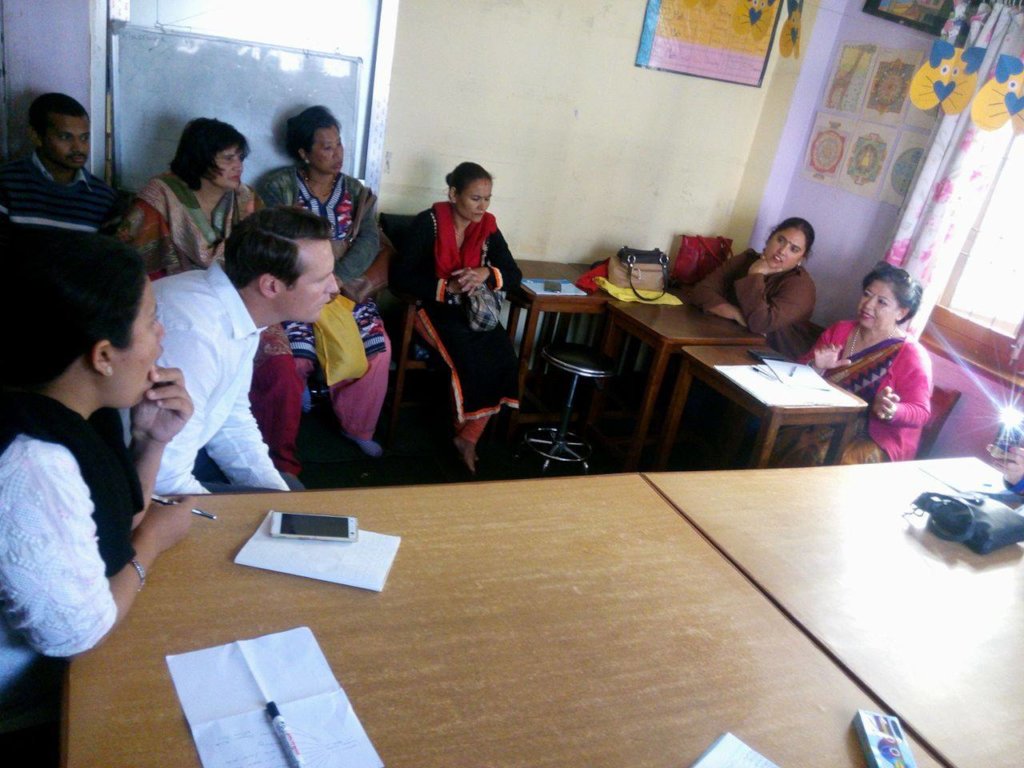 We are very happy to share with you that till today, we have raised $ 16,760.We got 181 donations. 135 donors have supported our cause and we have 2 monthly donors. Patan CBR has been able to provide rehabilitative services to children with disabilities only because of your support. We want to express our heartfelt gratitude to all the donors, supporters and well- wishers for their contribution. We also want to share that we are participating in the biggest fundraising season of the year, #Giving Tuesday organized by GlobalGiving. It will start from November 28 tomorrow and last till end of December 2017. We want to appeal to all our donors that we need your support to win bonus prizes in addition to incentive fund of #Giving Tuesday.
This time I am going to report about physiotherapy workshop. The workshop was held on November 3, 2017 at Patan CBR. The main speaker of the event was Trent, a Physiotherapist from Australia. Trent is a passionate and enthusiastic Physiotherapist based in Australia. He has a broad range of experience in treating clients of all ages and at all physical levels. He has been practising for 11 years. The workshop was mainly targeted for carers, parents of children with disabilities who are involved in the daily taking care of Children With Disabilities (CWDs). Daily taking care of CWDs is an arduous task. Parents and caregivers whose children are grown up suffer from back pain, knee pain etc. due to daily caregiving. Teachers and caretakers working at Patan CBR also participated in the workshop.
Trent taught about proper lifting techniques for transferring the child from one surface to another such as floor, bed, toilet seat, chair etc. These techniques help to transfer the CWDs easily and are more comfortable for caretakers. Trent also gave talk on importance of maintaining proper posture during activities of daily life. Posture is the position in which someone holds their body when standing or sitting. Maintaining proper posture during activities of daily living helps to prevent stress in different joints that lead to back pain, neck pain etc. The programme was very interactive and the parents were very interested to know more
Some of the children with disabilities were assessed by Trent. After assessment, he suggested on physiotherapy exercises. He interacted with parents on importance of home program. Home program is the set of exercises to be continued at home to get maximum benefits of rehabilitation exercises. The physiotherapist working with Patan CBR expressed" It was really nice opportunity for exchange of ideas and knowledge". Parents were very happy and grateful to Trent for teaching so many things. They said that such programs should continue in future.
Trent expressed "I am very happy to come here today and share some of my knowledge with the people here. It is really nice to see that Patan CBR is providing rehabilitation services, education and vocational training with such limited resources. Their work is really recommendable. I hope to meet these wonderful people again in future."
At the end, we like to say that without your donations, Patan CBR would not have been able to do what it is doing today. Because of your donations only Patan CBR exists and we are able to organize workshops like these. Thank you all for your great support.