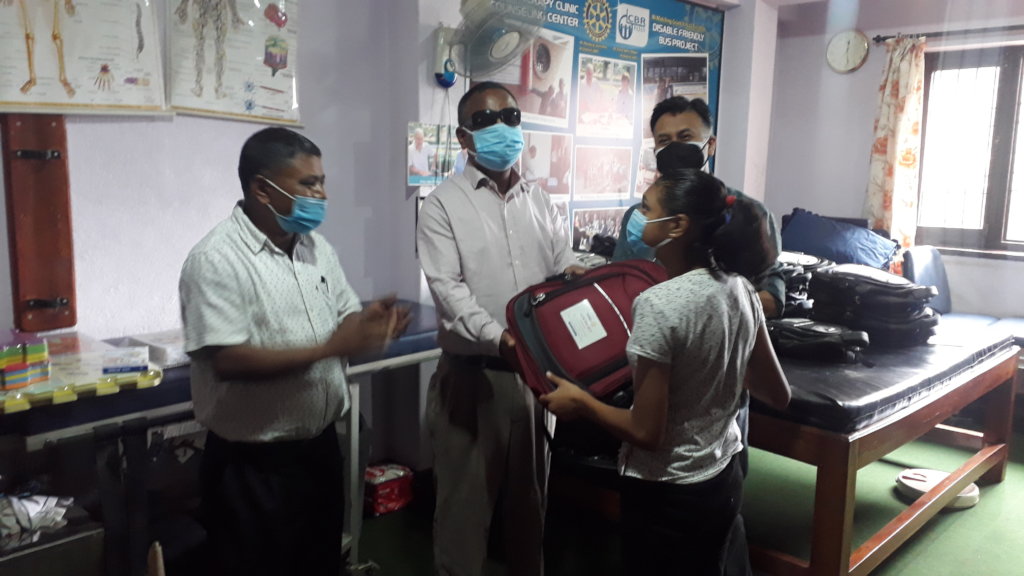 We are thankful to all the donors for providing continuous support to the needy children with disabilities of Nepal. Till date you gave us more than $33000 with 174 donors. We hope for your support during the days to come. Even in the COVID-19 worse situation, we are successful in providing the necessary support to the children. This is because of your support. GREAT THANK YOU ONCE AGAIN!
Here is a brief description on the support programs:
Medicine distribution to Children with Disabilities
This time medicine is distributed to children with disabilities according to their need. We collected the information of the children with disabilities and medicine records then after we called the children with disabilities parents to the office to collect the medicine. All together we provided 5 Children with Disabilities with medicines. Diapers are also provided to the needy children. To make them safe from COVID, masks, sanitizer and soap have also been provided to the families of the children
Phone call and Video call interaction class with Children with Disabilities and Education Materials distribution
Due to the present situation, the organization was not able to run the day care class for children with disabilities. Our teacher started phone calls and video calls to our students to make interaction class so that children with disabilities were able to engage in some activities to make their brain busy and make them happy. Similarly, education materials like, bag, copy, pencil, color pencil have also been distributed to the children.
Collect local fundraiser for consumption food
Due to coronavirus and lockdown many children with disabilities parents lost their jobs and their children were not able to work for a living. So our organization started collecting funds for food consumption to children with disabilities and their parents. Altogether, 3 times consumption food have been distributed to parents of the children. In total, this support has been provided to 42 children with disabilities and their parents. Consumed materials are: Rice, Beaten rice, Pulse, Sugar, Salt, Pea, wheat flour, biscuit, noodle.
Home Visit Counselling and physiotherapy
Home visit counselling and physiotherapy were done by our expertise. At this time most of the parents of children with disabilities went into depression due to the job loss and tension of the current situation. So, counselling services has also been provided. Also, some got physiotherapy at home.
We are very happy to let you know that we coordinated persons and other organizations to provide these services to the needy children. All these works are possible due to support from