Project Report

| Apr 17, 2023
Amazing Outing after COVID- 19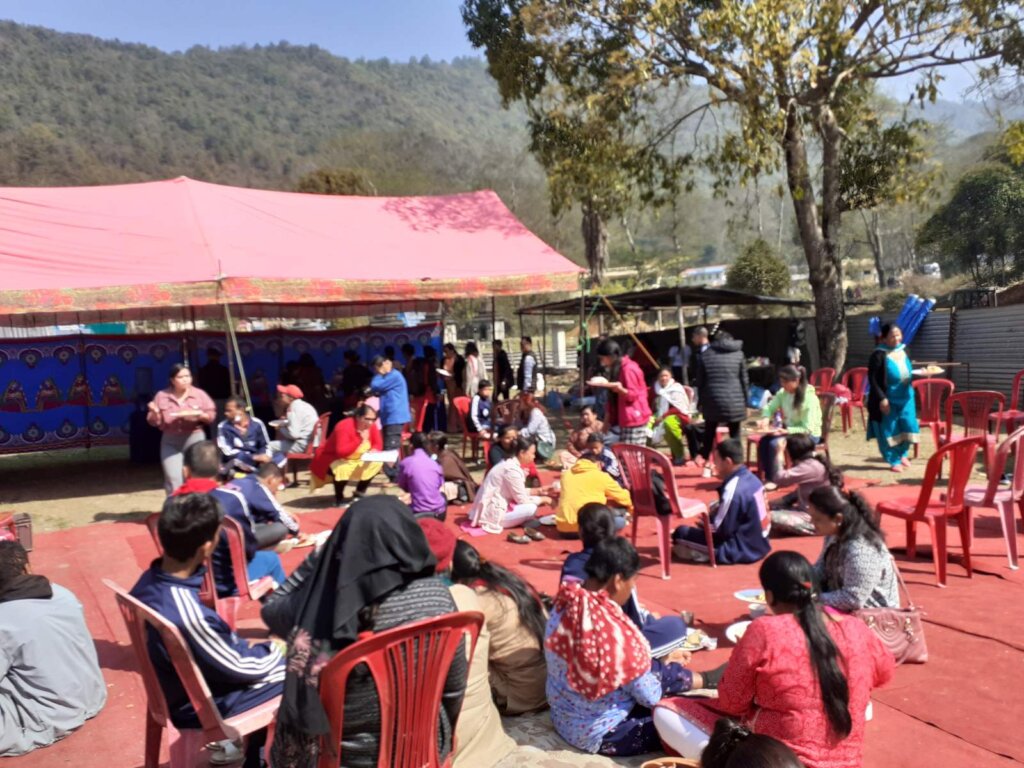 We are thankful to all the donors for providing continuous support to needy children with disabilities in Nepal. Till date, you gave us more than $37644 with 340 donors. We hope for your support during the days to come. Even in the COVID-19 worse situation, we are successful in providing the necessary support to the children. This is because of your support. GREAT THANK YOU ONCE AGAIN!
The most anticipated and joyful day for the students in CBR is the picnic day, which gives children with disabilities a chance to embark on outing with close friends and family members. On March 25 2023, the picnic for this year took place in Godawori some 11km far from the central office which is wonderful natural place to visit. The major reason we organized this event was to travel to new location with CBR members to explore the nature and share wonderful experience with kids.
The picnic was open to all CBR members including the parents, family, staff, volunteers and board members. The picnic was attended by 115 people in which 35 were children with disabilities and remaining were family, staff, and board members. In order to make it easier to take bus from a nearby stop two buses were allocated for that day. Once everyone had arrived in Godawori around 10 am, they helped in loading things into place. All of us were hungry after an hour of travel. For everyone's benefit, the catering staff was able to resolve all issues and provide the meal at 9:30 am. For the sake of the kids who can't sit properly in chairs, carpets were placed on the floor so they could rest and feel comfortable.
After completing breakfast, we headed to the botanical gardens. An official collection of living plants is kept in a botanical garden for the purposes of scientific study, conservation, display, and education. That location was lovely and serene. We all appreciate nature's beauty. The botanical gardens offered a wide variety of places to explore the lovely garden with water features. Everyone starts taking pictures and videos of the flowers and fountains as long as we were there. Following our tour to the garden, we returned to the picnic area.
At 12:56 in the morning, we started playing games with the parents of the students. We begin the game "BOCCIA." Children with disabilities were given instructions on how to play this game and enjoyed it a lot. Members of the contestants' families and friends cheered them on as they competed. Watching them smile makes us feel fantastic. We then begin our next game, which was designed for parents. The game's theme was "wearing sari," and we called on our participants. Mother needs to dress appropriately for this game. Mothers competing in the contest were fierce competitors. Others were having fun while others were becoming anxious. Our charming and attractive parents participated in the funniest game with us. The following game involved hanging balloons and candies. The balloons must be popped, and the students must consume the hanging chocolate. Our game begins with students running toward the balloon to explode it, then they must jump high to get to the chocolate which was hung from a rope. In that game, they performed at their peak. Some people had troubled jumping and nearly quit. Some had a lot of energy and consumed large amounts of chocolate.
After having fun with the students and parents, we took a break for lunch and then rested. After that, parents, children, and staff participated in a game of "pot hitting," in which a pot is fastened in place and a blindfolded person is given a stick to hold. Once the person is blinded, they must make a few rounds and tire to hit the pot with a stick. That match was won by one of our lovely dads. We gave prizes to each player after our game session is over. Our members gave out the reward. Yes, it was a day the children appeared to have a lovely day because of how well they had spent their time and how happy they were. We ate dinner at about 4:00 p.m. After dinner, we begin dancing. Everyone was singing along and dancing to the music. Our students are very animated and love to sing and dance.
For us, a picnic is about spending quality time and creating many memories with our loved ones, not about eating or exploring new places. Our goal was to make them happy, and we wanted to see grins on everyone's faces when we succeeded. Since the beginning, we have maintained a sincere relationship with the parents of children with disabilities of CBR, and thanks to the wonderful picnic, that relationship has become even stronger. We looked at how we may help children with disabilities and their guardians form cohesive social groupings to help them advance in receiving protection and feel secure in society.