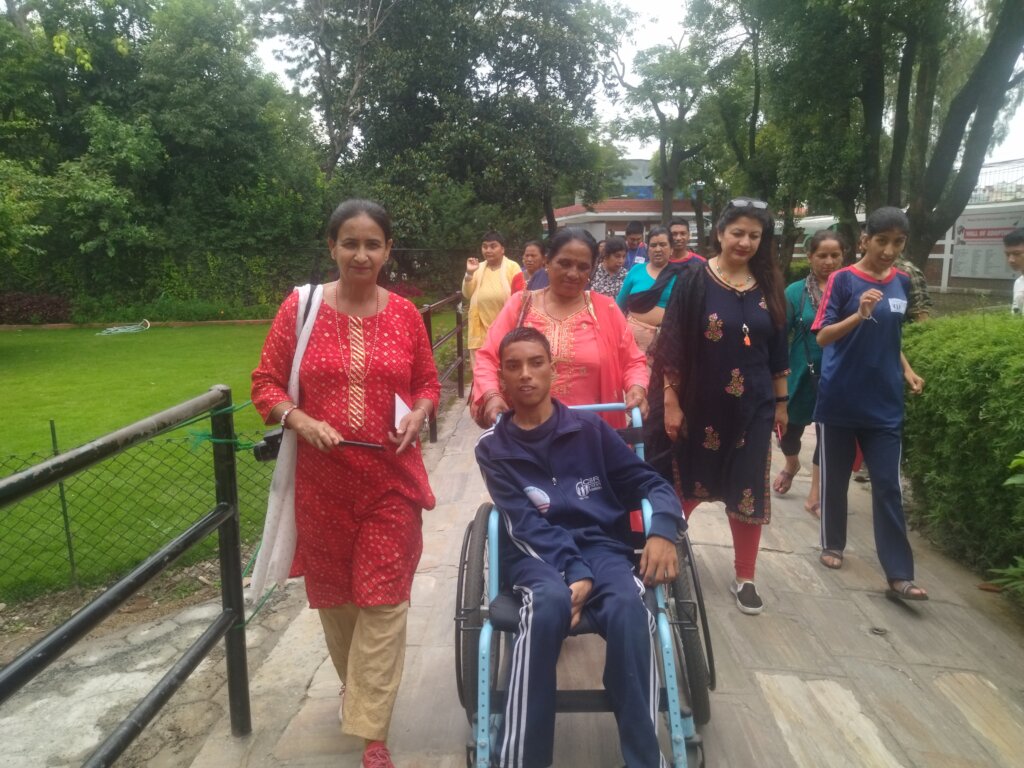 We are thankful to all the donors for providing continuous support to needy children with disabilities in Nepal. Till date, you gave us more than $38024 with 348 donors. We hope for your support during the days to come.
The zoo excursion which allows children with disabilities to go on an outing with friends and family is the most eagerly awaited and happy day for the students at CBR.A total of 942 different mammal, bird, fish and reptile 127 species are housed in the central zoo. For the guests it also functions as a relaxation area. For many groups of people the central zoo plays the distinctive role of a historical landmark.
On 10 July, we visited zoo with parents and children with disabilities. This visit was organized in coordination with central zoo office. Ticket and lunch was freely provided by the central zoo. Around 33 people gather to visit zoo, where 14 were children with disabilities and other parents and staff. Around 10:00 am, we set out on our excursion after meeting up at our designated place.
Everyone was really happy when we arrived at our destination, especially our children with disabilities. We divided into two groups after taking attendance. Children and their parents had a good time at zoo. In the zoo, we observed a variety of animals, we take some pictures with animals. We observed a hippo, rhino, monkeys, tiger, etc.
When we asked one of our children how they felt about visiting the zoo, he responded that he found it more fascinating to see the animals in their natural habitat rather than just reading about them in a book. Everyone was delighted to be there. We almost see every kind of animal at the zoo. We ate our snacks at 1:00 pm our break is enjoyable.
Children were playing games with one another while parents were exchanging stories about their visits to the zoo. We started visiting the bird's area after spending some time playing games. There were numerous birds' species that might be heard or read about in books. Everyone was having a good time with their loved ones. We wanted to see smiles on everyone's faces when we achieved in our mission to make them happy. Since the beginning, we have a true relationship with the parents of CBR's children with disabilities, and today time has further strengthened that bond.
Today was a fantastic day. We adore the outdoors on this day. We wanted to see smiles on everyone's faces when we achieved in our mission to make them happy. Since the beginning, we had a real relationship with the parents of CBR's specially children with disabilities. We appreciate everyone for contributing to the joy of our day. Without our CBR family, we wouldn't have the memories we cherish today. I hope we'll produce more in the future.
At least we would like to extend our heartly thanks to all our donors without support from them. We would not have been lucky enough to manage these activities.
Great thanks to all Donors