Project Report

| Jun 3, 2019
The Singing Quails of the Sierra Gorda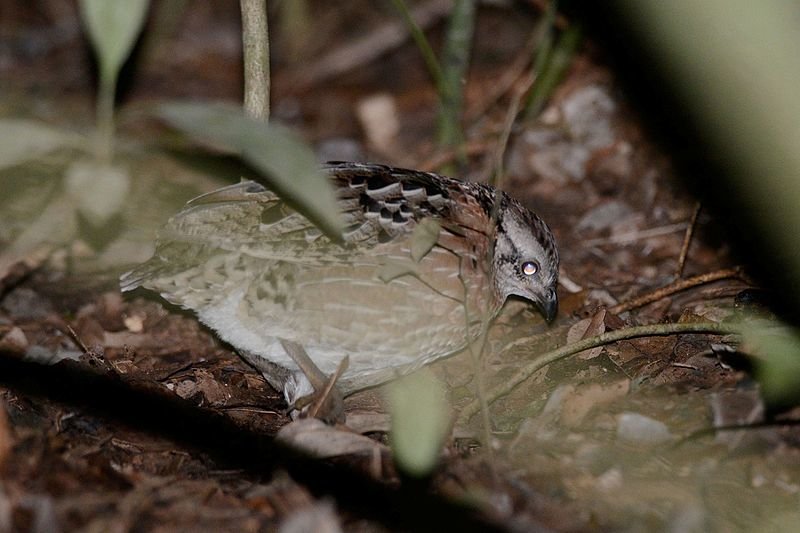 Singing Quail
(Dactylortyx thoracicus)
The Singing Quail, found in Mexico, Belize, El Salvador, Guatemala, and Honduras has a small tail, intricately patterned brown plumage, and a short, ruffled crest. Males have an orange throat and face while females are lighter in color, with a grey or off-white throat and face.
Protection Status
Although the singing quail is classified as Least Concern by the IUCN Red List of Threatened Species, it is endangered in Mexico (Norma Oficial Mexicana NOM-059-SEMARNAT -2010).
Status in the Sierra Gorda
The voice of the singing quail, ringing out at dawn and dusk, continues to be part of the fabric of life of the forests of the Sierra Gorda. It occupies an important niche in these forests as the base of the food chain, and is vital to the forest for its role in sifting through and breaking up the leaf litter. Without its presence, the forests and jungles of the Sierra Gorda would be very different. Yet even here, its population is at risk due to excessive deforestation, hunting, and grazing.
Habits and Habitat
The habitat of the singing quail includes subtropical, cloud, and temperate forests. It is distributed discontinuously from Jalisco to the highlands of Chiapas and Central America to Honduras. On the Gulf slope, it is found in the Sierra Madre Oriental from Tamaulipas, to the south, including Sierra Gorda and the Yucatan peninsula.
Its beautiful song begins with a four whistles, followed by three to six phrases: choo-oo choo-oo choo-oo, choo, choo-choo-churry-chewt choo-choo-churry-chewt. Individuals mainly sing at dawn and dusk, increasing the intensity of their song during breeding season. Reproductive display includes singing in duet.
The singing quail is very social, forming groups of 5-10 individuals. After the breeding season, which lasts from February to October, families come together and move in groups. When threatened or alarmed, they prefer running and hiding to flying and will run in all directions to confuse potential predators, taking off explosively only as a last resort. Both parents look after and protect the chicks.
Because of its short and powerful legs, the singing quail spends most of its time on the ground, digging in the soil to search for food—insects, seeds, vegetation, and tubers. It has a strong, and serrated bill, perfect for consuming seeds.
Conservation Actions in the Sierra Gorda
In the face of the Sixth Massive Extinction, we seek to protect the species of the Sierra Gorda Biosphere Reserve by protecting their habitats. We do this by purchasing land for strict conservation in which we eliminate all human activities, such as logging and cattle grazing. This network of private nature reserves strategically forms a biological corridor, connecting habitats of endangered species. The singing quail is present and protected in every one of the private reserves that forms part of this network. Moreover, it is protected in privately-owned forest plots for which landowners receive payments for ecosystem services.
References
SEMARNAT. 2002. Norma Oficial Mexicana NOM-059-SEMARNAT -2010, Protección ambiental - Especies nativas de México de flora y fauna silvestres-Categorías de riesgo y especificaciones para su inclusión, exclusión o cambio-Lista de especies en riesgo. Diario Oficial de la Federación, Miércoles 6 de Marzo de 2002 (Segunda Sección). México, D. F. (01 mayo 2008).
https://en.wikipedia.org/wiki/Singing_quail
https://es.wikipedia.org/wiki/Dactylortyx_thoracicus
https://en.wikipedia.org/wiki/New_World_quail
https://neotropical.birds.cornell.edu/Species-Account/nb/species/sinqua1/references