Project Report

| Jan 14, 2019
Protecting Military Macaws in the Sierra Gorda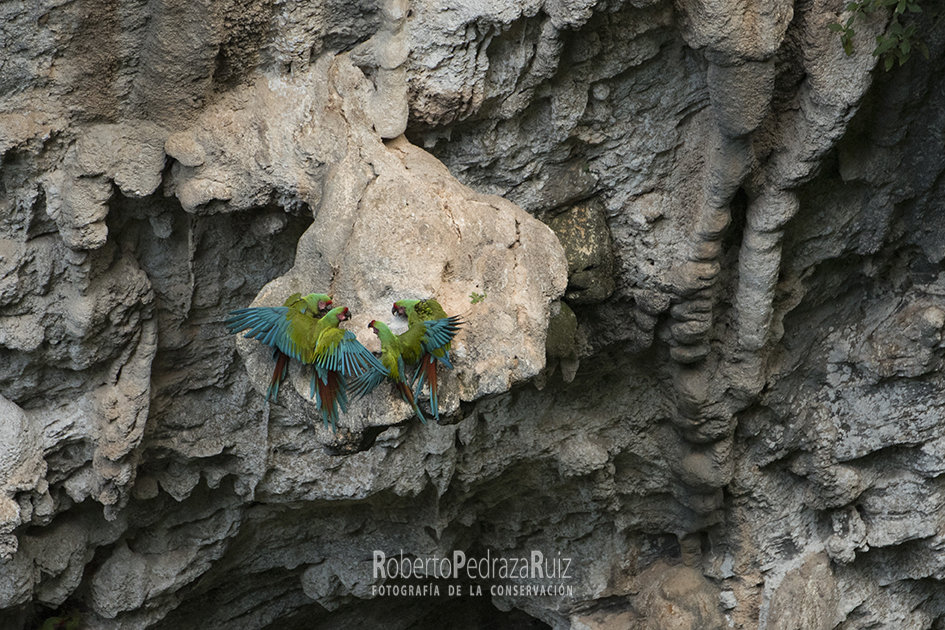 Military Macaw
(Ara militaris)
The military macaw is one of the endangered species that we protect in the Sierra Gorda Biosphere Reserve. There are only 40 pairs of military macaws left in the Biosphere Reserve. Please support our work financially and help us to ensure the survival this magnificent bird by providing it with safe habitats.
Protection status: The military macaw´s population has been decreasing over the past fifty years due to habitat loss and capture for sale as pets. Classified as Endangered by SEMARNAT (Mexico´s Secretariat of the Environment and Natural Resources) and listed as Vulnerable in IUCN´s Red List of Threatened Species, its global population is estimated to be only between 3,000 – 10,000 individuals, with approximately 1,000 – 2,000 breeding pairs. (1)
Status in the Sierra Gorda: Military macaws have lost thousands of hectares of habitat in the Sierra Gorda Biosphere Reserve because of agriculture, logging, infrastructure development, tourism, forest fires, and climate change. Furthermore, canyoneering activities disturb the macaws' nesting sites.
A single colony of 80 birds survives in the Sierra Gorda. Although the macaws used to be plentiful throughout the reserve, they now occupy just two nesting sites: Sótano del Barro and Cañón del Infiernillo. They rest and nest in these two sites, leaving to feed in neighboring areas. Even here they suffer from increasing pressure from tourism and habitat transformation.
More macaws visit every year from San Luis Potosí during seasonal migrations.
Habitats and Habits: The macaws depend on the temperate forests and tropical deciduous forests in the region, where they feed on a variety of fruits, including acorns, fruits of paradise, and nuts which they break open with their strong peaks.
Military macaws mate for life. This means that if one of the pair is killed or captured, the other will never mate again. This significantly reduces the species' ability to restore its population. There are currently approximately 1,000 – 2,000 estimated breeding pairs of military macaws in the world.
Our Conservation Actions in the Sierra Gorda: By managing parts of the Sierra Gorda Biosphere Reserve as sites for strict conservation, Grupo Ecológico Sierra Gorda ensures safe feeding sites for military macaws. We continually educate local communities and tourism organizations about the macaws and regulate pressure on their nesting sites. Finally, we provide landowners with payments for ecosystem services in areas where the macaws feed, thus ensuring forest conservation.
The global population of military macaws is at risk. Please support us financially and help us to conserve their habitat.
Citation:
BirdLife International 2016. Ara militaris. The IUCN Red List of Threatened Species2016: e.T22685548A93079238. http://dx.doi.org/10.2305/IUCN.UK.2016-3.RLTS.T22685548A93079238.en. Downloaded on 05 January 2019.
Links: