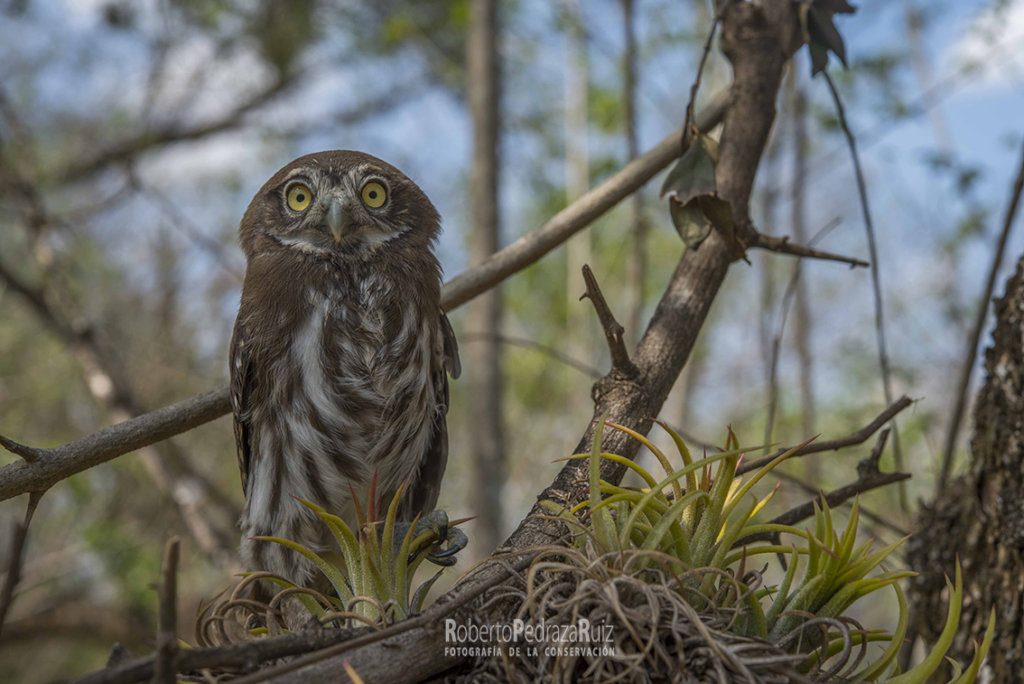 Ferruginous Pygmy Owl (Glaucidium brasilianum)
The Ferruginous Pygmy Owl is a small owl (typically 15 cm) that is generally "ferruginous" in color. Its distribution extends from south-central United States (where it is considered endangered) through the lowlands of the Gulf of Mexico and the Pacific, to Argentina. Its population in the Sierra Gorda Biosphere Reserve is declining, which is why we are honored to protect them in our network of private nature reserves
Protection status:The Ferruginous Pygmy Owl is classified as "Least Concern" on the IUCN's Red List and does not have protected status in Mexico. Although its numbers are decreasing, the IUCN believes that the rate is too slow to be classified as "Vulnerable."
https://www.iucnredlist.org/species/61815999/95181606
Status in the Sierra Gorda: The ferruginous pygmy owls are still relatively common in the Sierra Gorda, and can even be found in urban areas. Nevertheless, their numbers have fallen significantly in the Sierra Gorda due to land-use change (urbanization of dry tropical forests and oak forests) and logging (which destroys the nesting sites for the owls). Moreover, fumigation against dengue and malaria and the widespread use of agrochemicals deplete insect populations upon which the owls base a large part of their diet.
For now, the species is sustaining itself and its unmistakable song continues to remain an essential part of the lowlands of the sierra. Nevertheless, because their habitat and food source is threatened, we must make sure to protect them for the future.
Habitats and Habits: The preferred habitat of the ferruginous pygmy owls are the dry tropical forests, riparian forests, and submontane scrub oak forests.
The ferruginous pygmy owls are active both at night and during the day. They prey on large insects and small vertebrates, including mammals, reptiles, and small birds that are almost as large as the owls themselves. Insects are the base of their diet, and the cicadas that sprout from the ground in spring are a delicacy and an abundant food for them.
They are highly territorial and aggressive with each other and other birds such as warblers, euphonias, and jays. They are also very unpopular with other birds: other birds will recognize the song of the owl and gather to mob and harass it. Its song is easily imitated, so birdwatchers often use it to attract small birds who seek to harass the ferruginous pygmy owls.
Age of young at first flight is about 27 – 30 days.
Conservation actions in the Sierra Gorda: By managing parts of the Sierra Gorda Biosphere Reserve as sites for strict conservation, Grupo Ecológico Sierra Gorda ensures safe feeding and nesting sites for the Ferruginous Pygmy Owls in several of the private nature reserves. We continually educate local communities and farmers about the detrimental effects of agrochemical on insect populations, in order to protect their prey. Finally, we conserve forests where the owls are found by providing landowners with payments for ecosystem services in exchange for conservation activities.
The global population of the Ferruginous Pygmy Owls is at risk. Please support us financially and help us to conserve their habitat.
Citation:
BirdLife International 2016. Glaucidium brasilianum. https://www.iucnredlist.org/species/61815999/95181606
https://www.audubon.org/field-guide/bird/ferruginous-pygmy-owl
https://neotropical.birds.cornell.edu/Species-Account/nb/species/fepowl/sounds