Project Report

| Jan 17, 2019
Using Music to Unlock Children's Potential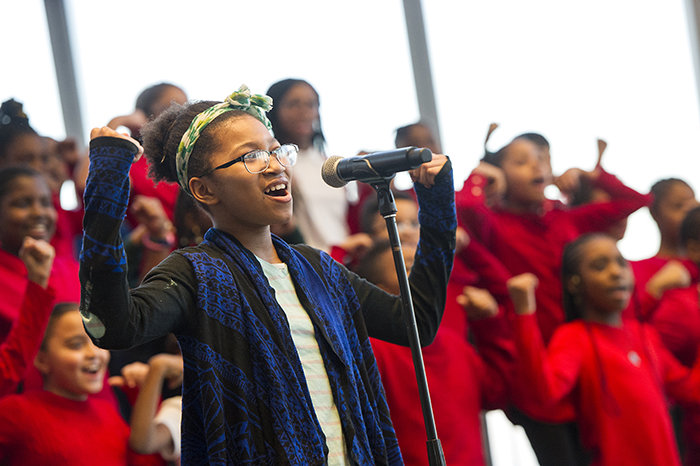 Happy New Year from ETM! Now that winter break is behind us, our partner school students are embarking on a new semester of learning. ETM's program is reaching a record number of children across all five boroughs of New York City, serving diverse populations at schools that would otherwise not have the resources to provide music. Your support is helping the 10,000 children in our newest partner schools who are receiving music instruction and enrichment for the first time. Every day, our highly trained music teachers are providing life-changing experiences to these students.
One student who has blossomed thanks to music education this year is Jonah, a fourth grade student at an ETM partner school in the Bronx who is participating in choir. Growing up, Jonah has struggled in and out of school due to having a stutter. His speech difficulties have made it harder for him to develop confidence and self-esteem. However, when Jonah sings, his struggles seem to melt away. Jonah's music teacher noticed that when Jonah is singing in choir, he is able to forget about his speech impediment and focus only on the music.
Through choir, Jonah is discovering and exploring a passion for music. He recently told his music teacher how learning about different genres of music in choir has inspired him to listen to more music outside of class. With his confidence growing, Jonah is eagerly taking initiative in learning and practicing music as often as possible - frequently coming to choir rehearsals with songs and movements memorized.
This winter, Jonah was able to showcase all the progress he's made when his choir had the chance to perform at Freedom Tower through an opportunity provided by ETM. It was an afternoon that helped expand Jonah's horizons and provided a new source of motivation. In his own words, Jonah said, "My favorite thing about chorus is the fact that I get to sing so much music and be on stage. I never thought that I would be able to sing at the World Trade Center in front of so many people."
Moving forward, Jonah has expressed his interest in continuing to learn and perform music to his teacher. As Jonah grows, the skills and experiences he's gaining through music will support his achievement in school and beyond.
By supporting Education Through Music, you are helping students like Jonah gain the motivation to learn and the confidence to succeed. Thank you for providing students with the tools to realize their full potential. Share this report with a family member or friend to let them know the incredible difference supporting ETM's quality music education can make!