Project Report

| Aug 16, 2023
Aumento en produccion de miel y vinculo a mercado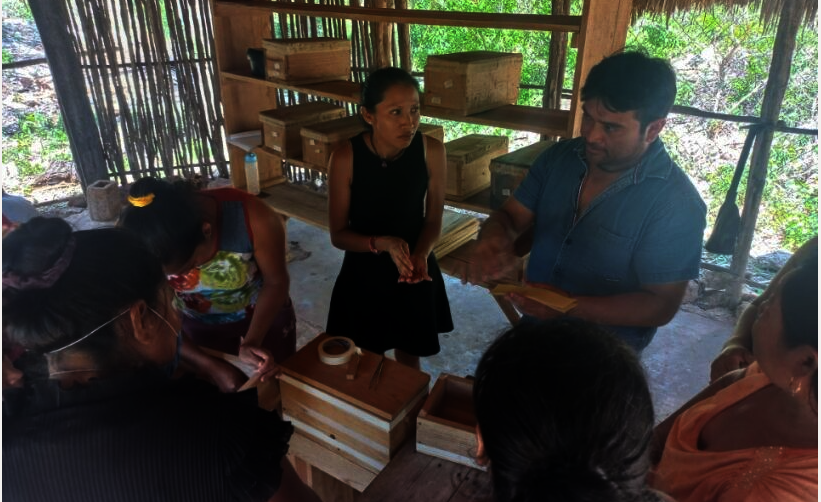 Durante este periodo se pudo realizar la cosecha de la miel, en la que se tuvo incremento, con respecto al año pasado. En algunos casos las mujeres pudieron, incluso, duplicar la miel cosechada. Asimismo, también incrementaron el tamaño de los meliponarios, a través de la división de colmenas, con lo cual en próximos ciclos podrán tener una mayor producción de miel.
Por otra parte, se busca cerrar el ciclo de la actividad, a través de alianzas comerciales como con la empresa de autobuses ADO y otros espacios que las mismas mujeres han podido lograr para incrementar los ingresos de su actividad.
Durante este periodo, se capacitaron también en temas de administración, organización, producción y comercialización que fortalecen su formación como empresarias.
Juntos seguimos ¡Sembrando Trabajo en las comunidades rurales!
Production and processing of honey linked to the market
During this period it was possible to harvest honey, with an increase in the harvest compared to last year. In some cases, women were able to double the harvested honey. They were also able to increase the size of the hives by dividing them, which will allow an even greater increase in production in future cycles.
On the other hand, we seek to close the cycle of activity, through commercial alliances such as with ADO company and other spaces that women themselves have been able to achieve in order to increase the income from their activity.
During this period, they were also trained in administration, organization, production and marketing that strengthen their training as entrepreneurs.
Together we continue Sowing Work in rural communities!