The Center for Amazon Community Ecology (CACE) has been working to develop sustainable livelihoods for native families and support health, education and conservation in their forest-based communities in the northern Peruvian Amazon since 2006. Our best accomplishments have been helping artisans learn to make innovative fair-trade handicrafts and improve their management of the plants used to make these crafts. We have made some progress encouraging small groups of artisans to work together, but many artisans still struggle to cooperate due to poor communication, persistent grudges, a lack of trust, and negative dynamics within their communities.
Apart from my work with CACE, I have been a volunteer facilitator with the non-profit Alternatives to Violence Project (AVP) since 2002. AVP sponsors conflict resolution workshops in prisons and community settings throughout the U.S. and more than 50 countries. I had long thought that AVP principles and practices might benefit our partner communities in Peru so a few years ago I incorporated a few fun exercises from AVP workshops into our meetings. The artisans enjoyed these, but the positive effects were short-lived. I was reluctant, however, to propose doing full AVP workshops with them because I didn't want to seem like I was pushing an agenda for another organization, and I wasn't confident I could effectively present AVP concepts in Spanish.
My perception of ongoing frustrations in many communities led me to test the AVP waters last March in Peru where I held one four-hour mini-AVP workshop in the Bora native community of Brillo Nuevo and a comparable session in the campesino community of San Francisco. The response to these short sessions was better than I had dared to hope for. Many participants said that that this positive and practical approach to communication was exactly what they needed to help heal rifts within their community and give them tools to work in harmony as they remembered doing long ago. I explained that AVP typically involves conducting a series of three workshops (Basic, Advanced, Training for Facilitators) and promised to try to convene the first level workshop in their community when I returned to Peru in the fall. I could help facilitate them, but I would need help from at least one native Spanish speaking co-facilitator and raise funds to pay for workshop related travel and materials.
After reaching out to other groups over the summer, I was very pleased that we were able to do three Basic workshops with participants six partner communities this past October with financial support from five organizations – State College Friends Meeting, Central Pennsylvania AVP, AVP International, CACE and Minga Peru. I was joined by Magaly, a very experienced AVP facilitator from Bolivia and Carmen, an apprentice facilitator from Puno, Peru.
We held the first workshop in the twin native community of Puca Urquillo Bora and Puca Urquillo Huitoto on the Ampiyacu River. Preparing ground rules for the workshop included agreements like "be on time," "don't speak when someone else is speaking," "respect confidentiality," and "don't put down yourself or others." These concepts seemed very basic, but they immediately set the tone for a dynamic that was new for the participants. It was also new for them to sit in a circle with the facilitators rather than sit in rows facing workshop leaders talking at them from a higher platform. We succeeded in creating an environment where people felt safe sharing very personal things with a partner, others in a small group or all 20 participants. The exercises and role plays brought to light many common sources of tension that included discord within and between families and between community leaders and other members of the community. Participants practiced how to share their feelings about difficult situations with others in non-judgemental ways, demonstrate empathy and seek non-violent solutions to conflicts.
One new challenge that our facilitation team faced in this workshop was figuring out how to include two people in wheel chairs in some of the interactive games like "Human knot" and "Crododiles and Frogs" which involved a lot of movement. Our team felt proud to develop creative ways to include them in these activities so all participants felt fully integrated into all of the processes. Another workshop highlight was bringing together people from both villages in a personal and meaningful way that rarely occurs despite their close proximity.
We did an oral evaluation with the group at the end of the first and second day and asked every participant to respond to six questions in writing at the end of the workshop. Others helped a few of the older workshop participants fill out their evaluation form if they couldn't read or write well or couldn't express themselves well in Spanish. Two responses that stood out were:
"I thought this workshop would be just lectures, but it was much better with exercises that helped me consider myself."
"I learned what I never knew – listen to the person who is speaking."
The second workshop was held at Tambo Minga - a simple workshop center near the town of Nauta on the Marañon River operated by the Peruvian NGO Minga Peru. This workshop's participants included people from the Cocama village of Amazonas, the campesino village of San Francisco, two CACE Peruvian staff members and an artisan from the town of Jenaro Herrera on the Ucayali River. One major topic of conflict that frequently emerged in this workshop were the challenges families faced when men got drunk and/or abused their wives.
All participants expressed their sense of empowerment to deal with highly sensitive issues in more forthright ways. We deeply explored how differences in peoples' values can be underlying causes of conflict and showed how becoming aware of and accepting these differences can help establish understanding at a basic human level. This workshop also provided a potent opportunity for people from neighboring villages who rarely cooperate to come together to share common challenges and aspirations. The representatives from one village were acutely aware that their small number of participants was much less than hoped for. This sentiment reflected a general sense that despite its moderate size and relative success selling handicrafts, the dynamic in this village was dominated by an individualist approach rather than a cooperative spirit. The people who attended this workshop, therefore, hoped that they might use the skills they learned to strengthen this spirit which many people yearned for but did not know how to achieve.
One salient comment from this workshop was: "(This process) can help me to be a better person by listening to the opinions of others and value myself."
The third workshop was held in the Bora village of Brillo Nuevo on the Ampiyacu River. Physical and emotional violence within families and the theft of food and fiber resources from the land of fellow community members were major topics that emerged during this workshop. Core exercises focused on better listening, values, triggers, empathy, and communicating in honest but non-judgmental ways. Considering these ideas and practicing related skills gave people new ways to approach situations that often led to discord, fear, and depression within their homes and dysfunctionality of their community. This negativity had already led many people to leave the community entirely. In the workshop, however, many participants tearfully said they now felt empowered to approach potential conflicts in more positive ways. They only wished they had been able to learn about this affirming style communication years ago since it could have drastically altered negative events which had occurred since their youth.
One notable comment from the evaluation was: "If someone attacks me in a discussion, we will be able to reach a solution. It's always better to listen and have patience or practice tolerance before acting."
Participants at all three workshops expressed their great surprise and joy for its interactive format. They often felt that instructors in other workshops looked down on them so they only went to them to receive free meals. Such poor expectations were probably responsible for the unfilled spots in our workshops. Comments made processing exercises and evaluating sessions revealed that participants appreciated learning new ways to consider their lives, communicate and transform their communities to kinder and more cooperative places to live. People also liked gathering in a circle where facilitators helped create a trusting environment for all voices to be heard. This was a sharp contrast to the dynamic in other workshops or community meetings where the presenters or leaders sat on a stage facing everyone else sitting below on benches. This alternate format fostered engagement and cooperation rather than boredom and confrontation.
The evaluations provided insights into some things our facilitation team did well.
"I loved the facilitators very much because they came to speak about how we can manage conflict. I liked their way of working because they were concerned with the well-being of everyone."
"The facilitators were an example for me for how a team is good because they worked together well. This will help me work better in my family and community with coordinated agreements."
"The facilitators are very gentle because they manage the workshop with care and speak with clear and simple words."
"Very good facilitators – easy to understand, very humble, and that is important because in this way the participants feel more confident. Good people and very comprehensive – thank you for all."
People in all three workshops universally expressed their desire to continue this learning process in the Advanced level AVP workshop. One participant commented, "I want to continue to the next level because I want to learn more about how we can change to become united. I have changed a lot in the way I think. I was very angry, but now I feel very happy because you have taught me many things."
While none of the facilitators had met each other before the workshop, our team enjoyed abundant joy, creativity, and cooperation working together. Our first touchstone was our mutual appreciation for multiple ways that involvement with AVP had nurtured our personal growth and enabled us to empower others. This collaborative spirit was strengthened by sharing personal stories before the workshops, and doing simple activities together to support for CACE's work with the artisans in between workshops. We relished connecting with people from diverse native cultures in our own way and eat foods unique to the Amazon rainforest. We loved absorbing the sights and sounds of birds, frogs and natural scenery on numerous boat trips and went fishing together one evening. We went dancing with great zeal after every workshop and shared the common fate of poor sleep caused by buzzing mosquitos and itchy legs and bellies from chigger bites. We readily applied our shared experiences to create and refine the workshop agenda on the fly, support each other when one person's energy or focus was waning, and seamlessly handed off the lead to another team member with nothing more than a simple hand gesture. It's clear we formed a friendship in a few weeks that will grow and endure for many years.
One benefit for me doing these workshops was that it helped me establish much stronger relationships with many of our partners. Many people previously only knew me as the leader of the organization who bought their handicrafts – often with very stringent conditions. In the workshops, they shifted from calling me "doctor" to "Creative Campbell" – one of my affirming adjective names in the AVP world. These workshops gave some villagers and me a chance to get to know each other as whole people – people who have talents, dreams and problems that go far beyond the making and selling of handicrafts, and they gave me added confidence to apply AVP principles in a more direct way into my work. In one artisan meeting that we held after the workshop in Brillo Nuevo, a few artisans who had not been at the workshop began talking with each while I was presenting ideas about an upcoming palm management workshop. Rather than talk over them or ask them to be quiet, I simply stopped talking. When the artisan pair realized that the whole group was listening to them instead of to me, they become silent, and I resumed.
While these workshops did not deal directly with handicraft making or caring for trees, I believe that sponsoring them with other organizations will help CACE improve our other programs for one simple reason. Our partner communities realize even more strongly now that we care about the well-being of their community and all of its members. We truly want to listen to them, and help them listen more deeply to each other.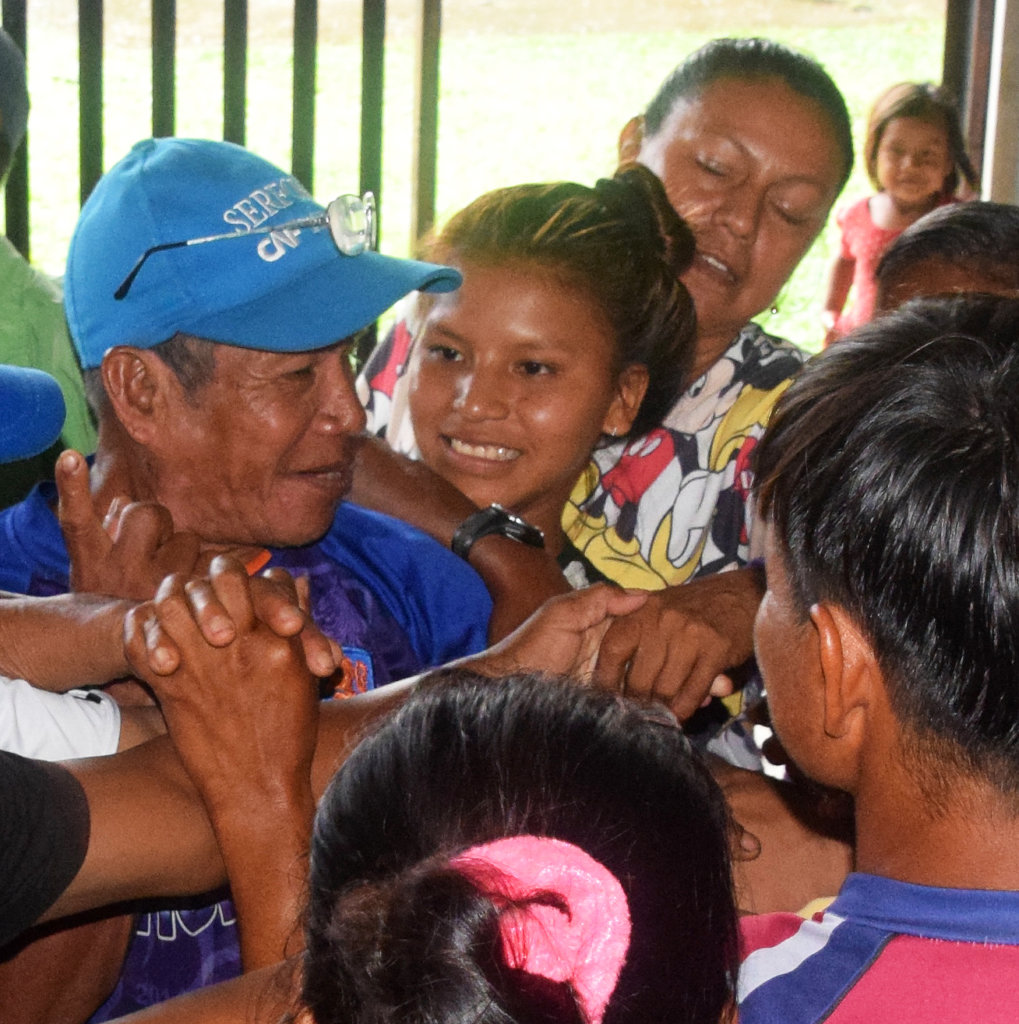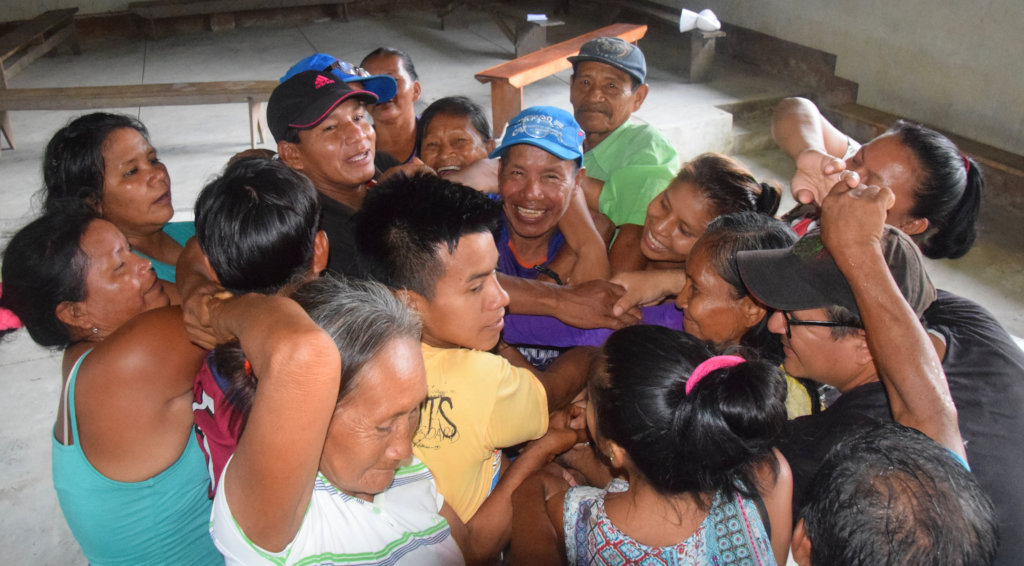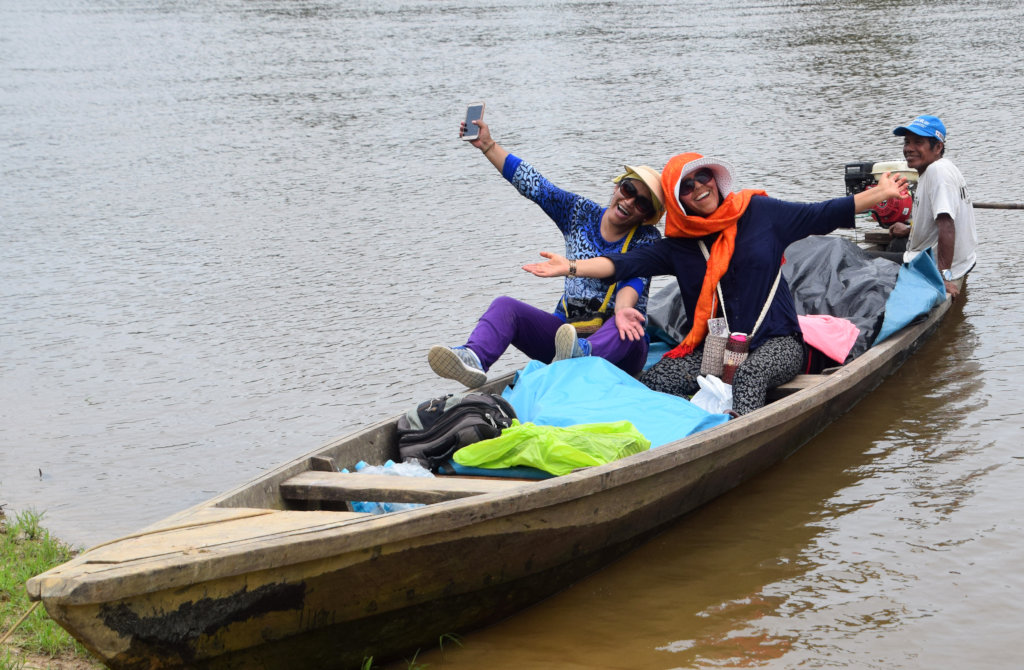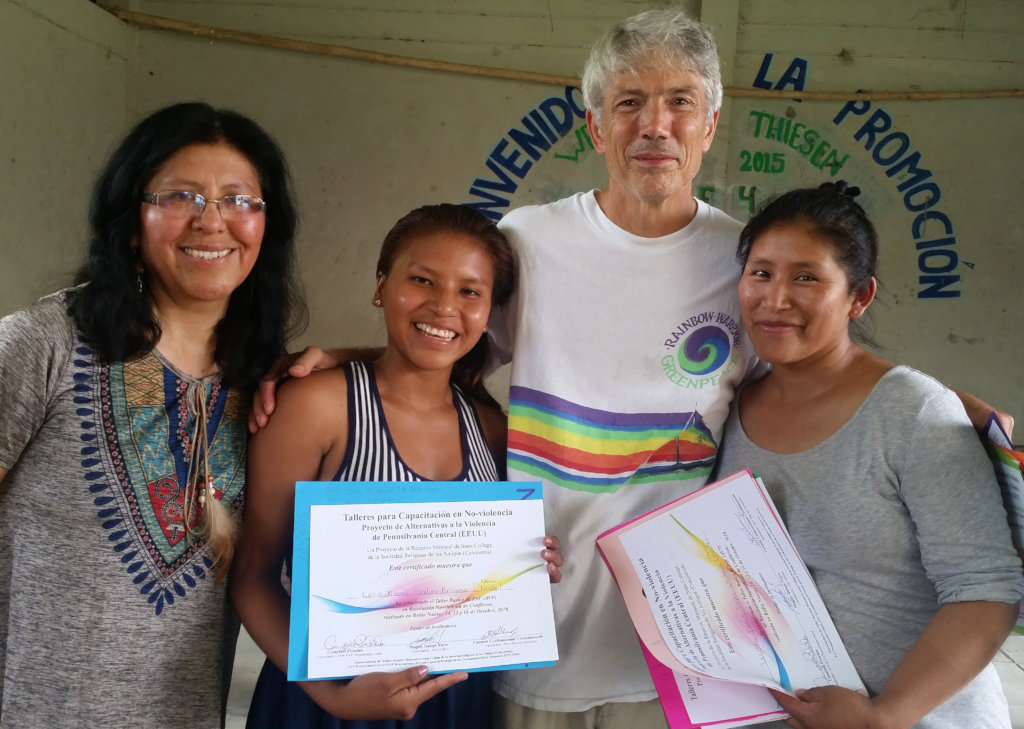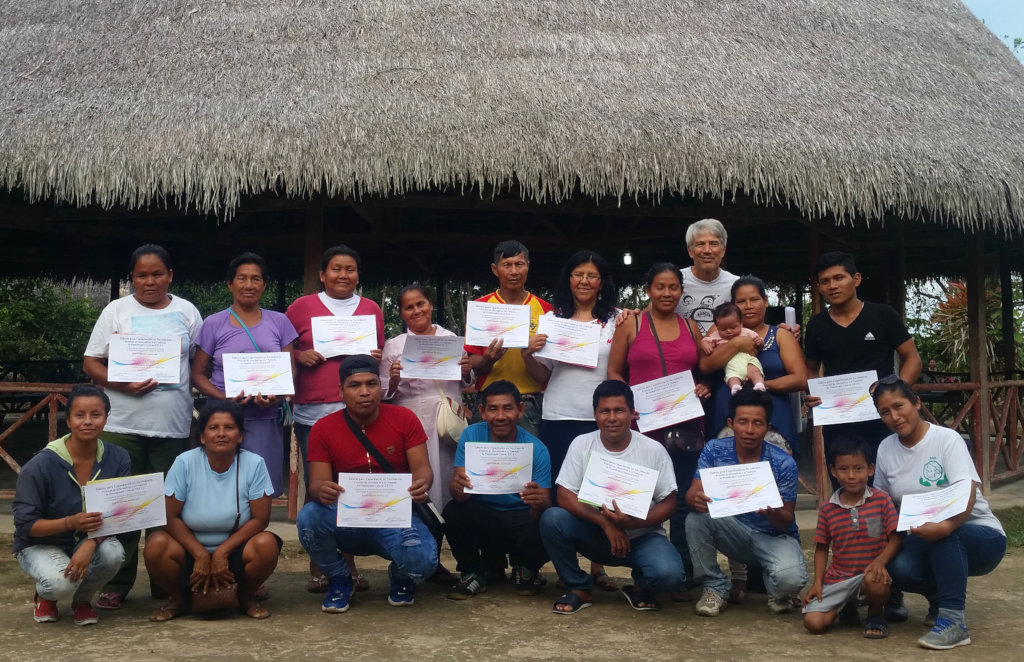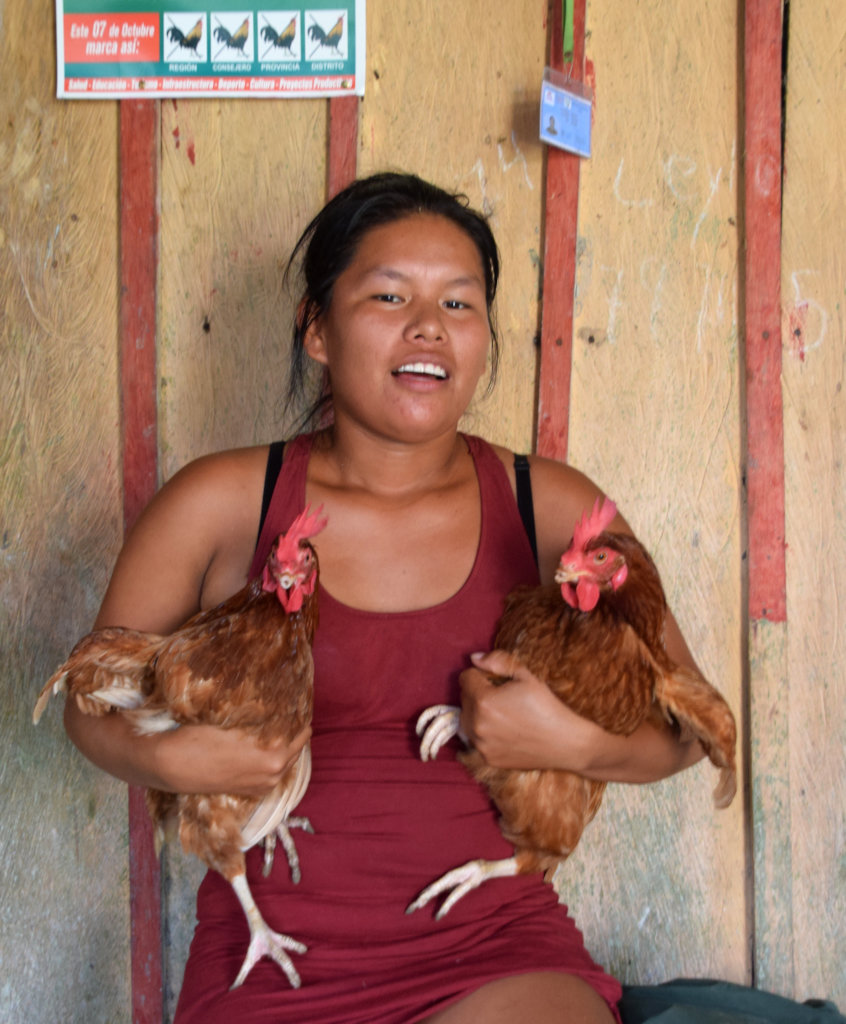 Links: