As society has become more aware that businesses focused solely on profit can harm both people and the environment, many companies wish to convince their customers that they care about nature and the people who make and use their products. It is easy to understand, however, why people concerned about human rights and the environment are skeptical about vague claims that certain products are "green" or "natural." The term "fair-trade" has also been loosely adopted by many vendors wishing to convey the impression they deal fairly with their suppliers. We are honored that GlobalGiving has chosen Support native artisans and Rainforest in the Amazon to be one of six projects they are highlighting October, Fair Trade month, because they believe we truly embody this concept. I hope this report will give you a deeper understanding of what Fair Trade really means and how we apply it to our work with our partners at home and in Peru.
I launched CACE in 2006 with the goal of helping people living in the Amazon rainforest to improve their livelihoods and strengthen their communities by selling innovative products made from plant materials that were sustainably harvested from their forests. This vision seemed to resonate with the aims of fair-trade enterprises, but it took ten years to build our group to the point where I felt ready to apply for membership in the Fair Trade Federation. FTF is a non-profit association that represents both for-profit businesses and non-profit organizations who wish to support each other practicing nine specific fair-trade principles in their operations and promote these values in society as a whole.
Below is a list of the nine fair-trade principles defined by FTF with condensed descriptions, our brief view on the topic and some comments from our artisan partners. Be sure to see the photos at the bottom as well. Thanks in advance for any additional support you can offer our project on the next GlobalGiving Bonus Day (Thursday, Oct. 5) and beyond.
1. CREATE OPPORTUNITIES FOR ECONOMICALLY AND SOCIALLY MARGINALIZED PRODUCERS
Fair Trade is a strategy for poverty alleviation and sustainable development. Members create social and economic opportunities through trading partnerships with marginalized producers.
CACE position: This first principle embodies CACE's mission. We aim to help our partners in forest-based communities develop and sell value-added products from sustainably harvested rainforest plants to improve their livelihoods, build stronger communities and promote a healthy environment.
Comment from Liz – Native artisan from Puca Urquillo Bora and President of the Federation of Native Communities of the Ampiyacu (FECONA). See photo of Liz below.
"It is gratifying that our communities have the support of an NGO like CACE. It provides a market alternative that otherwise we would not have. It coordinates with us to do things properly and conducts training workshops so artisans can improve their products. Beyond the craft work, they have also supported reforestation and provided medicine for health clinics in the communities.
2. DEVELOP TRANSPARENT AND ACCOUNTABLE RELATIONSHIPS
Fair Trade involves relationships that are open, fair, consistent, and respectful. Members show consideration for both customers and producers by sharing information about the entire trading chain through honest and proactive communication.
CACE position: We regularly discuss pricing in open meetings with our artisan partners so we can all agree on what prices should be paid for certain types of crafts. This includes sharing the realities of our costs to market their products. We also share information with our customers about what we pay the artisans for their work, our marketing costs and the amount we return to our partners to support basic needs in their communities.
Additional comment from Liz. – Native artisan and FECONA President
"CACE works in a serious way. They coordinate their activities with our directors and share both what they have done and what they plan to do in the coming months in meetings with representatives from all 15 member communities. CACE has not given our federation any reason to view its presence in our region in a bad way.
3. BUILD CAPACITY
Fair Trade is a means to develop producers' independence. Members maintain long-term relationships based on solidarity, trust, and mutual respect, so that producers can improve their skills and their access to markets.
CACE position: Our core group of activities is building artisan capacity to make and sell new products with consistent quality from sustainably harvested local materials. We do this primarily by holding skill-sharing workshops where experienced artisans from one region teach each other how to make new types of crafts. We also host artisan leadership workshops where representatives from all partner communities gather to improve their ability to better organize their groups and assume more responsibility for product creation, quality control, marketing and natural resource management. Read more about these workshops in our GlobalGiving Reports: Artisan leaders gather in Nauta to share info, ideas and fun and Artisans gather in Santa Lucia de Pro for skill-sharing workshop. See photos of workshops below.
Comment from Angelina - Bora artisan from Brillo Nuevo, Ampiyacu River
"We already knew how to make certain types of crafts when CACE first arrived, but it was quite a challenge when they asked us to make new ones. For example, I remember spending days considering how I could make a belt look like a snake. I was thinking and thinking, trying and trying until I found a way. I liked that. And when I shared my creation with others, they shared their creations with me and others. Over time, we all improved." Read more about Angelina in our GlobalGiving Report: Angelina and her family of Peruvian Amazon artisans. See photo of Angelina weaving with her family below.
Comment from Liria - Artisan from San Regis, Maranon River
"It was not easy working with CACE in the beginning when I was used to working a certain way. It hurt at first when they said the details of my crafts were not good enough for them to buy. I started to think, though, and realized that I must improve. I tried and little by little I did. When CACE came back to look at our crafts, they still rejected some of them, but they bought others. Their purchases made me feel good because when I look at my work, I realize my crafts are well made, and recognizing this filled me with satisfaction. It meant I was improving and have a greater chance to sell more crafts – not only to CACE but to anyone else who sees and likes them." Read more about the early stages of our work with this area's communities in our GlobalGiving report: Exploring egrets and new partners on the Maranon River. See photos of Liria and other Maranon artisans below.
Comment from Zoraida. – Artisan and community organizar for Minga Peru in San Francisco, Maranon River.
"The workshops organized by CACE and Minga Peru have been very important. We've discussed different ways to strengthen our artisan associations and learned how to better present our thoughts to a group. The interactive games are not only for fun, they can be a better way to convey ideas like working together in a team and building confidence. If you can be a leader or facilitator whose goal is to get people to participate and not just to talk, you will get better results." See photo of Zoraida below.
4. PROMOTE FAIR TRADE
Fair Trade encourages an understanding by all participants of their role in world trade. Members actively raise awareness about Fair Trade and the possibility of greater justice in the global economic system.
CACE position: Beyond our interactions with our artisan partners, CACE discusses the way we implement fair trade practices with everyone who attends a presentation, visits our website, buys a craft or donates to our organization. We went through a rigorous screening process of joining the Fair Trade Federation so we could concretely demonstrate our commitment to these principles and learn from other fair-trade businesses how they have confronted the challenges of making a profit while still doing right by people and the environment.
5. PAY PROMPTLY AND FAIRLY
Fair Trade empowers producers to set prices within the framework of the true costs of labor, time, materials, sustainable growth, and related factors.
CACE position: CACE openly discusses and sets prices for the crafts we buy from our artisan partners with a full understanding of the time and natural resources that have gone into producing them based on studies we have done with them in their fields, forest and homes. We pay promptly for finished crafts that meet our quality standards.
Comment from Dolores – Bora artisan from Brillo Nuevo. See photo of Dolores below.
"Something that I think about more now when making handicrafts is the use of my time and resources. CACE taught us that we can be more productive if we know how to manage these two things. For example, I used to make hammocks that used a large number of chambira leaf spears, but I can now earn more money making other types of handicrafts that use much less fiber. These things are also important to consider when valueing your own crafts. We used to almost give away our work because we did not truly value our efforts. With CACE we discuss prices and why certain crafts should receive a certain cost. If I sell my handicrafts in the city now, I know very well what the price should be." Read more about the key role that Dolores played in our study of chambira productivity in our GlobalGiving report: The art of weaving chambira palm fiber in the Peruvian Amazon and CACE's approach to innovation.
Comment from Mili – Bora artisan from Puca Urquillo.
"I particularly like the way CACE works. I have had experience with other buyers who pay you after a certain amount of time – sometimes in parts but never the whole amount. On the other hand, CACE is serious in this respect. When they place an order, you know with certainty they will pay you. The other artisans and I like that very much." See photo of artisan signing receipt for craft payment below.
6. SUPPORT SAFE AND EMPOWERING WORKING CONDITIONS
Fair Trade means a safe and healthy working environment free of forced labor. Throughout the trading chain, Members cultivate workplaces that empower people to participate in the decisions that affect them.
CACE position: When we propose an order to a group of artisans, they only accept it if they believe they can make the crafts requested according to the types, numbers, prices and time specified. Artisans then divide the order among those who are interested to help fulfill it. Most artisans collect the plants they use to make the crafts from their own fields and make the crafts in their own homes or collective spaces they have built for themselves.
7. ENSURE THE RIGHTS OF CHILDREN
Fair Trade means that all children have the right to security, education, and play.
CACE position: Most crafts are made by adults from partner communities. While children go to school and have lots of time to play, it is traditional for artisan parents to teach their children how to make handicrafts. Many of the most creative and productive artisans we work with who are now in their twenties and early thirties were teenagers watching their moms weave and their dads carve new crafts in the CACE project. Apart from our craft work, CACE has supported education in several villages and towns by donating a portion of craft sales to buy school supplies for students, equipment for school offices, and a new bathroom for an elementary school. See photos of inter-generational craft making and kids playing below.
8. CULTIVATE ENVIRONMENTAL STEWARDSHIP
Fair Trade seeks to offer current generations the ability to meet their needs without compromising the ability of future generations to meet their own needs.
CACE position – As stated before, promoting this principle lies at the heart of CACE's mission. We believe that helping people to improve their livelihoods by sustainably using non-timber forest products will relieve pressure to exploit the forest in more severe ways. Our aim is to help our partners use more of their creative than natural resources to improve their income. We help artisans use saws instead of machetes to harvest chambira palm to reduce damage to non-target leaves and support their efforts to plant more trees today to meet the demand for more products three to five years in the future.
Comment from Maria – Bora artisan from Brillo Nuevo
"I have planted chambira palm trees in my field, and I will keep reforesting it. My husband and I know we need the chambira, not only now but for the future. I've seen communities that have no chambira because they didn't know how or didn't care to plant it. Fortunately CACE has supported reforestation in my and many other fields in the community so it's clear they understand the value of caring for and maintaining the forest." Read more about early CACE reforestation activities in the Ampiyacu in our GlobalGiving report: New handicrafts and craft plant reforestation. See photo of chambira planting below.
9. RESPECT CULTURAL IDENTITY
Fair Trade celebrates the cultural diversity of communities, while seeking to create positive and equitable change.
CACE position – CACE now works with artisans from 17 villages, towns and cities in the northern Peruvian Amazon that include six indigenous groups as well as forest people of mixed backgrounds who call themselves "mestizos"(mixed race people) or "campesinos" (forest farmers). While the degree to which these indigenous communities use their native language and practice their traditional customs varies widely, CACE seeks to accept and respect the cultural norms of any community we partner with. Read more about our initial efforts to work with new native communities in the Napo River area in our GlobalGiving report: Exploring a partnership with Maijuna communities.
Since most of our core programs are focused on strengthening the cr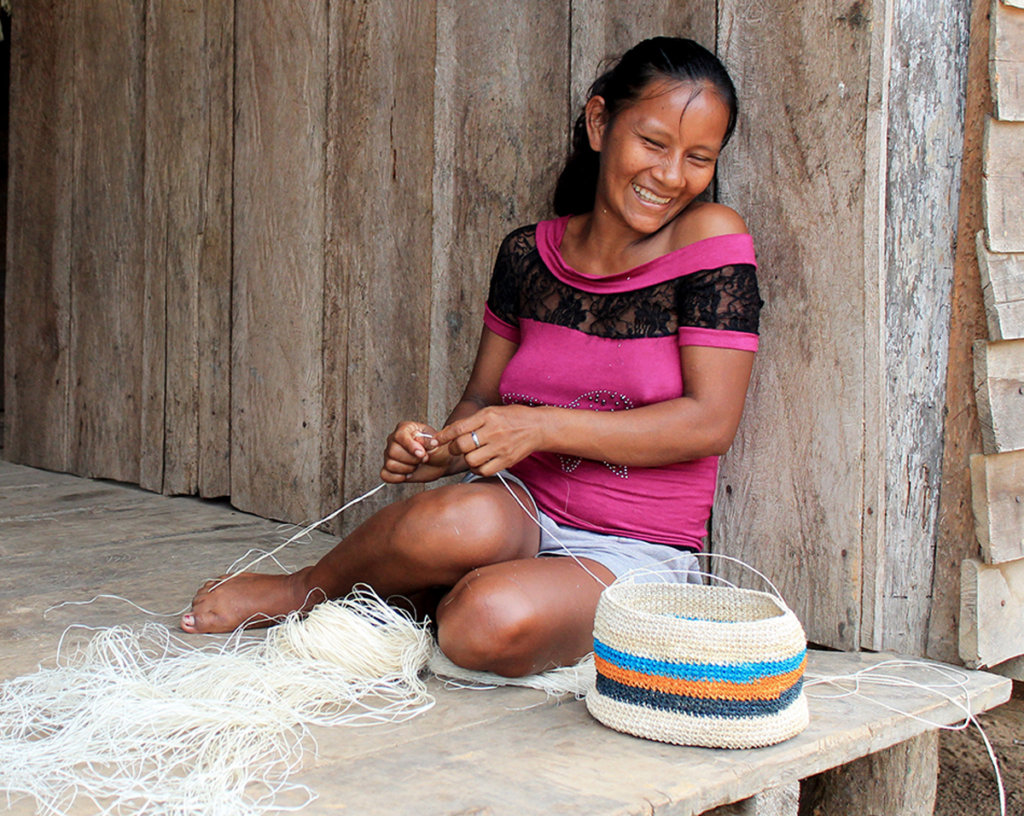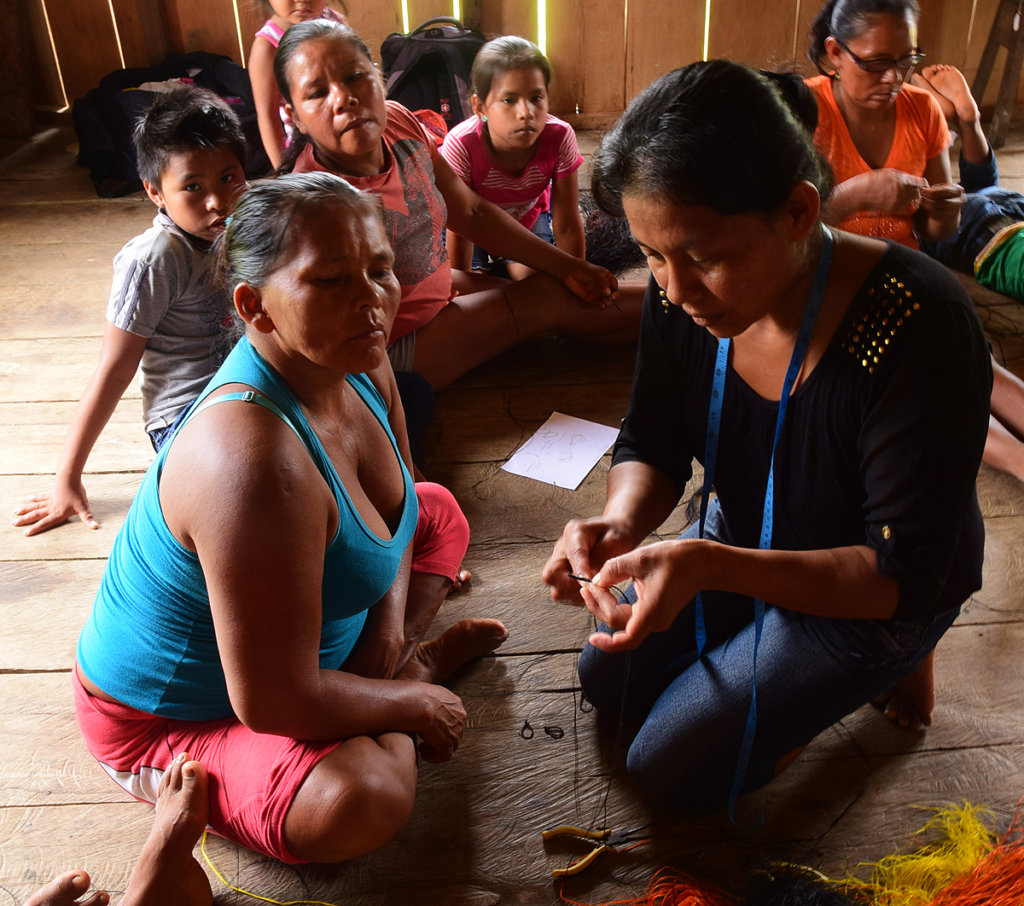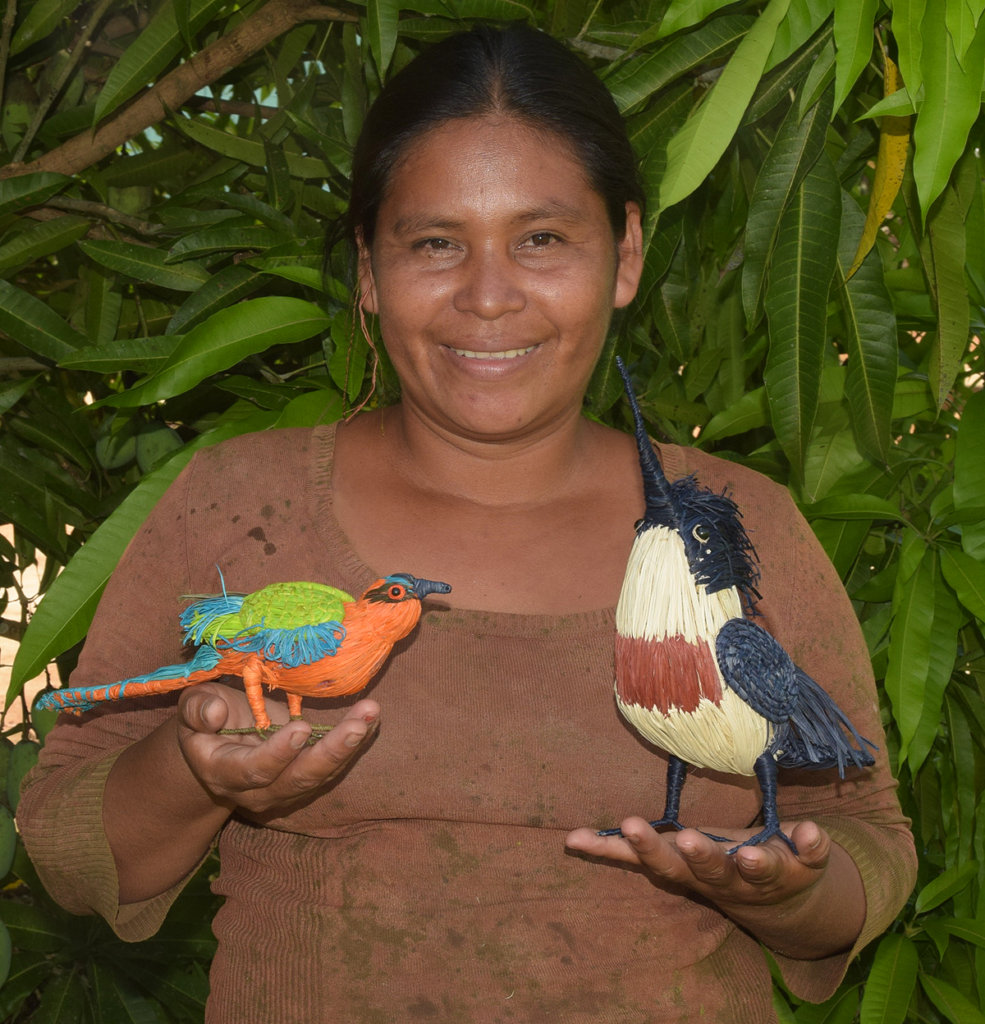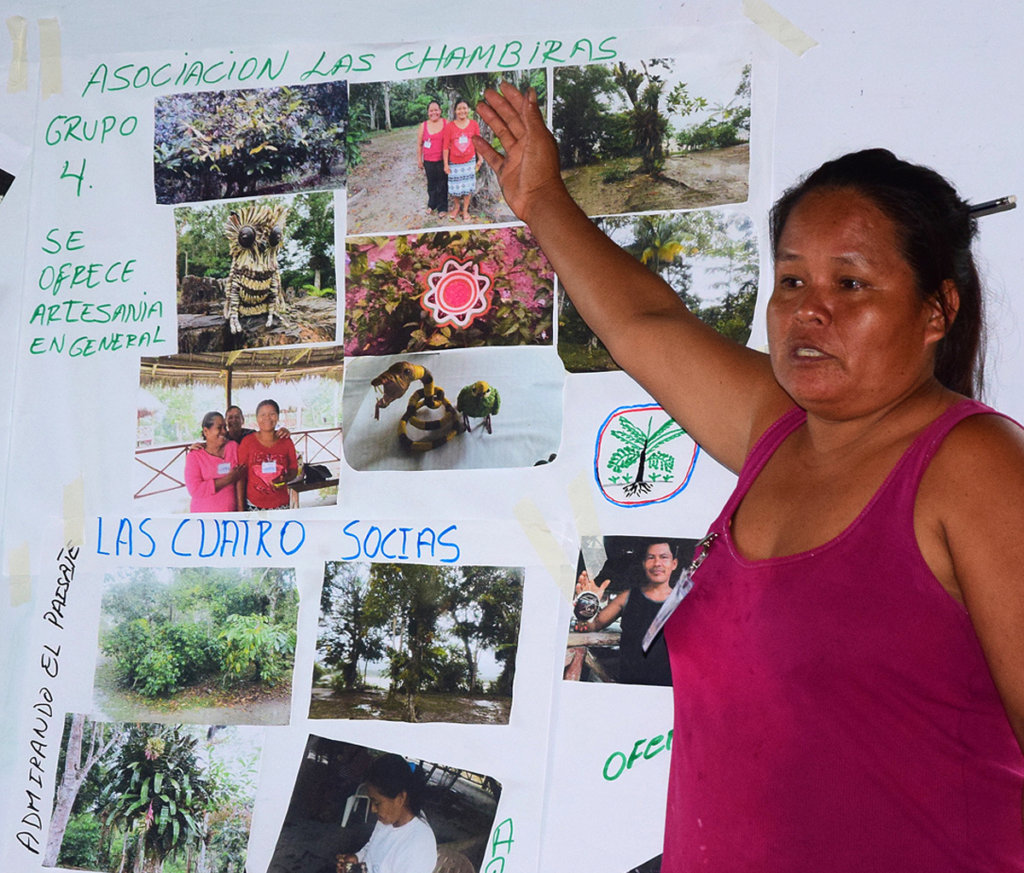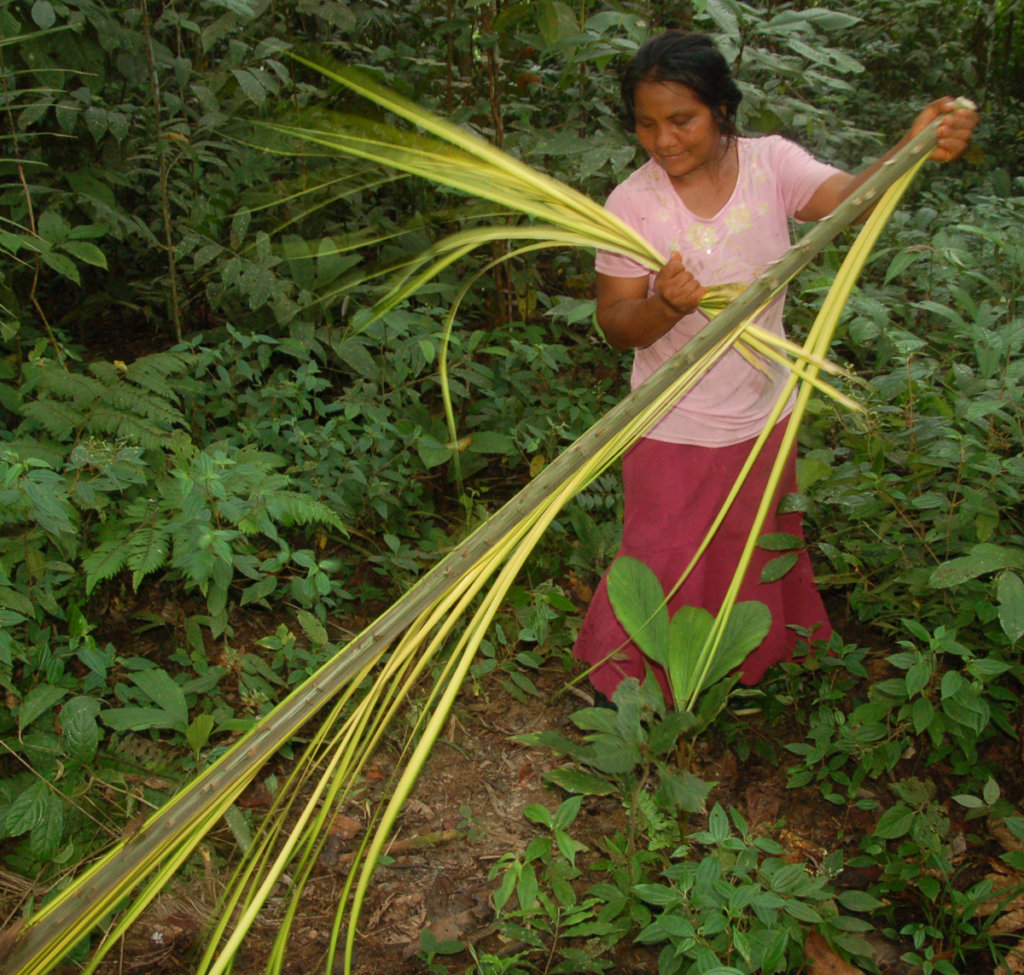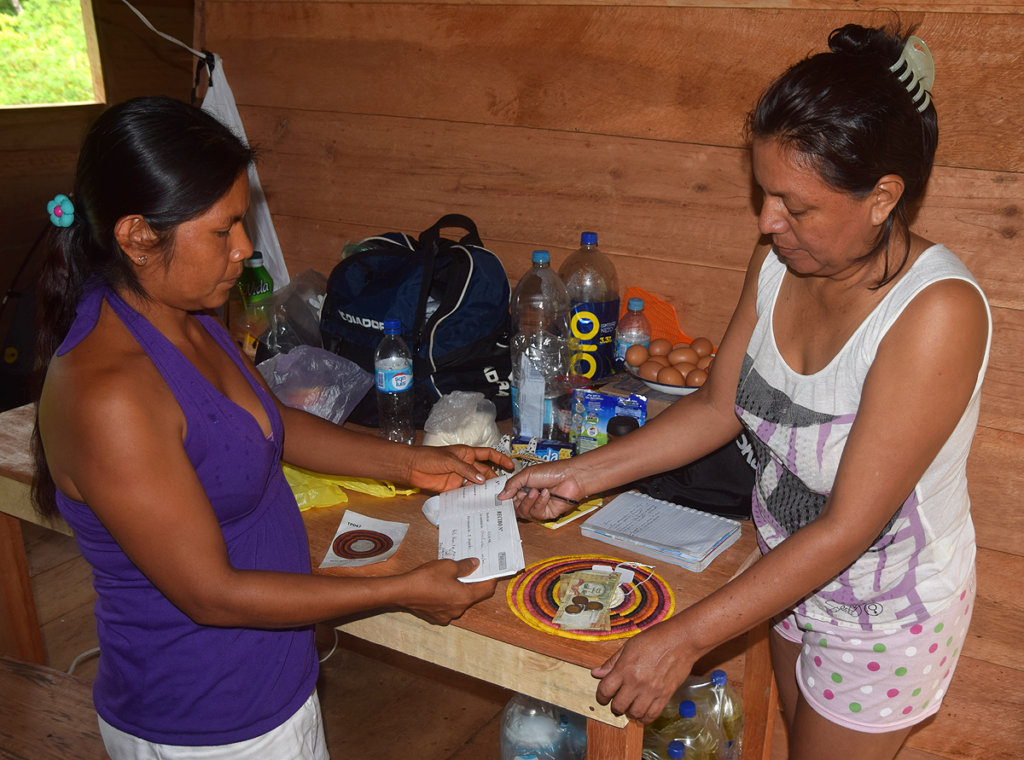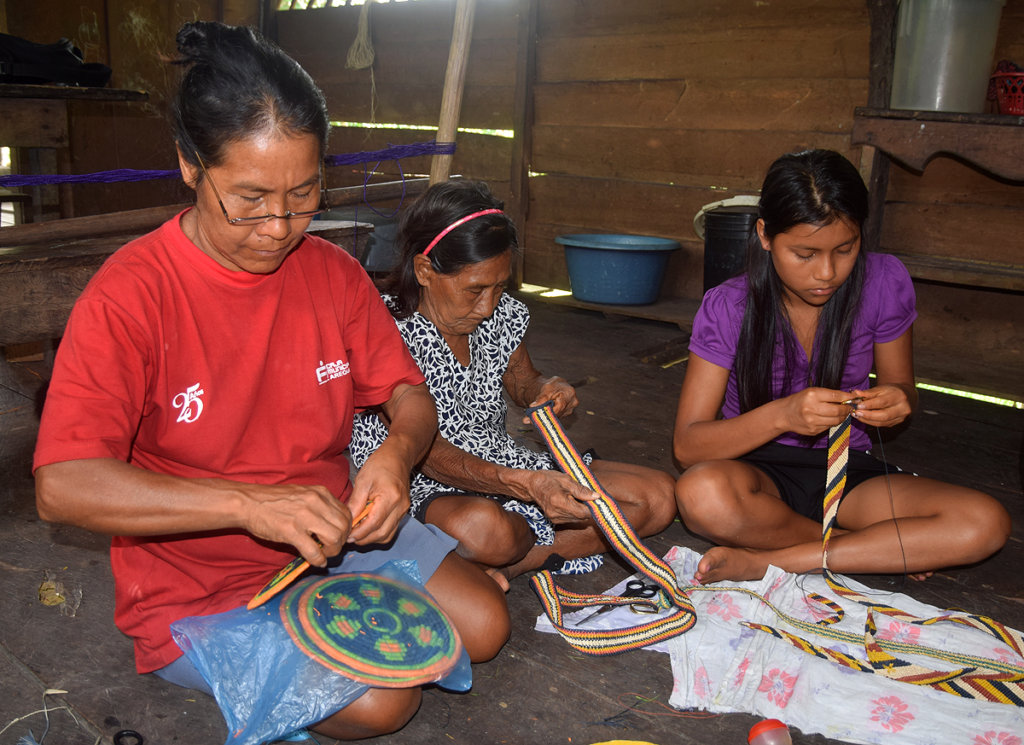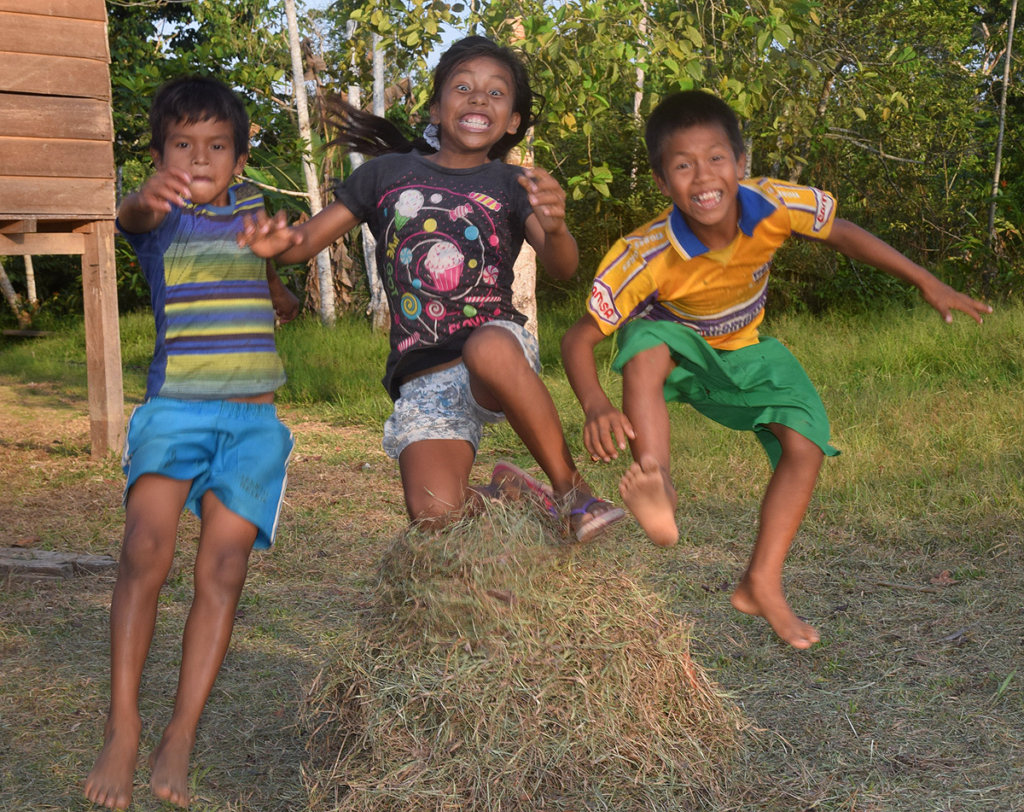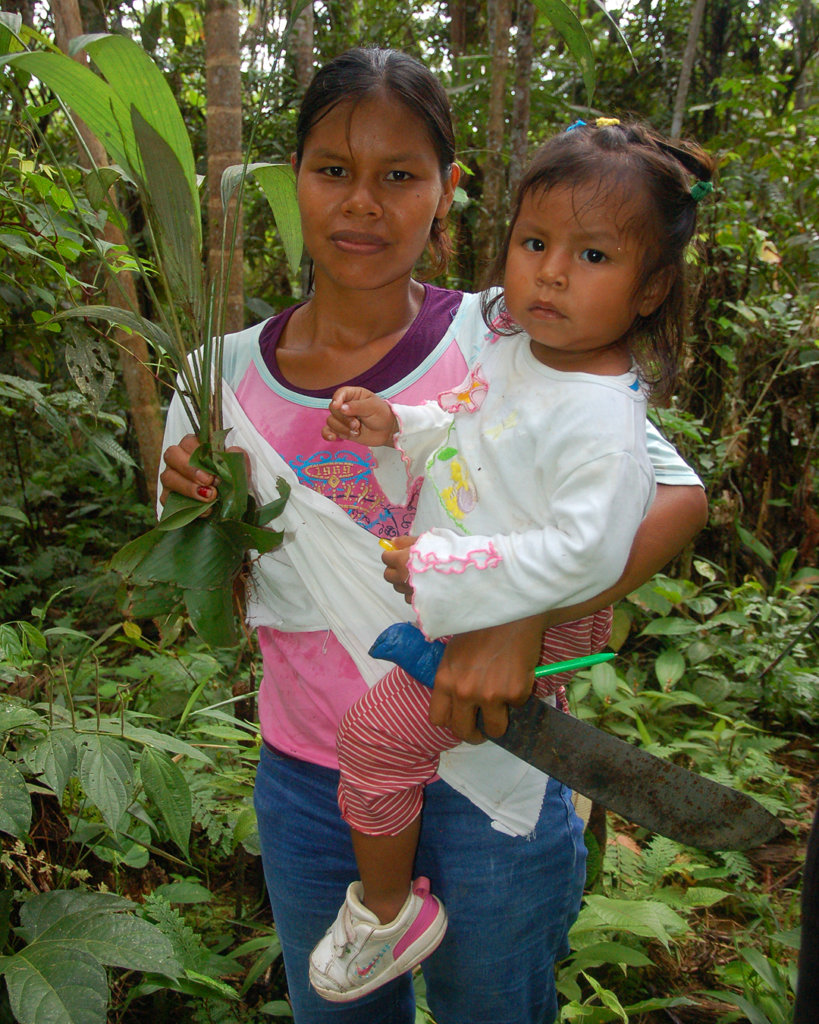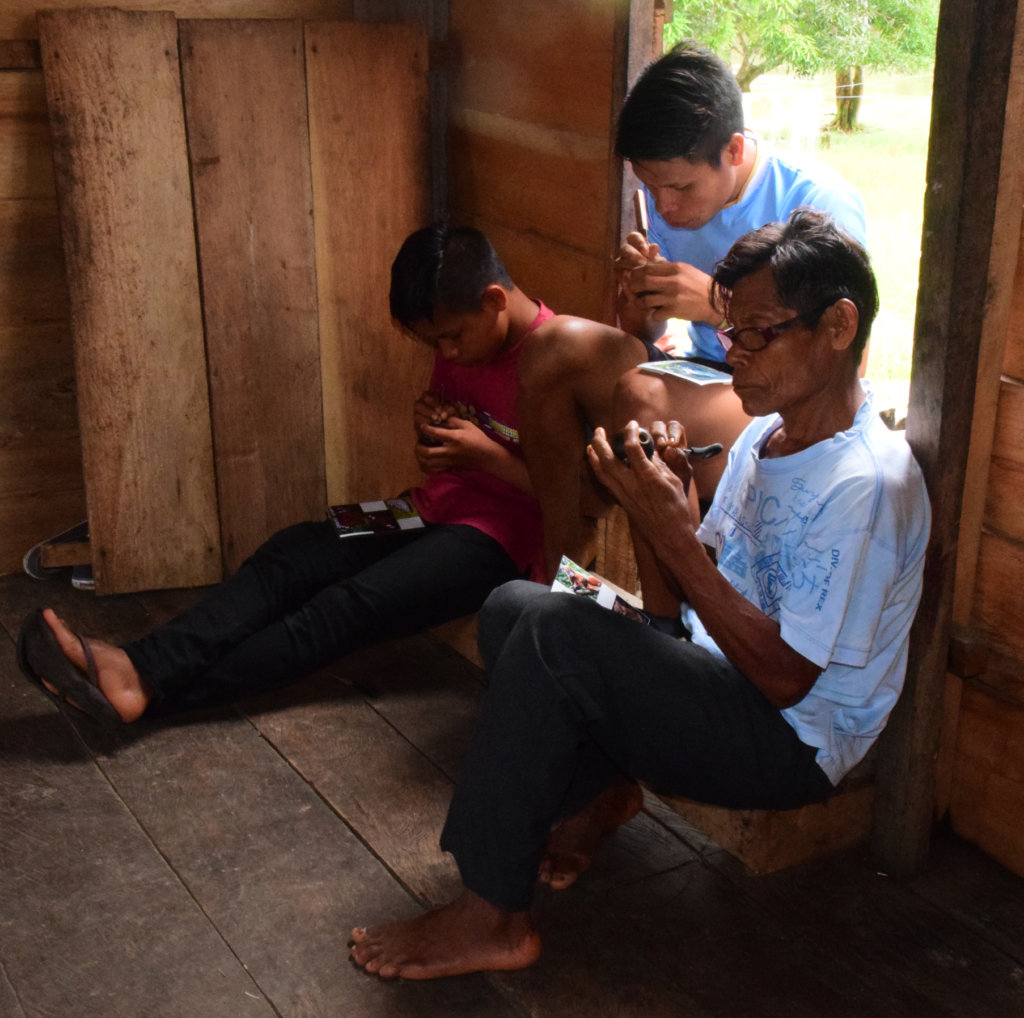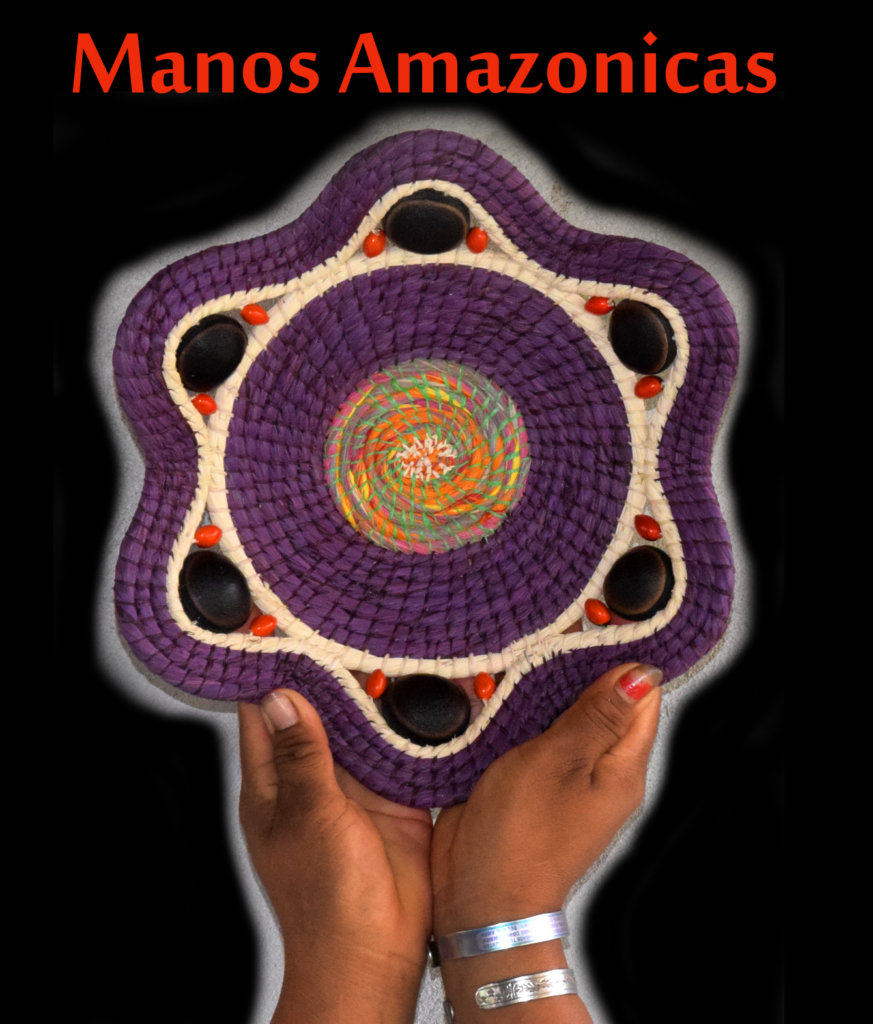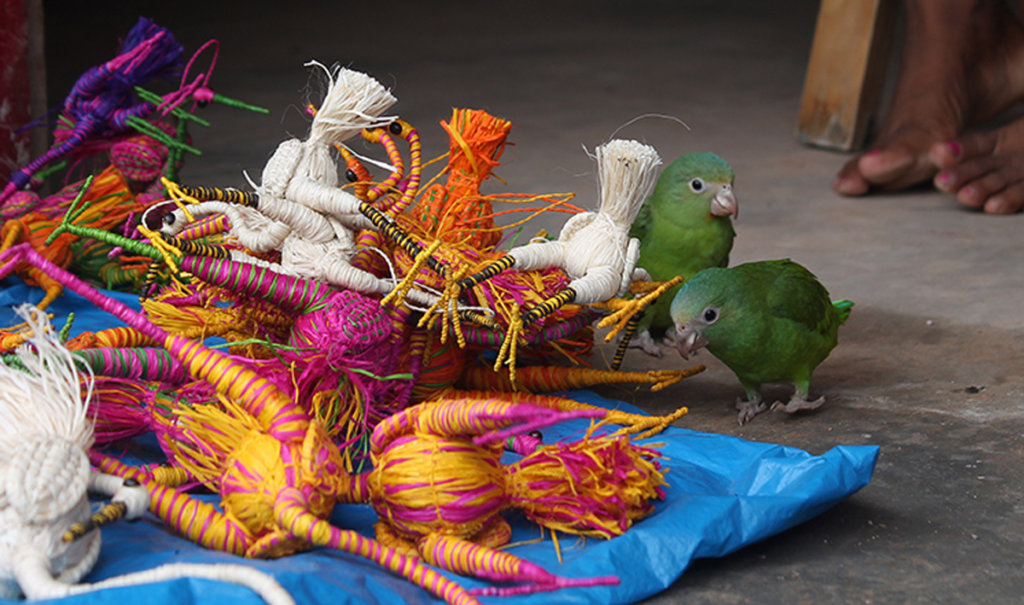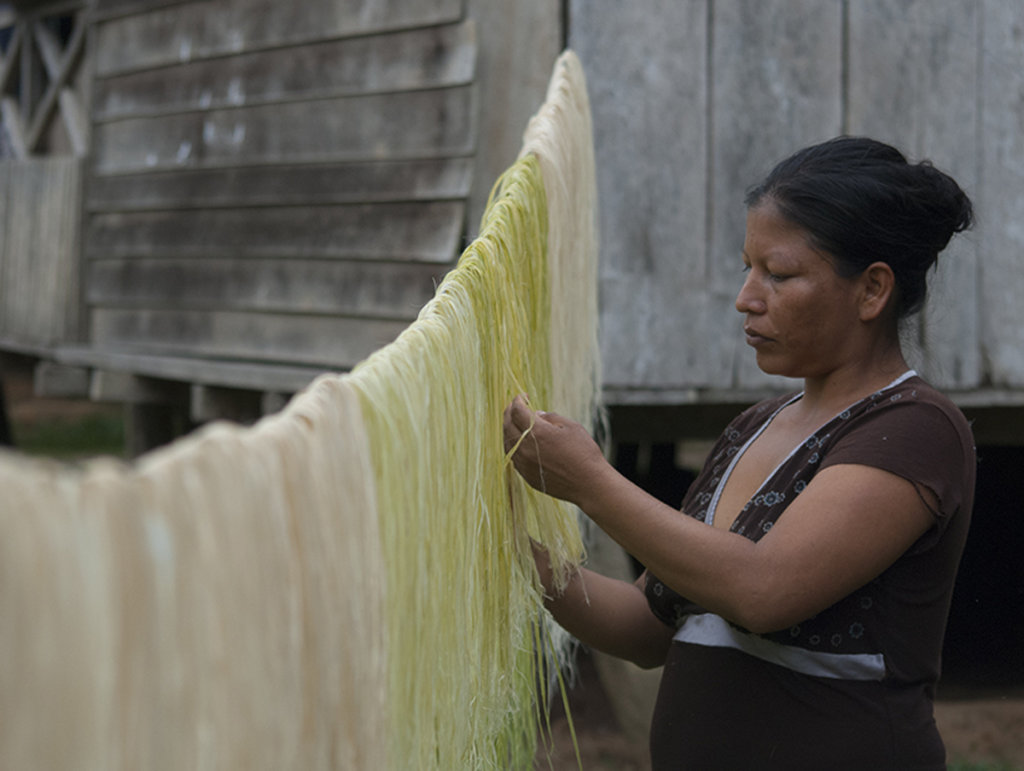 Links: