By Tulio Davila and Campbell Plowden | CACE Media Coordinator; CACE Executive Director

In Greek mythology the Amazons were a people formed and governed entirely by women warriors. Some say the largest river in the world bears that name in honor of these great warriors. Amazonas is also small community on the the Marañón River, a tributary of the Amazon River, which gives it a connection to the power embodied in the origin of the mighty river's name. Amazonas welcomed us earlier this month to empower a group of artisans who are passionate as warriors to share their craft-making skills with each other.
The Center For Amazon Community Ecology (CACE) has hosted skill-sharing workshops in our partner communities in the northern Peruvian Amazon for the past ten years so artisans can learn how to make new kinds of crafts. Women artisans in the Ampiyacu region showed other women how to weave different products like belts and guitar straps, and a few men taught other artisans how to carve wildlife designs onto calabash tree pods. When we started working with the communities in the Marañon River area a few years ago, we found that while many artisans made a variety of animal figures, a few people from one family made the most detailed birds. So following our earlier practice, we contracted them to be teachers in workshops to show other artisans how to weave these popular ornaments.
This arrangement worked pretty well for a while, but this spring we reached an impasse. After first asking for more money, this select group finally said they did not want to teach anymore. They could make more money making and selling crafts at home and didn't want to spend the time traveling to teach others. They were also upset that tourist shops in the city were now buying bird ornaments from other artisans – not just from them. So while we understand that artisans may not wish to share their skills with others they view as their competitors, we still believe that all artisans will ultimately benefit if they can collectively make crafts with high quality and consistency to sell their work to wholesale buyers as well as occasional tourists.
We now plan to build a new cadre of artisans who are highly skilled and are enthusiastic about sharing their talents with other artisans. Our first step was organizing a special workshop in Amazonas in early June for artisans who want to improve their craft-making and becoming artisan teachers.
We left the city of Iquitos early morning by car and traveled on the one road out of the city to the town of Nauta. From there, we rode for a half-hour in a peque-peque (motor canoe) down the Marañón River to the community. We were warmly greeted as always by the artisan leader "Panchita" who invited us to stay in her home for the two-day workshop. She is a wife, mother, grandmother and pillar of her family. While she is also a very accomplished artisan, she remains humble and often expresses how she is still learning. This humility motivated her to participate in this workshop. Read more about Panchita in our report Second Chance to Become a Great Artisan.
The other women artisans who joined the workshop were Deysa, María, and Miriam. The only man who came was "Pablito," a talented artisan who had been a teacher at an earlier CACE workshop. While the group was small, they were ready and excited to participate. They joked and caught up with each other over breakfast. We then gave them their challenge for the first day - everyone should make the best toucan they could by the end of the afternoon. This was similar to an exercise we did in our last workshop to promote cooperation between artisans (see our report: Building a Better Toucan). This time, however, they would make replicas of this iconic rainforest bird with chambira instead of construction paper. The group enthusiastically accepted the challenge and began to transform threads of palm fiber into art.
The artisans often laughed while working, but it did not diminish their concentration. Their hands moved with mastery, and it seemed like their fingers danced with each other as the artisans observed, commented and corrected what they need to fix. My CACE colleague Yully and I felt wonderful when we saw these veteran artisans from two communities teaching, learning and sharing with each other without any prompting. When Pablito explained how he makes the toucan beak, the others paid close attention. Panchita shared an idea for how to make the feet, and the group incorporated this detail into their birds. While looking carefully at the photo of the toucan, Miriam noted how the patch around the bird's eye had a particular shape and blue color, and the group welcomed her observation to make their toucans more like the actual bird. While these artisans might have tried to show off their individual skills in a sort of live competition to earn a teacher job, they all treated it as a rich opportunity to improve their skills by sharing with each other.
After a break for lunch, they quickly resumed their work. Their birds took shape as the body, beak, tail, and wings came together. Deysa paused to stretch her legs, and Maria took a break to breastfeed her baby. They soon got back to their task, however, and wove and wove until one by one they finished their birds which seemed to have come alive. When the day ended, we are all happy the first objective was completed.
For the second day we proposed that the artisans make a blue and gold macaw, and they accepted the challenge with the same positive spirit. The process was similar to the previous one with more jokes, laughter and positive atmosphere. The extent of their cooperation, however, was even greater than the first day. They weaved at their own pace, with focus, respect for work, and in tune with the rhythm of life in the jungle. As time passed, pieces of wire and colored chambira scattered on the ground came together to shape one of the most beautiful birds of the Amazon.
In the afternoon, a small group of tourists unexpectedly arrived at the village. The community mobilized to receive them, and our group took the lead. The visitors wanted to learn about craft making so the artisans took advantage of this opportunity to show them how they were making birds and other kinds of handicrafts made with chambira including baskets and other kinds of woven ornaments. The guests laughed, took pictures and felt very welcome. It was a great example of the simplicity and hospitality of people who feel part of the Amazon rainforest.
As the afternoon wanted, each artisan put the final touches on their macaw. We asked the group how they felt about these two days sharing and learning from each other. Panchita said, "I found it very useful because my technique got better." Pablito commented, "It's very valuable to weave while others can watch and make suggestions about my work." María said, "This is the first time I've partipated in a workshop like this and want to do it again." Deysa agreed and added, "I've learned a lot more about how to add special touches to my crafts." Miriam concluded, "I'm very proud of my birds, but I have a lot more to learn."
We finished the workshop with more laughing and joking. I very much appreciated that warmth and joy are abundant with our friends whose bodies and souls are enriched by their lives with the river and forest. We take our leave for the city with promises to return soon and optimism that we have the budding core of a group of artisans who are happy together, anxious to learn, and enthusiastic about sharing their skills and passion with other artisans.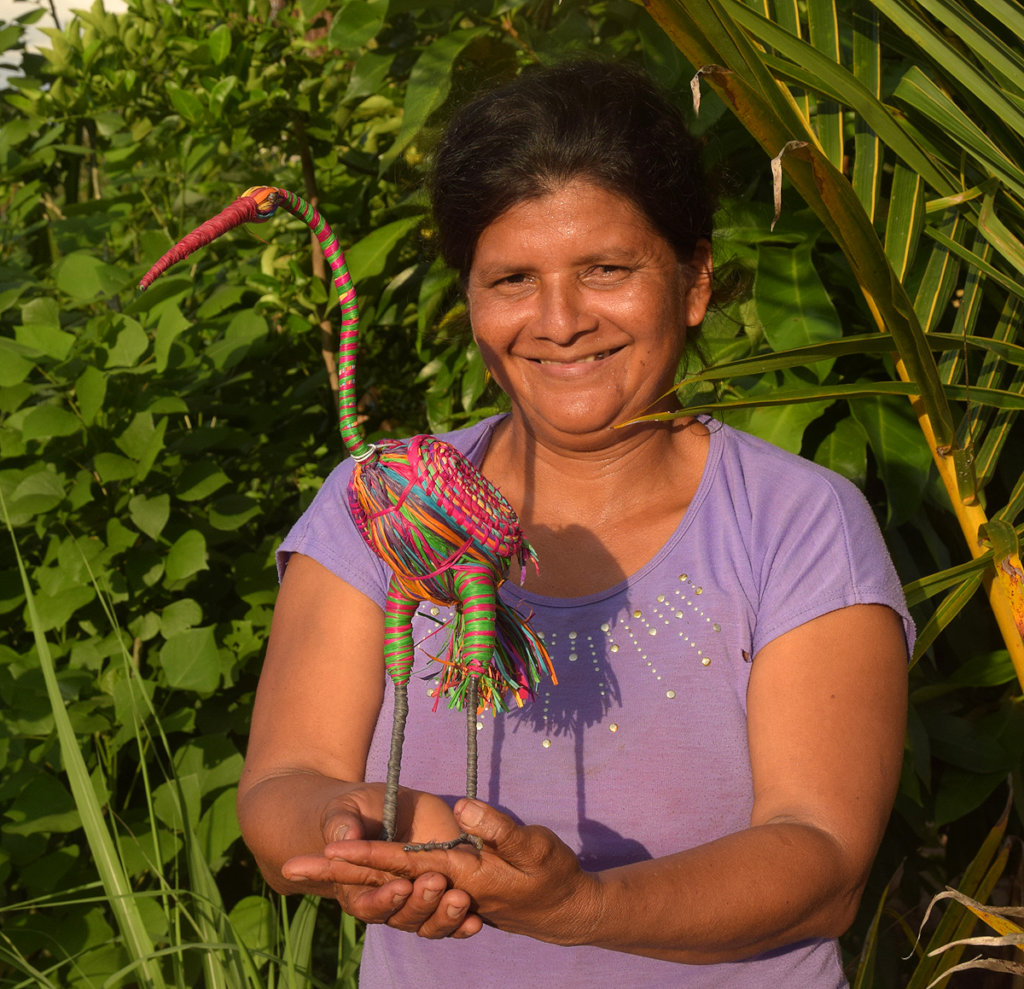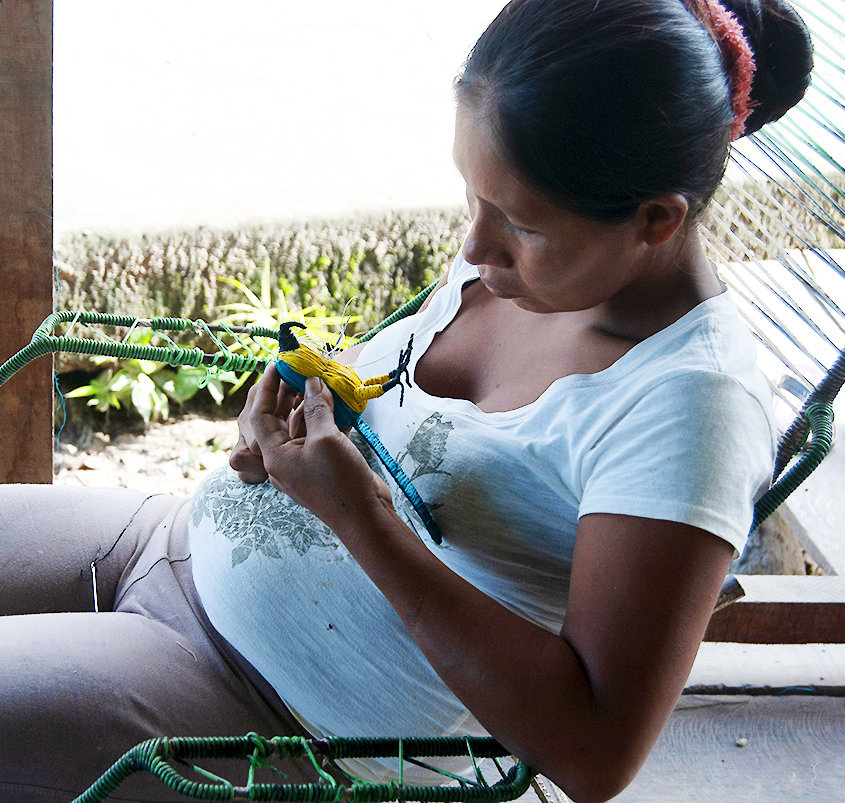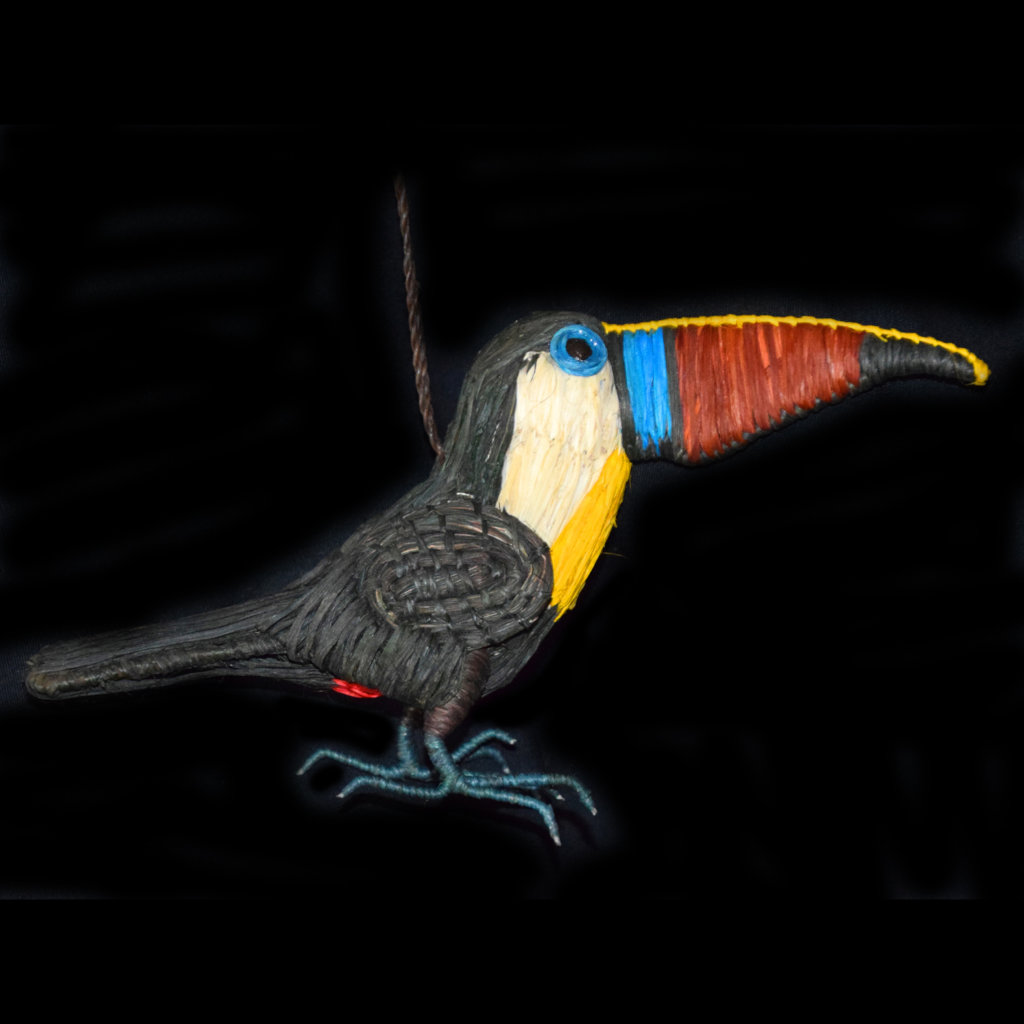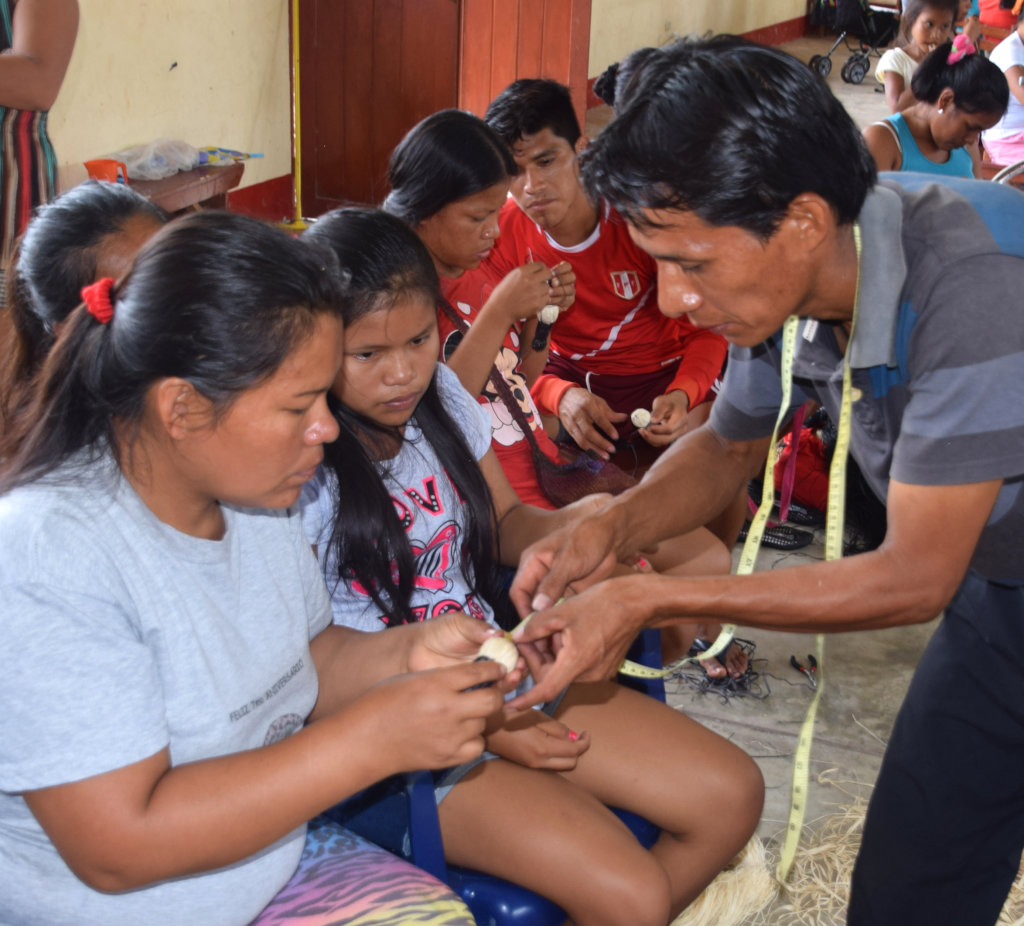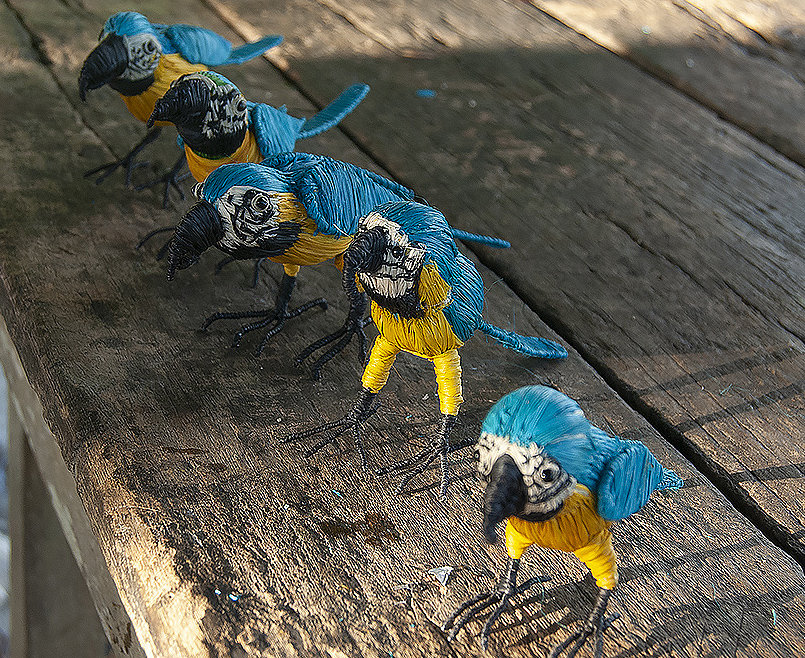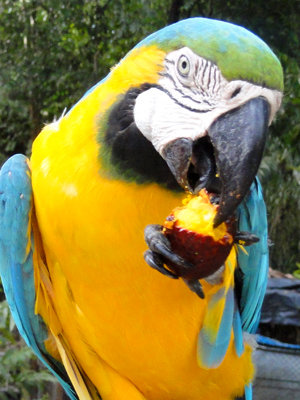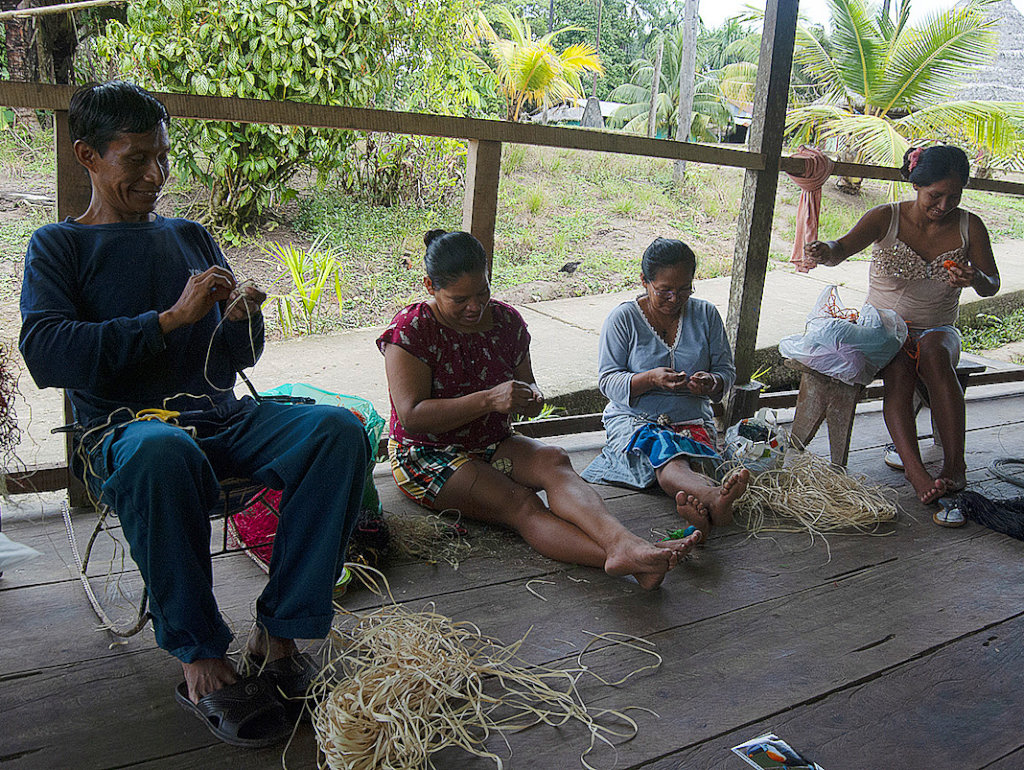 Links: