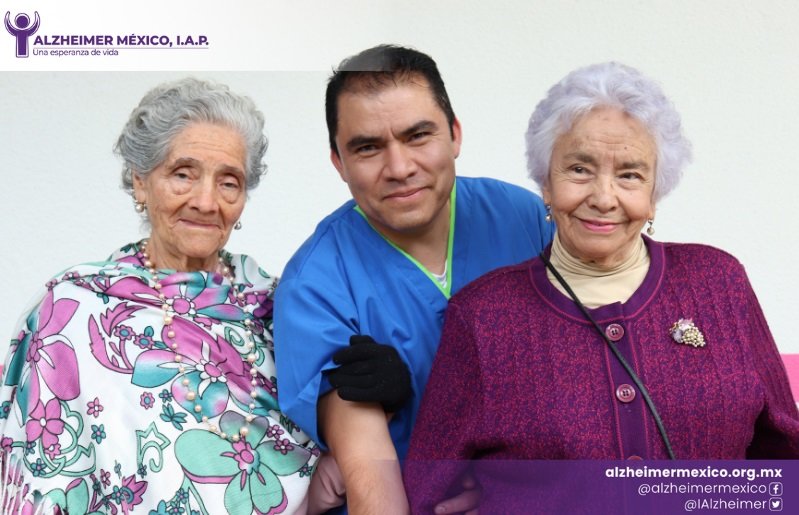 It is always a pleasure for us share with you our activities from February to April 2019. It has been a period of many important dates and visits from donors and students, in addition to the continuity of therapies provided by our model of care. Let´s see the surprises this report brings to us!
In February 6th, we were benefited by clothing donation of the company Eficasia, that also spent some hours with us playing games and having some fun.
On Tuesday 12th, Tec de Monterrey´s students visited us to take some beautiful photos as part of a new project they are developing. On 14th, as usual, we celebrated the Valentine´s Day dancing, eating a delicious cake, and shering presents. In the end of the month, on 21th, we felt in love with the tenderness of the children of Mi Angelito A.C. that sang to us and made our day a very special one.
March started with a very good news: Alzheimer México, I.A.P. received a financial support to improve the kitchen and modernized it, which strengthens our Nutrition Program. Thank you Junta de Asistencia Privada (JAP) for this important proyect!
On Tuesday 5th, we received Katherina Linner from National Monte de Piedad, one of our donors, to talk about many plans we are going to develop in the next years.
As volunteers, we were visited on 6th, by AANS Medical Student Chapter, to organized activities and strategies to keep improving our stimulation programs.
On Monday 11th, as an import part of our labor to offer information about Alzheimer, we had an interesting conference called "Pharmacological Treatment for People with Dementia", by Doctor Mariana Longoria. Many thanks to you for sharing heath information!
On March we also participated in the First Meeting of Circles of Learning, Socialization, and Knowledge, organized by the Mexico City government. On Thursday 21th, we said "Welcome" to the Spring Season. Our colleague Antonio headed up a beautiful ritual, thank you, Toño! And on 26th, we visited the Elderly Garden, such a beautiful place, with many flowers.
To start our 15 celebrating anniversary, we organized, with the actor Sergio Ochoa, the emotional theatre play "The Caregiver - Mom, the car keys don't go in the fridge!", to show and sensitize the public about Alzheimer´s disease and the import caregiver´s work done day by day.
On April 2nd, students of Tec de Monterrey brought to us a nice game developed as part of their social work; on 3rd this month, we went to Isla Plaza Sésamo, on Museum of Memory and Tolerance, to remember not to judge others without knowing them.
On Friday 5th, we said goodbye to our Cetis 57 colleagues, from the Nursing career, who were doing their professional internship for 7 months. Thanks, girls!
Also as part of our 15 anniversary celebration we received the theatre play "Jesus Crist Superstar", a rock opera musical, from CG Experience production, and their all superstar volunteers. Thank you!
And we also would like to say thank you to you, that trust in our work and supports our mission to "promote and provide comprehensive care to people with Alzheimer's or similar dementia and their caregivers and families to improve their quality of life". Many hugs!
Please, check more information about our job in our Facebook Page: @ alzheimermexico
Finally, please let us know your questions and comments about this report and our work.