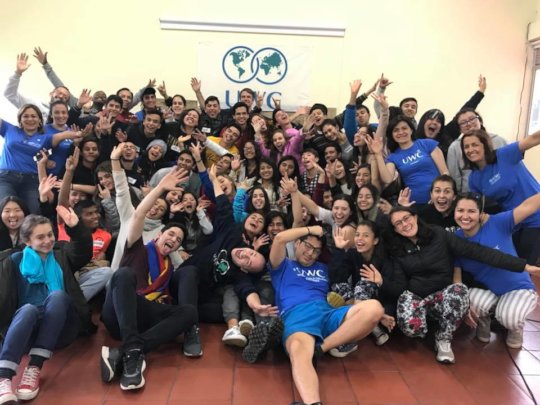 One of the students in this picture from UWC Colombia's selection process camp will be joining UWC Costa Rica thanks to your support!
At the core of the UWC experience lies our intentionally diverse community. This diversity wouldn't be possible without the work of over 3,000 volunteers worldwide who lend their time, experience, and hope for a better world to invite young people in more than 159 countries to apply to become part of our movement.
Though every National Committee is unique –in response to the unique context of the country they serve –they all share one important thing in common: beyond selecting the future students of UWC they work hard to offer every young person that applies a transformational journey of self-discovery and empowerment as agents of change in their own communities and countries.
As you are reading this, the National Committees of Panama, Ecuador, Argentina, Pakistan, Yemen and Congo are in the midst of their selection processes. In the next few weeks they will host their selection camps where dozens of young leaders from across their countries –coming from different geographical, social, cultural, economic, and religious contexts -will meet and explore the agents of change within and learn together and from each other.
The Colombian National Committee –featured in the picture above –has already finished their process and are finalizing their nominations with their candidates and their families. Once the candidates and their families have accepted they will be ready to let us know who our future Colombian UWC Costa Rica student will be –and we can't wait to meet him or her!
There are also some National Committees who are a bit ahead of the curve, like the Liberia National Committee who just sent us their student nomination. We are now getting to know this student and their family and starting the process to support them as they plan for their child's trip all the way from Liberia to UWC Costa Rica.
As we get to know these students and their families, it fills us with great joy to share with them that alongside their scholarship thanks to you and 193 other generous members of our community we will support them in affording all the expenses related with traveling abroad and preparing for a brighter future through UWC. Due to the success of our campaign, we are increasing our goal to $75,000 in order to also cover airfare costs for 1 round trip ticket for all of these students.
You have made it possible for these families to feel embraced by our community from the very beginning and let them know that we stand with them.
Thank you for not letting $5K Stop Them!