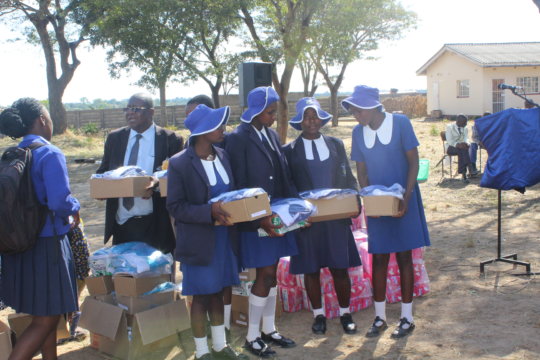 The Forum for African Women Educationalists Zimbabwe (FAWEZI) is excited to share that our first beneficiary of the Global Giving Funds Grace Chirume is seating for the National Examinations this October.
She will be writing the following 8 subjects: English Language, English Literature, History, Geography, Shona, Science, Commerce, and Mathematics.
We have confidence in her as she has achieved pleasing results since her enrolment early this year. As a teen mom she has managed to balance school and taking care of her daughter and mother who is of ill health because of the Non-Formal Education programme.
As shared in our previous report FAWEZI has also selected a second batch of beneficiaries whom we have given a second chance at education and these will be seating for the public examinations in 2018.
All our beneficiaries received tuition fees, uniforms, stationary and sanitary wear-Thank you for making this possible.
One other pleasing thing is that due to the continued support of you our donors we are working on enrolling another group of out of school girls and give them an opportunity to attain a basic education.
FAWEZI believes that not all hope is lost for the teen moms and other out of school girls in the Epworth-Mabvuku-Tafara District as we will continue to request your support in taking them back into the classroom.
With your continued support FAWEZI intends to take all these girls up to tertiary level so that they become citizens who are able to contribute positively to the development of their country.
Kindly consider donating again so that we continue achieving our goal of changing the lives of disadvantaged girls who dropped out of school due to pregnancy and financial challenges.
We are grateful to have you on board.
Stay up to date on FAWEZI in general here and at www.fawezi.org.
From all of us at FAWEZI, thank you