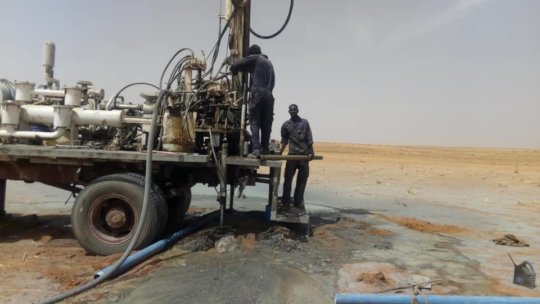 We have just received news that at last there is fuel for the drilling rig, and last week the WES team in Darfur was able to drill, and strike water successfully, in the villages of Tikailat and Geleidat! This is fantastic because we are currently in some of the hottest months in Sudan, where temperatures are up to 50 degrees Celsius. Just imagine how horrible it must be with no electricity so no air conditioning and no way to cool down at all.
This is why striking water and getting these two new pumps installed is so terrific. People living in Tikailat and Geleidat have been waiting so long for water, and because of the scarcity of oil, it was getting very difficult to do anything in Sudan, let alone in Darfur. Now the WES team will start drilling in Aefin village, hoping for the same incredible results - please cross your fingers and do donate so we can build even more pumps!
We also want to give a little shout out to the students at the International School of Brooklyn in New York who held their Seventh Walk for Water at the end of May! Such a fantastic idea, where students learn about how far children their same ages are walking in Darfur to reach water and hold a fundraising event - really putting themselves in the shoes of those less fortunate. We are blown away by the generous donations we have received to this project from the school. Thank you all!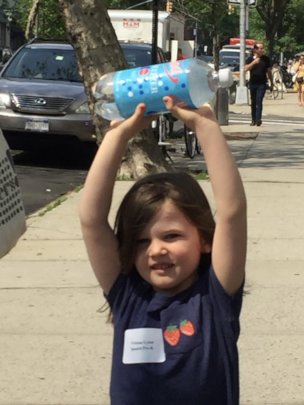 With all that is happening in Sudan right now, at least there is finally rain. The heat in Europe we've all heard about has come from the Sahara in Africa. It may be pleasant for us, but can you imagine what the temperature of 50 C means where there is no electricity, no air conditioning and no way to cool down?
Rain is an absolute necessity, but not reliable, in Darfur where families rely on what they can grow for food. Luckily for our Goats and Donkeys, grass is the first thing to grow, which will provide nutrients for the animals. If the rains continue then animals will flourish and hopefully have twins!! Can you imagine how lucky that would be for families with growing flocks? In bad years nanny goats will have only one kid, or sometimes none at all.
When communities choose beneficiary families, a part of the training in animal husbandry includes training to collect grass once it is long enough and store it correctly so it is sufficient for the next hungry season. We must always think ahead in terms of everything Kids for Kids does because of the harsh and changing climate in Darfur, where each year brings new challenges.
We thank you all for your generous support, and encourage you to give more goats (and donkeys!) so families will have a better chance. Every goat you give plays an instrumental part in changing the life of a child who has no other hope.
We have just ordered more toys for our Nine Kindergartens! Our educational toys have gone over a treat with the students at our schools, who are so enjoying playing with the equipment we have been able to purchase and distribute to teachers. These are children who have never had a toy with which to play...to be a child. We now have musical instruments, brightly colored muscle-developing climbing toys as well as doctors and nurses' kits for the students to imagine possibilities for their futures, and other educational toys, both for inside and outside play.
You will have heard about the current uncertainty of the political situation in Sudan, and this is affecting our ability to help the villages in Darfur that we planned to adopt this year. We are incredibly proud of the volunteers who help us. Internet has been shut down and much of the mobile phone network. Despite this, word of mouth means that even the most remote village knows that we are continuing to do all we can to help. Insecurity across the country as a whole is going to make life for ordinary people far worse. We are going to be needed far more than now. Fortunately, we can continue to work with the nine Kindergartens that we have already established and to start all the background negotiations and planning for new Kindergartens. We must, if we are to help children to a better future.
If we can get the funds together now for new Kindergartens, we can start building as soon as possible. Just this week our team are visiting the State Ministry of Education to ensure there will be teachers available. We currently have enough funds to start building one of the Five kindergartens we have planned! Please can you help towards our second? A Kindergarten costs approximately £22,000 but we have built nine already thanks to many small, but important donations. Every Pound will help us towards our goal!
We would particularly like to thank our regular donors who's monthly giving, no matter what the amount, helps us plan and work more efficiently and effectively. If you would like to Become a Monthly Donor, of any amount at all, we would be so grateful. Thank you all! In the current worrying time in Sudan, let's give people hope for the future.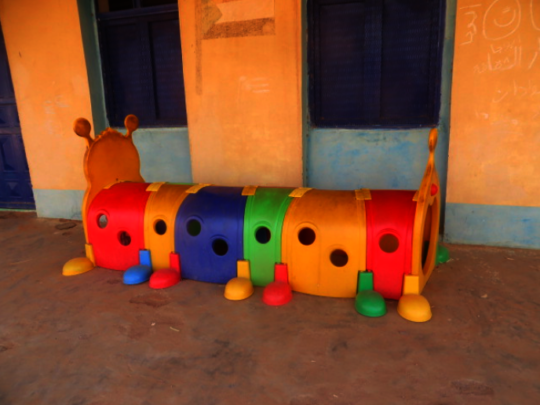 WARNING: Javascript is currently disabled or is not available in your browser. GlobalGiving makes extensive use of Javascript and will not function properly with Javascript disabled.
Please enable Javascript
and refresh this page.