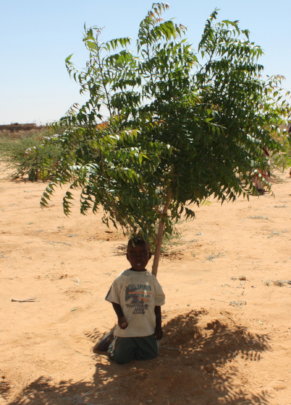 Families in Darfur are struggling.
The warm temperatures and lack of access to clean water mean that the children and families of Darfur are incredibly vulnerable.
Climate change patterns have caused more extreme climates, which immediately threaten agricultural productivity in many areas of Darfur. The lack of food and water security only exacerbates the level of poverty in the area.
Planting trees in the soil increases the soil moisture in the area, which reduces temperatures by creating a microclimate leading to a more fertile environment for crops to grow. Planting trees in Darfur not only provides shade but they stability the soil and hold back the ever encroaching desert. Kids for Kids has been planting fourteen different varieties of drought resistant trees since 2007. Our community forests have a massive impact on a village and planting trees by families straw huts and around the village provides a green canopy which transforms the environment.
The Moringa tree is a fast growing tree which provides shade plus a livelihood for the people who care for them. The leaves are rich in vitamin C, even exceeding the levels in kiwi fruit. In a region where crops are scarce this is an invaluable asset, not least as providing the water that is essential for the trees to grow in the first two years when they are being established, can be a demanding and time confusing job. But the Moringa has another asset:
The seeds of the Moringa tree purify water.
Kids for Kids is asking for help to establish a Moringa Nursery where we will grow a plantation and introduce a pilot project to teach people how to harvest and use the seeds to cleanse water. This will be a home grown readily available resource, unlike all other water purifying methods which needs filters replaced etc.
In an area where moisture levels are virtually non-existent, planting trees and therefore creating microclimates can reduce the temperature of the surrounding soil, stabilising moisture levels to reduce desertification and degradation. The trees provide shade for children and animals, crops grow underneath, not least providing food for the goats when drought has destroyed virtually everything else.
We have been working hard to plant trees in every village that we adopt at Kids for Kids. It is such a simple yet effective way of supporting the communities in Darfur but also to combat the greater threats that can be caused by Climate Change. The help that planting trees can bring is huge. Trees impact not only the lives of the villagers, but the environment they live in and the animals they take care of. Our Moringa Project is another invaluable way that Kids for Kids is changing the lives of families in Darfur long term.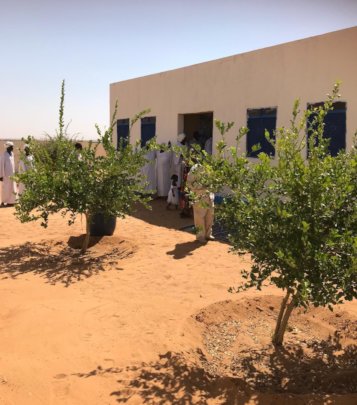 Links: