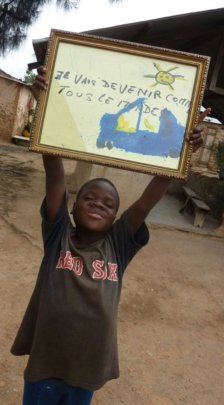 Kimbilio has been reuniting children with their families across Lubumbashi and the surrounding area since 2009, and our efforts to bring parents and street children back together remains at the heart of our work.
Our reintegration initiative is led by our Congolese Social Worker, Daniel, who spends his days rebuilding bridges with families who, for one reason or another, have abandoned their child. Kimbilio comes across challenging and emotive situations almost every day, and through years of experience we are able to support children and families.
It has been fantastic to see such a positive and ongoing response from our supporters around the world for this project. We have raised £9,241.15 ($13,241.18) since launching this appeal earlier in the year, including a generous bonus for raising the most money during Global Giving's WE BELIEVE IN GIRLS campaign. Thank you to everyone who has shared an interest in our work.
Funds raised from this appeal have enabled us to send children to their local schools upon returning home, so that they can quickly make new friends and settle back into their community. After a period on the streets, even a fresh set of clothes can boost a child's self-esteem before taking them back home.
Reintegration can take many months, visits, and mediation sessions, however in just three months we reunited 6 children with their families, and supported over 150 street children across the city. As we continue to grow, and invest in each individual child, we strive to help even more children to build a future with hope.
'Kanye' has perhaps one of the most encouraging stories, having been living on the streets for 2 years, before Kimbilio found him. He had been accused of child witchcraft, and during his time living in the city's markets his health had deteriorated. We gave him a safe place to sleep, the medication he needed, and the love he deserved. Many months on, he is now living with his brothers and sisters back in his family home, and regularly returns for Kimbilio events to keep us updated of his progress at school.
For recent insights for Kimbilio, I highly recommend one of our volunteer's honest and thought-provoking blogs: Ian in the Congo
Links: