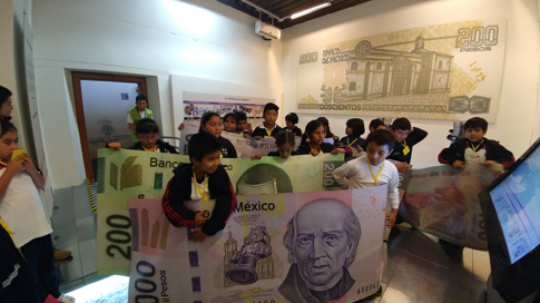 "Social and Financial Entrepreneurship" born as an initiative of EDUCA to raise the educational level of students and promote skills such as: creativity, innovation, critical thinking, collaboration, trust and leadership in low-income children.
Its of utmost importance to sow the entrepreneurial spirit in children of limited resources, since its through the development of social and entrepreneurial skills in terms of planning and administration of resources, that it can be achieved changes in the economic, social, educational and cultural reality of the most vulnerable communities.
SUMMARY:
95% of the first and second grade primary school children were trained in Financial Education.
105 enterprises generated during the school year.
Through the courses provided by EDUCA, 905 parents training and raising awareness about the importance of Social and Financial Education.
2017 Entrepreneurs Fair with the participation of 6 schools, 272 children and the presentation of 33 enterprises.
ACTIVITIES COMPLETE WITH CHILDREN:
1. Visit to the Interactive Museum of Economics (MIDE): In order to reinforce issues such as decision making, distinction of needs and desires, responsible consumption and resource management, 203 children visited the Interactive Museum of Economics, MIDE.
2. Family Savings Contest: In order to reinforce and replicate the good practices learned during the Social and Financial Education program, EDUCA organized a family savings contest of natural and financial resources. 83 families participated.
The Limón Duran family was the winner in the contest, they live in Chimalhuacán, State of Mexico. It is a family of 5 members whose father is a merchant.
They provided a description of the saving strategies that as family they implemented to achieve a significant reduction in energy consumption. Among the strategies they mention: turning off lights and lamps when they are not in use, turning off all electronic devices at night, turning on set TV times.
3. 256 children visited a bank. They made a tour in the facilities to know how a bank works as well as the financial products and saving instruments for children and adults.
4. Children saving: The children made a magical piggy banks for individual and collective savings. The savings are linked to the group's financial or social entrepreneurship. To control this savings, the treasurer of the kids club is the one who has a general savings book in which records the children's contributions with dates and amounts. The amount of savings varies according to the goals of each enterprises, the frequency of savings is weekly and the contribution is on average $ 10.00 (MXP). The percentage of savings in the children participating in the Program is between 68% and 70%.
5. Children financial or social entrepreneurship: Throughout the school year, all children develop problem-solving strategies that are presented at their school or in their community. In this way, in a group, they develop a enterprises that propose innovative and creative solutions.105 ventures were generated:
8% was community support
21% support your own school
7% support for other non-profit organizations
2% to the care of animals of the street
47% on environmental care issues
11% health issues
We have already started the new school year and EDUCA Foundation is ready to continue supporting more children.
Join and give to our project!