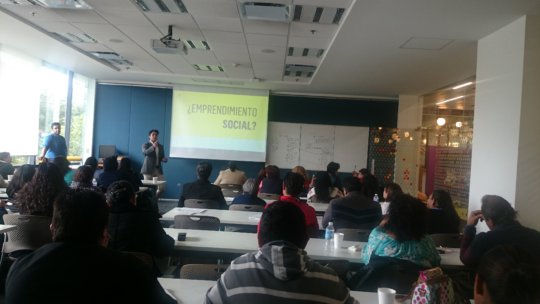 HELP 650 AT-RISK CHILDREN IN MEXICO STAY IN SCHOOL
This EDUCA´s project seeks to promote in children skills such as: Creativity and innovation, Critical thinking and Collaboration. Its of utmost importance to sow the entrepreneurial spirit in children of limited resources, since its through the development of social and entrepreneurial skills in terms of planning and administration of resources, that can be achieved changes in the economic, social, educational and cultural reality of their communities.
At the beginning of the school year the teachers had training about the program, also EDUCA made a presentation of the workbooks, objectives and planning of the activities to be carried out during the school year.
During this school year EDUCA has been working with these 650 children teaching them the following formative axes of the program:
1. Self-knowledge
2. Identification of needs
3. Methodology for the design of enterprises
4. Methodology for the implementation of enterprises
5. Evaluation of enterprises
Each child has received 18 hours of training and a workshop on social and financial education.
At the end of the school year students carry out a project in a group or individual way. We encourage the continuity of 6 projects through the provision of economic support for necessary materials or inputs contemplated in the project planning.
In this first stage of follow-up to winning projects, each of the projects received the amount of $ 10,000.00 (Mexican pesos) that will be used to purchase materials and supplies to start the venture.
We present three examples of the ventures generated by students:
1. Generate healthy life strategies that allow to attack the problem of obesity in Mexico, through lifestyles that are framed within the context of sustainability, care for the environment and self-recognition, so that it can generate a Self empowerment and a social impact within their close community, avoiding long-term health problems.
2. Promote the care, rescue and dissemination of endemic plant species of Chiapas, especially the chipilín, which is used as part of the community's gastronomy, by exploiting the species as raw material and its application in a financial undertaking that allows to transform the species into products of social benefit, safeguarding the species of the region and generating an attitude of respect and protection to the environment at all times.
3. Help to make people aware that they can adopt a dog and not buy one, this project will work with an association that is already dedicated to solving problems related to these defenseless animals.
At the end of the school year we will know the results of the projects and the objectives of new projects generated in the following weeks.