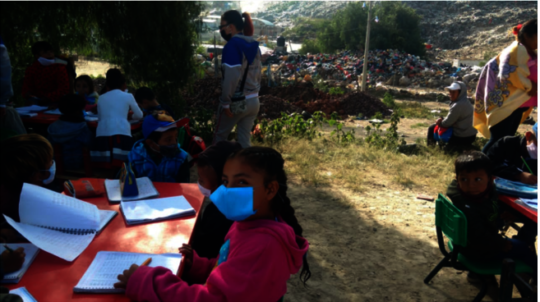 Problems at Fundación EDUCA due to the pandemic
70% of the parents reported that they had been fired or had their salary cut, which affected the family economy. A high percentage of these parents work as taxi drivers, waiters, general employees, in informal commerce or with family businesses that have been severely affected. Many others have become vulnerable populations because they have not been able to stop going to work.
The cases of infections in principals and teachers increase, some hospitalized or deceased.
The EDUCA NETWORK schools have worked online since the beginning of the school year. The most used tools to teach classes have been: WhatsApp (73%), Zoom (58%), Google Classroom (35%), Email (46%), Facebook (17%), Skype (17%) and Others ( 27%).
"Others" refer to the measures that have had due to the lack of technology in the homes of teachers and students, thus resorting to telephone calls, face-to-face support and delivery of materials so that they can work at home.
In some schools outside of Mexico City, from September to November they hat face-to-face classes with the following hygiene and safety measures.
The 10 institutions that offer a Home or Boarding Home service keep within the facilities only girls, boys and young people who do not have the possibility of being at home with their families.
Others have opened so that teachers can teach with the school's internet, since they do not have this service at home.
Two of the additional services to the school affected have been school canteens and health care (general medicine, dental office, psychological and rehabilitation care). Only some schools have managed to deliver hot food or pantries to parents.
EDUCA schools live on 100% donations. Today, due to the COVID 19 crisis, incomes have been affected between 30% and 50% and despite this, we have not dropped any student. Therefore, we need your help more than ever.
Decrease in the beneficiary population
Although no student has been dropped on account of the schools, the population benefited has decreased by 20% for several reasons:
- Lack of equipment and internet.
- Parents do not consider that distance learning is worth paying for.
- Parents with layoffs or decreased income and who cannot pay the recovery fee.
- Death of relatives or illnesses.
-
Main needs in schools:
- Cover the staff payroll.
- Deliver pantries.
- Deliver computers or tablets.
- Provide financial support for school personnel who have been infected.
- Apply COVID-19 tests to all staff.
- Delivery of disinfectant products.
- Define a strategic reopening and return to school plan.
- Psychological Support.
- Training of teachers in the use of technology, mediation, socio-emotional education and distance education.
- Conduct classes according to the conditions of the students (with and without connectivity).
- Adapt educational planning and evaluations to the needs and current conditions of students
- Maintain continuous communication with parents