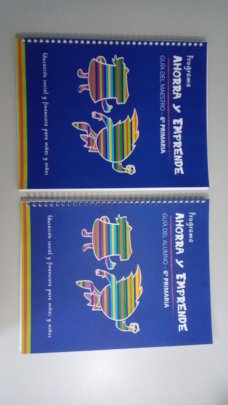 This 2020-2021 school year, we are working in 20 schools directly benefiting 114 teachers, 3,076 children and youth. Indirectly impacted 4,614 parents.
Activities carried out to close the year 2020 and welcome the last months of the school year:
Activity 1: Training of teachers in Socio-Emotional Education and Financial Education.
Execution:
The initial training of the school year took place on October 24, 2020. It was carried out virtually, during the session, the expected learning and products that the students are expected to develop in this first project were reviewed.
Activity 2: Printing and distribution of guides for teachers and students.
Execution: Both teachers and students have a work guide, which will allow them to acquire knowledge and develop the expected learning.
Activity 3: Online courses for teachers in Socio-Emotional Education, Financial Education, Education for Sustainable Development and Entrepreneurship
Execution: The educational offer of the program includes 5 online courses, aimed at teachers and students.
Activity 4: Weekly classes throughout the school year with a duration of 60 minutes each.
Execution: The program is worked one hour a week.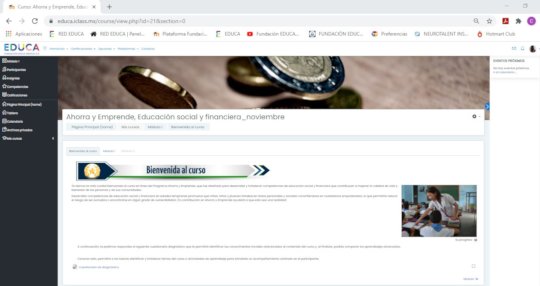 This program seeks that the girls, boys and young people of the EDUCA RED become agents of change through the strengthening of individual identity and the responsible exercise of their economic and social rights, improving their quality of life.
BENEFITED POPULATION
6 states of the country
16 schools
124 teachers
3,371 students
5,057 parents
ACTIVITIES
- 35 hours of class were taught per school.
- 1,581 books delivered from 1st to 4th grade and 1,790 guides
for students delivered from 5th grade from elementary to high school.
- 124 teachers and coordinators trained: 8 hours of initial face-to-face training and 135 hours of counseling and monitoring in 2 follow-up visits to each school.
- The program coordinator attended the Aflatoun International Training held in Quito, Ecuador, lasting 40 hours, on the Aflateen + Tools for Life and Financial Education curriculum, which offers a gender and sexuality approach, with a reproductive health and rights component.
- EDUCA participated as a panelist in the Aflatoun International Conference held in Amsterdam, sharing the experience of implementing the program, particularly the scope of the Entrepreneurship that young people carry out, as a success story in the Region of the Americas.
- To celebrate Aflatoun Day 2019, students of Boys and Girls de la Sierra, I.A.P., and the Instituto de Educación Integral, I.A.P. San Juan Pablo II Plantel Jurica, communicated via Skype with children and youth from Children International Ecuador, and schools in Colombia and El Salvador.
- 105 boys and girls, and 12 teachers from 3 schools visited the Visit to the Interactive Museum of Economics (MIDE).
- We update and redesign the materials for teachers and students. 4 new materials were generated: Student guides, Teacher guides (by grade level), Catalog of teaching strategies and Generic guide.
In an evaluation carried out as a pre and post test of students' learning:
90% know that self-esteem is the ability to love, respect and take care of oneself.
90% know that a quality is a characteristic that differentiates you from others.
80% know that talent is the ability you have to do something with ease.
80% know that human rights are the rights of all, regardless of age, religion, sex.
60% know that the culture of peace are values, attitudes and behaviors that reject violence and prevent conflicts.
90% know how to take into account the needs of others as if they were their own.
90% know that solidarity is when the needs of others are taken as their own.
70% talk and participate with their families in the expenses of the house, let them comment on money issues and explain to them when they cannot buy them something.
80% know that saving is separating a part of the money and saving it.
90% save in piggy bank.
50% keep track of their savings.
70% indicate that their medium-term goal is to finish their studies.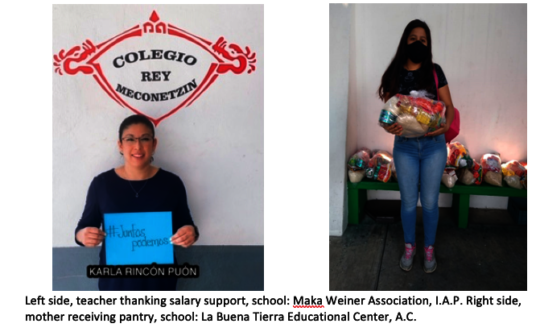 EDUCA delivered an emergency fund to the schools of the EDUCA NETWORK due to the negative effects generated by COVID-19. The resource was channeled to pay the payroll of operational staff and teachers affected by the drop in income from the recovery fees that parents pay for educational services; and for the delivery of food supplies to families whose income decreased due to unemployment or a decrease in wages.
Thanks to the support of all donors, we deliver $ 250,000 Mexican pesos.
In addition, we have delivered 392 pantries with basic food for the most affected families in the schools of the EDUCA NETWORK
We need support to continue paying for distance education schools.
Please don't stop supporting us! Thank you for joining the cause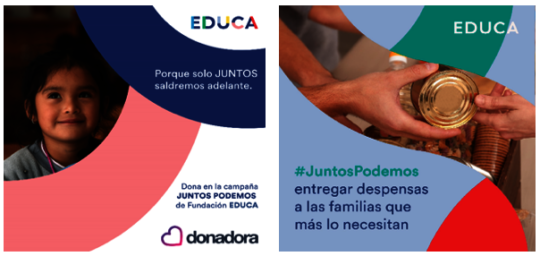 WARNING: Javascript is currently disabled or is not available in your browser. GlobalGiving makes extensive use of Javascript and will not function properly with Javascript disabled.
Please enable Javascript
and refresh this page.