Project Report

| Jun 19, 2019
Paula's Journey Through WEN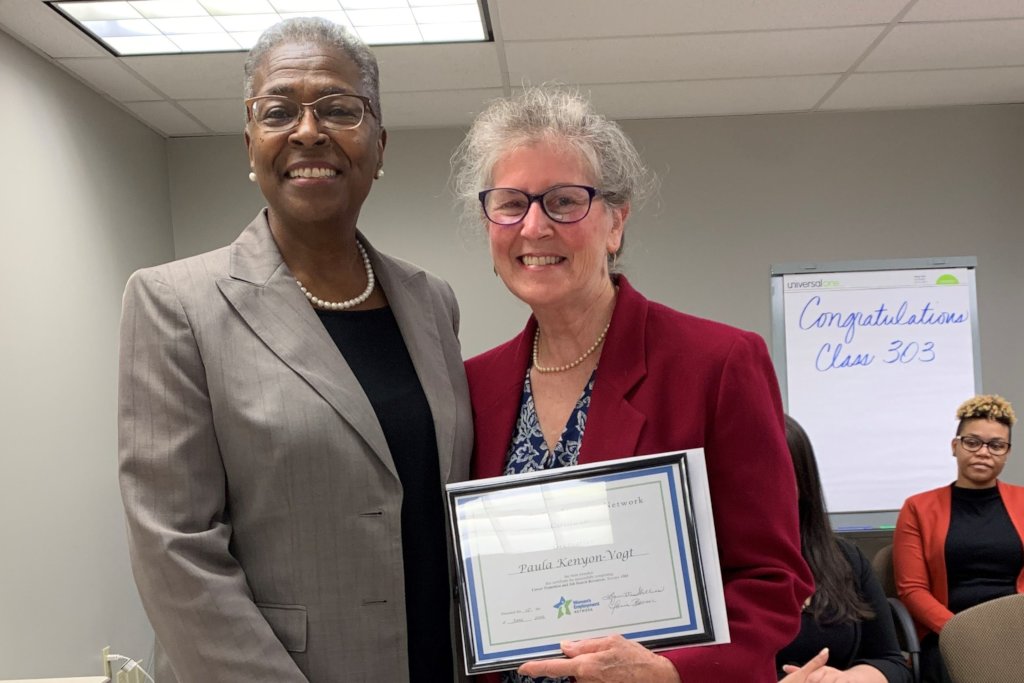 I had been speaking with a Job Coach who works with another program in Kansas City. She had encouraged me to work on my resume and suggested that I attend an upcoming Job Fair that she had heard about. I had never been to a Job Fair before, so was unsure what to expect. She gave me a little bit of information, telling me that I would not be interested in all the employers that would be there. She knew that I had already applied for jobs at KU Medical Center and St. Luke's Health System and she suggested that I take along copies of my resume and hand them to the persons at those stations, being ready to take a few minutes to "sell myself" to them. Not my forte, but I would comply to get a job.
Being a curious person, I was intrigued with the idea of a job fair, so along with KU Med & St. Luke's, I was checking out all the other employer's tables, just to see what types of positions were available. Because I knew that I was wanting to return to the healthcare field and hopefully work in a teaching institution again, but had not yet reinstated my Missouri RN license, I was scoping out all my options.
Lo and behold, at the end of the first line of tables was Ms. Lynnette, WEN's VP of Programming and Services. Standing there, straight and tall, with that warm smile and matter of fact style. I don't remember who spoke first, but I think I asked what Women's Employment Network did and she gave me a very brief explanation, then said (with her definitive and then sort of questioning manner): "You know we have an orientation starting next Monday and if you give me your email address and your information, I will email you a reminder and you can come check it out for yourself."
So, what I expected and what we received were two completely different things. What WEN does, cannot in simplicity be explained. I believe that instead of Women's Employment Network, this program should be called "Women's EMPOWERMENT Network." The changes I have seen in myself and my #303 Classmates is so powerful. I have grown in courage, confidence, self-awareness, and ability to recognize and articulate my own needs and passion. I think I better understand what is driving me and why.
It would be difficult to narrow down which particular workshop was most helpful. Each presenter and their presentation had at least some piece of very helpful information from learning about my temperament to structuring my resume. But, possibly the most important piece for me will be how to answer Behavioral Interview questions. I have always been able to weave a story. Answering behavioral questions in an interview is like telling your story, however, we, as women, don't like to "toot our own horns". I have learned that taking ownership of my story and telling it with conviction will "seal the deal" on my interview.
The skills I have learned in 'Conflict Management in the Workplace' and 'Problem Solving and Decision Making' will greatly impact the job that I do acquire. My employment goal has solidified into knowing that I want to work, not only as an RN, but have now attained my Basic Cardiac Life Support certification and know that I want to work in an Adult or Family Ambulatory Clinic where I will have the exposure to multiple types of diagnoses. I have researched and found that there is a 9 week RN refresher course through Johnson County Community College, my Alma Mater, which is highly respected in the healthcare arena. The next class starts this fall and the last day to register is July 1, 2019, so I am now examining the value and possibility of taking this course to ensure my long term career goal.
Short term, after learning how to set up myself on LinkedIn, I have several recruiters that have now seen my Profile on LinkedIn and have sent me invitations to have a "conversation". I can see this transforming at least into a temporary position where I can also have a chance to brush up on my skills in an appropriate environment.
I will be forever grateful for the empowerment I have acquired from WEN.
Links: